Jimmy "Mad Dog" Matis had a 24-year career on rock station WFBQ–FM 94.7.
That's a period of time worthy of carbon dating in a broadcasting landscape known for constant upheaval.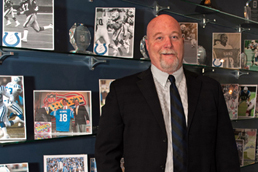 After Q95 declined to renew his contract in 2010, Matis eventually landed on his feet with the Colts managing sponsorships. (IBJ Photo/Eric Learned)
The raspy voiced afternoon drive-time personality and longtime contributor to "The Bob & Tom Show" got the boot from Q95 in early 2010 when San Antonio-based Clear Channel Radio decided not to renew his contract.
In his early 50s at the time, Matis eventually wound up tossing boxes at a cargo hub until new job offers surfaced later that year—proof that "God takes care of the stupid," said the Roncalli High School and Indiana University graduate.
IBJ caught up with Matis at his latest gig, as the sponsorship sales account manager for the Indianapolis Colts, where he's keeping busy after last year's 11-5 rebound season and surprise playoff appearance.
IBJ: When did you join the Colts?
MATIS: I'm going into my third season with the Colts. It's great, especially at this point in my life. It's really good working for the Colts organization.
IBJ: How did you cope with life after radio?
MATIS: When I left Q95, I had a six-month, non-compete clause. I worked at FedEx in the middle of the night so I could take care of my heath benefits. I have five boys. They saw their dad going to work at midnight. I think it was a good lesson for them. When things change, you have to tighten up your belt and go to work.
About four or five months [later] the phone started ringing. An awful lot of people knew who I was. I went to 1070 (Emmis Communications' WFNI-AM) The Fan, in sales. A lot of the sales people there really helped me out.
The Colts and Emmis are partners. The Colts [a year later] called the radio station to ask [Market Manager] Charlie Morgan's permission to talk with me.
IBJ: Are radio skills serving you well at the Colts?
MATIS: Quite a bit, quite a bit. I was always the one delivering the message, so I learned a lot about delivering the message. Doing that for so many years really helped me. While I was at Q95, I also owned a few small businesses. I owned Longacre Bar & Grill on the south side. I still own the building.
IBJ: Do you miss broadcasting?
MATIS: I had some great years. If you want to live and raise your family in Indianapolis, I don't know if you could be more blessed than to have worked at Q95, and then work for Emmis and then go work for the Colts. I experienced the on-air stuff and love it.
IBJ: You're still doing some radio?
MATIS: I'm on 1070 The Fan, on "The Last Word." It's a Colts show. I'll still do some commercials and that sort of thing.
IBJ: What advice do you have for a kid considering a career in the radio industry, especially now that it's controlled largely by big corporations?
MATIS: It's pretty easy advice. If you go to bed thinking you want to be an entertainer and you wake up wanting to be an entertainer, you need to be an entertainer. You have to give it a shot.
It is much tougher. There are fewer entry-level positions. It's more automated. It's more difficult. That being said, there are other outlets. Go online, do your own thing. I think in this life you just have to understand that you constantly have to learn. I was 52 and thought I probably was going to retire from Q95 one day.
IBJ: Do you have any other plans for the future?
MATIS: I'm enjoying what I'm doing and I think this is probably what I'm going to end up doing before I retire–-in 35 years. I have five boys, so there are some bills to be paid. This is a great place to work, with the Irsay family [and people like head coach] Chuck Pagano. I still get to emcee a lot of events, charity events.
IBJ: Does "Mad Dog" still have groupies?
MATIS: I don't know if I still do or not. The reality is I don't go too many places where people don't talk about radio stuff. I've been able to carry that into the business world, and it's worked out well for me.
Please enable JavaScript to view this content.