The Indiana Legislature has passed a bill that would cut off supplemental benefits for public pensioners in their second careers—a practice commonly known as double-dipping.
The proposal would affect any member of the Public Employees Retirement Fund, or PERF, who retires after June 30 but takes another PERF-eligible job. Those second-career retirees will be allowed to continue drawing the benefits they've earned, but they can't accumulate any more.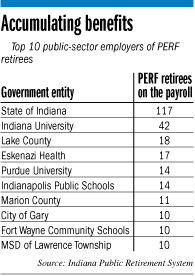 Cutting off double dips will save PERF an estimated $5.5 million while slightly lowering employer contribution rates. But it won't make a dent in the funding ratio, which is 85 percent, according to the fiscal note on Senate Bill 526, which has passed both chambers.
Unfunded liabilities are a big problem for state pension plans, but double-dipping isn't a major cause, said David Draine, senior researcher at the Pew Charitable Trusts.
"At the same time, there's two reasons one should pay attention to it," Draine said. "Tax dollars should be used in accordance with what voters want. Voters in many states have said this is not a good use of it."
There are 531 PERF retirees continuing to accumulate benefits. State government, Indiana University and Purdue University and large local governments, including Marion County, are their biggest employers.
The double-dippers represent a tiny fraction of PERF's 145,519 active members. The average retirement age is 64, which means most members probably don't want to continue working.
Retirees are losing a benefit, but it's probably not one that drives their decision to go back to work.
"I think they probably go back for the additional pay," said Bill Murphy, executive director of the Retired Indiana Public Employees Association. The average monthly benefit is $555—the second-lowest of eight funds managed by the Indiana Public Retirement System.
Double-dipping is already against the rules for teachers, police and firefighters, excise police, judges, prosecutors and legislators. The Legislature ended supplemental benefits for Teachers Retirement Fund retirees in 2007, so changing the rules for PERF seemed like the logical next step, said Sen. Phil Boots, who authored SB 526.
Please enable JavaScript to view this content.