A couple of fledgling entrepreneurs hope to tap into the increasing popularity of local microbreweries—not by starting one but by supplying them with a key flavoring ingredient integral to making beer.

Longtime friends Matthew Crankshaw and Justin Kratoska, both 35, are preparing to grow hops this summer on a four-acre sliver of land tucked within a gritty neighborhood on Indianapolis' far-east side near Franklin Road and Interstate 465.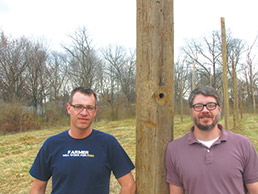 Friends Justin Kratoska (left) and Matthew Crankshaw are busy installing reclaimed telephone poles on the property they purchased to begin growing hops plants this summer. (IBJ photo/Scott Olson)
The pair has no contracts yet, but they're encouraged by the feedback they've received from prospects.

"Everyone has expressed a ton of interest," Crankshaw said. "The market's very strong."

The self-proclaimed "beer geeks" see potential in their plan to sell hops to local microbreweries such as Sun King, Flat 12, Fountain Square Brewing Co. and the newest arrival, Indiana City Brewing Co.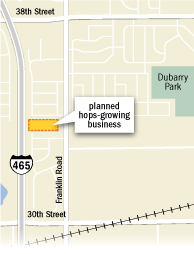 The pair used savings to pay $13,500 in September to buy the vacant property, which literally splits Wellington Avenue, out of foreclosure. They secured a zoning variance from the city in March.

Visible on the property are the poles hops farmers use to support the growth of the plants. Crankshaw and Kratoska plan to install 36, 20-foot-tall reclaimed telephone poles on the first acre, capable of growing 1,000 plants. They'll expand to the other three acres once they become more experienced farmers and are able to build a market for their product.

The two finished digging holes and placing some of the poles, with the help of a rented Bobcat and a 1968 International Harvester tractor they bought for $3,000 at a farm auction.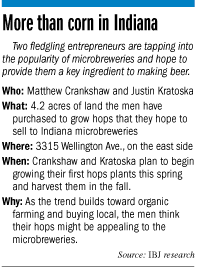 To grow hops, they'll string a trellis system of cable from atop the poles, tying twine to the cable and extending it to the ground. The hops plants climb the twine during the growing season. Hops are a perennial and will reappear every spring. They're primarily used as a flavoring agent in beer.

They plan to start by growing three types of hops used in pale ale beers and are testing seven other varieties. An on-site pond will serve as an irrigation system.

The aim is to promote their product to Indiana microbreweries that may prefer to purchase their ingredients from local growers instead of from larger operations mostly located in the northwestern part of the country.

"There's a big push for local ingredients," Kratoska said. "This is a niche that nobody's touched."

Actually, a few hops farms have sprung up in Indiana, including 3 Hammers Farms in Knightstown. Ryan Hammer, a floor director at WISH-TV Channel 8, started last summer with a half-acre that grew about 160 plants.

He launched his farm after learning that a local pizzeria bought its hops from out of state. He figured he would give it a whirl.

"Somebody looking for something local and fresh-picked yesterday, I think there's a market for that," Hammer said.

Indianapolis' largest brewer, Sun King Brewery, bought a small batch from Hammer last fall, said the brewery's owner, Clay Robinson, who sees potential in the farms.

"[There are] only a couple of people who are doing it in our state," he said. "But what people don't realize is, it takes three years before you really get a viable crop out of it."

Crankshaw and Kratoska say their venture, simply dubbed Hoosier Hops Farm LLC, will start as a side project, potentially earning them $100,000 a year before they'll entertain any thoughts of expanding.

A batch of hops fetches $10 to $30 per pound—the volume in which they're typically sold. Hops, about the size of a pine cone, can be purchased either whole or in pellet form from a grinding process that makes brewing more efficient. A pound equals 200 to 300 cones, depending on type.

Hops can be bought wet or dry and are vacuum-sealed and frozen to maintain freshness. An industrial food dehydrator is needed to dry the hops.

If all goes well, the pair ultimately would like to purchase more property, and a palletizer, to become full-time hops farmers. But for now, they'll keep their day jobs.

Crankshaw, from Angola, graduated with a mechanical engineering technologies degree from Purdue University in 2000 and is a sales rep at Columbus, Ohio-based OTP Industrial Solutions.

Kratoska, a Greenwood native, graduated in 2001 from Ball State University with a biology degree and is a sales rep at the local office of Waltham, Mass.-based Thermo Fisher Scientific Inc.

The pair has financed their operation, including the purchase of the land, poles and tractor, from their own funds. They originally sought land in a more rural setting but found the prices too expensive.

At their east-side property, they say, they've been embraced by neighbors who favor their venture.

Why the ground—best described as an out-of-place barren oasis—was never converted to residential development is anyone's guess.

As late as the 1990s, a far-east-side comprehensive plan called for low-income housing to be built there. But the plans apparently succumbed to neighborhood opposition, the two learned from researching the property's history.

City planners seem more than pleased with their idea to bring a bit of urban farming to the largely industrial area.

"Discussions with adjacent property owners have indicated that the site has been a haven for dumping and other illegal activity for a number of years," city officials wrote in a report. "The use of the site as a hops farm could ensure future site maintenance."

Crankshaw and Kratoska have nearly rid the property of unsightly debris, save for a few rotting mattresses. They picture an entirely different landscape once their plants start growing.

"It will be walls of green by the end of summer," Crankshaw said.•