A recent promo by WISH-TV Channel 8 touts the station's six — count 'em, six —meteorologists. The camera boom soars majestically over this well-dressed vanguard standing against violent weather.
Such theater is what you'd expect during tornado season. But WISH and other local stations are also tracking and preparing for another sort of whirling dervish on the horizon: Angela Buchman.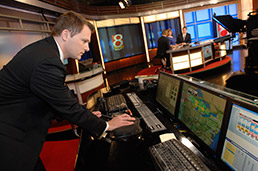 WISH-TV's new meteorologist Robb Ellis (IBJ photo/Perry Reichanadter)
The Indianapolis native and Purdue University grad has captivated local audiences since she landed on the local weather radar in 2001, at WISH, after stops in West Lafayette and Sacramento, Calif., and a stint with the National Weather Service.
Buchman is set to return to the market sometime in September to join rival WTHR-TV Channel 13, which no doubt paid her a pretty penny to depart WISH after 11 years and two Emmy awards for "best weathercaster."
It wasn't clear how much Buchman will earn, but market observers say the most sought-after forecasters for a top-rated local station can take home as much as $400,000. That's in the territory of a top-rated anchor.
The official line from WTHR's competitors is that they're not worried about the second coming of Angela. But they've also been assembling stronger weather offerings. WISH hired a severe storms expert, WRTV is pairing two meteorologists during its morning news and plans to add another weather person, and WXIN has also expanded its weather staff in recent years.
One station manager even offered a mild rebuke that writing about Buchman only serves to aid and abet WTHR in its quest for global world domination in all local news time slots.
Indeed, Buchman's return seems trite in the grand scheme of things. Except that the weather on any given day can be the strongest offering in the three-act play that is the television newscast. Hoosiers like their news and sports, too, but it's often the weather that's most relevant.
Stations need to draw eyeballs to maximize ratings and thus ad revenue, although what draws them to a weathercast has changed in some respects.
In the early years of television, a meteorologist who learned his isobars while in the Air Force often could be counted on to call the weather better than the weather service, said Bill Perkins, of locally based Perkins Nichols Media.
And there were longtimers on TV like former WRTV-TV Channel 6 meteorologist Bob "Swoop" McClain, who knew the terrain so well that he could tell viewers to expect a tornado to hop over the railroad viaduct at Lebanon. They watched him for such insight.
But today, many of the TV weather people "pretty much all have the same information," Perkins said. "Angela is a beautiful woman, and they love her."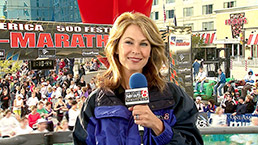 Angela Buchman worked for WISH-TV 11 years. She joins the weather team of rival WTHR-TV in September. (IBJ photo/Perry Reichanadter)
Television, "like it or not, is a cosmetic business," said veteran newsman and former WRTV reporter Phil Bremen, now an assistant professor of telecommunications at Ball State University.
"Ultimately, it's about likability, and attractiveness is part of that."
Team sport
WISH-TV, jilted by Buchman, is betting viewers have a wider perspective.
"When you do weather, it is an interesting blend of personality and the science behind it. That's what we're looking for," said WISH meteorologist and News Director Steve Bray.
His boss, Jeff White, was more blunt.
"It's not about one person. It's a team," said White, general manager of the CBS affiliate.
And while WISH may no longer have Buchman, who sat out the market over the last year per her noncompete pact with her former employer, the station is touting the largest staff of meteorologists in the market.
Indeed, instead of hiring a Buchman lookalike, WISH recently hired meteorologist Robb Ellis, who worked at local Fox and NBC affiliates in Wilmington, N.C.
Ellis is more than eye candy for female viewers, having covered his share of hurricanes, along with awards earned covering record tornadoes in the South. He previously was a research scientist with the state climate office in North and South Carolina.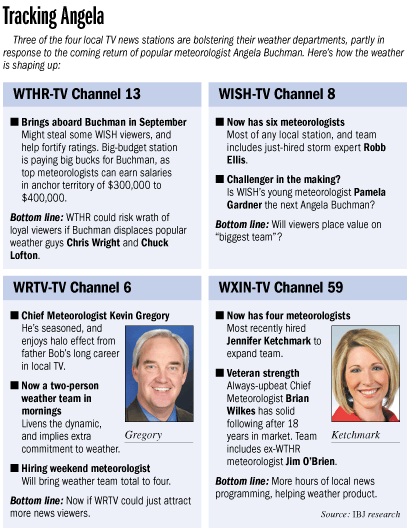 "He said, 'You'll have to drag me away in severe weather,'" said Bray.
Hiring a hardcore weather expert, "I think that's one of the ways that they are trying to get ahead of that [Buchman return]," said Rick Gevers, of Zionsville-based TV talent agency Rick Gevers & Associates, who does not currently represent any Indianapolis personalities.
White said WISH's commitment to weather is bolstered by the fact that the station's new news director, Bray, is also a meteorologist. "I don't believe there's another market in the country that promoted its chief meteorologist to news director.
"We want to do the best we can and own weather in this market."
More staff, more trust
That won't happen if WXIN-TV Channel 59 has anything to say about it.
General Manager Larry Delia said the station hired its fourth meteorologist in recent years, in the form of Jennifer Ketchmark, who hailed from WCIA-TV Channel 3 in Champaign, Ill.
On the other end of the spectrum, the station has built a longtime following in Chief Meteorologist Brian Wilkes, who joined the station 18 years ago.
Delia is dismissive of Buchman's return, saying her departure from WISH didn't have a lasting effect on that station's ratings.
"At the end of the day, when things become normal, it comes down to, 'Whom do you trust? Who delivers accurate weather?'" Delia said.
Trust is also the buzzword at WRTV-TV Channel 6.
Its chief meteorologist is Kevin Gregory, who joined the station 23 years ago. His father, Bob, was the big gun in Indianapolis weather over at WTHR for decades.
"The name Gregory in Indianapolis is pretty big. Kevin has been here a long time," said WRTV's general manager, Larry Blackerby.
The station, which is struggling to get out the ratings basement in local TV news, has been trying to grow its weather presence in the mornings by teaming its other two meteorologists, Todd Klaassen and Ashley Brown.
Brown is one of the few black female meteorologists in the country and, like Buchman, is from Indianapolis.
Blackerby said WRTV has an open position for weekend weather person and is close to making a hire, bringing its weather staff to four.
Tough decisions at 13?
What's not so clear is how things will shake out at WTHR after Buchman arrives.
On one hand, hiring Buchman "is a smart business move," said Bremen, to the extent it helps solidify its newscasts and stem audience erosion. "The problem Channel 13 is facing is years and years of NBC's dwelling in the ratings cellar."
Generally, local affiliates benefit when their networks have highly rated shows because those eyeballs often roll on over the late-night newscast.
On the other hand, WTHR faces the challenge of finding a place to put Buchman in its lineup. Currently, meteorologist Chris Wright sits on the king's throne in evening newscasts.
"This is tricky," Bremen said. "How do you put two people on one throne?"
"Chris Wright is terrific. He's very good. … I don't think this [Buchman hire] is any reflection on him."
One person active in local media circles said Wright could be retiring, although WTHR officials declined to address that or specifics about Buchman's time slot.
In February, WTHR parted ways with meteorologist Chickage Windler, who left for a CBS affiliate in Austin, Texas.
Might Buchman find a home in early morning newscasts, instead? If so, WTHR might have another problem since that spot is filled by its longtime meteorologist Chuck Lofton.
The most recent ratings show WTHR, which dominates in the evening newscasts, is less competitive during certain morning slots, where WXIN has been stealing share.
Don't be surprised in coming months to see teasers about Buchman's arrival at WTHR, Gevers said. While the noncompete forbids face time, Gevers has seen stations play up the drama with indirect shots or other such hype.
It could make for interesting promos from all stations about their weather teams long after tornado season.•
Please enable JavaScript to view this content.