Speedway officials have launched an ambitious $500 million redevelopment project to transform the town into a year-round racing-themed destination.
The 400-plus-acre project includes road improvements, land acquisition and a total makeover of Main Street.
Already, the project—dubbed Speed Zone—has resulted in a Dallara race car factory and the Sarah Fisher Hartman Racing headquarters along Main Street.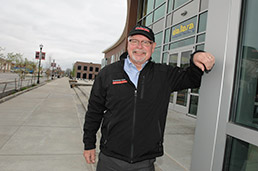 Scott Harris, director of the Speedway Redevelopment Commission, said interest in projects is running four times as high as it was during the recession. (IBJ Photo/ Perry Reichanadter)
Lots more is planned, and Speedway Redevelopment Commission Director Scott Harris is charged with getting it done.
IBJ reporter Anthony Schoettle sat down to discuss the project with Harris.
IBJ: What's been the time line for this project?
Harris: We began the planning process in 2005, public presentation in 2007. Reconstruction of Main Street began in late 2009 and was completed in May of 2011. We're still working on things as we speak.
IBJ: With respect to the Speed Zone project, what's been done so far?
Harris: We've acquired a little over 28 acres on the east and west sides of Main Street; we've cleaned a lot of environmentally contaminated sites and prepared those for development.
In 2011, we started and finished the Gillman infrastructure project, which put roads with sidewalks and utilities through about 25 acres of that property so it would be shovel-ready. We began recruiting new businesses to the area, including Dallara, which opened in late 2011, and the Sarah Fisher Hartman racing facility, which was developed on land we had purchased.
The Community/Westview Health Pavilion on the corner of 10th and Main opened this year. We've also established a restaurant incentive program, including low-interest loans, to attract more restaurants along Main Street.
In 2012, we completed a 10th Street realignment project funded by [the Indiana Department of Transportation], [Indiana Economic Development Corp.], Indianapolis and Speedway Redevelopment Commission to allow Allison Transmission for additional development. As part of that, Allison agreed to keep their global headquarters in Speedway.
IBJ: What's left to do and what is the time line for those projects?
Harris: There's a lot left to do and there's no end time line. Development like this takes some time.
We'll announce two new development projects along Main Street this year, but that still leaves over 15 acres to be developed. We're focused on the 16th Street roundabout project, which will connect 16th Street, Crawfordsville Road and Main Street and provide a more dramatic entrance for the Indianapolis Motor Speedway.
We don't have a time line for that yet, but it's safe to say that will happen within the next two years. We'd like to see that and some significant developments take place before the 100th running of the Indianapolis 500 in 2016.
IBJ: What types of developments make the most sense?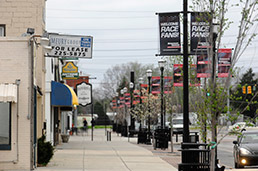 Two new development projects along the redeveloped Main Street are expected to be announced this year. More than $30 million has been spent on land and upgrades.(IBJ Photo/ Perry Reichanadter)
Harris: The types of developments we want fall into three categories: more motorsports developments, advanced manufacturing, and mixed use with retail and service on the first floor, and apartments and condominiums on the second and possibly third floors.
IBJ: How has the economy affected the project?
Harris: For a while, it slowed the development activity, but today we are in dialogue with a significant number of people that are interested in development in this area. If I said it was four times what it was two years ago, I think that's accurate.
IBJ: Can you tell us any of the companies you are talking to about locating in Speedway?
Harris: Not at this time.
IBJ: What's the funding situation? Has all the money been raised for the project?
Harris: We've spent over $30 million on the project for land acquisition, Main Street improvements, environmental cleanup and the Gillman project. This is a TIF district, so that's where the majority of the money comes from [that] we need to develop. I'm not sure how much more [funding] will be needed. Some of that funding will come from private developers.
IBJ: What's been the impact so far?
Harris: We've transitioned to a very thriving, vibrant pedestrian corridor. If you would look at Main Street today compared to five years ago, people are coming down here to eat, walk and bike. … It's absolutely revitalized the area. People here appreciate the dramatic change in this community. We've gone from no events on Main Street to this year we'll have at least six public events from MotoGP and NASCAR events to street parties and parades.
IBJ: What do you expect the impact to be on Speedway upon completion of this project?
Harris: We're not attempting to replicate in any way shape or form … but there are strong retail, entertainment districts in Broad Ripple, Fountain Square, Fletcher Place, Mass Avenue and Irvington. Our goal is to make Main Street in Speedway a similar type of area. We have coined a phrase that Speedway is more than a day in May. We want to create a place where people will visit year-round and [that] provides a better environment for fans who visit our state and community during the races.•
Please enable JavaScript to view this content.