"Naptown Rock Radio Wars," a locally produced documentary about dueling radio stations from the late-1950s through the 1970s, has been nominated for a regional Emmy Award.
The Lower Great Lakes Chapter of the National Academy of Television Arts and Sciences has nominated the film in its "Nostalgia Program" category, and will announce the winners June 1 in Cleveland.
The event is a high holy day for local television stations gunning for honors for various special reports and newscasts—and for producers of films that often have little in the way of commercial potential.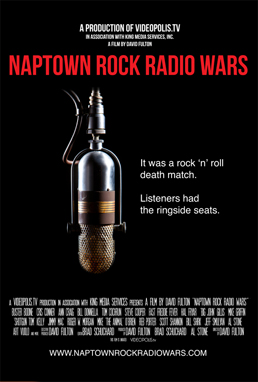 "Naptown Rock Radio Wars" documents the battle between local stations in the 1950s through 1970s. (Image courtesy Videopolis.tv)
"Naptown" producer Dave Fulton, president of Indianapolis-based Videopolis.tv, said an Emmy would be satisfaction enough for a film released last year that will "never break even."
"This film was never about the money," said Fulton. "Somebody really needed to document what radio was like back in the day."
"Naptown Rock Radio Wars" was shown last year at the IMAX theater at White River State Park. It also aired on WFYI-TV Channel 20, and during special showings around the region. Earlier this month, a showing and reunion of sorts was held downtown at Central Library.
The film took Fulton and former WNAP-FM 93.1 program director Al Stone four years of research and interviews with numerous radio personalities of the day. Fulton said he wanted to document those radio years for younger and future generations who today—if they listen to radio at all—hear a largely homogenized format at stations owned mostly by big, out-of-town corporations.
"People always connect to strong personalities. The corporations have largely forgotten that. Everything now is focus groups," said Fulton.
Back then, you bought a record or tape or listened to local radio stations with outlandish promotions and big personalities. Locally they included people like Buster Bodine, Tom Cochrun, Cris Connor, Bill Donnella, Roger W. Morgan, Reb Porter and Bill Shirk.
In the early years the airwaves were ruled by WIBC-AM 1070, which then was owned by Richard Fairbanks. But then came WIFE-AM 1310, which played hits and was known for wild promotions under owner Don Burden.
"WIFE was so big, it's hard to believe how big it was. … A tornado wouldn't have that big an impact on a community," Jeff Smulyan, CEO of radio broadcasting chain Emmis Communications Corp., says in the film.
But as WIFE ruled the ratings book, then came WNAP-FM 93.1 "The Buzzard,"  which played album tracks and famously did the opposite of what WIFE was doing. When WIFE decided to stop playing The Doors, WNAP decided to play a Doors track every hour.
And then there was the crazy programming. The film recounts how WNAP spent one weekend playing songs that had been recorded during concerts. To make it sound like listeners were there, the station rigged a public address system of sorts that made the announcer sounds like he was talking at the concert. The concert was dubbed "Fantasy Park," and supposedly was being held at an undisclosed location north of Indianapolis.
But it got out of hand, with people driving down from Chicago and roaming Hamilton and Boone counties in search of the concert. Apparently they didn't realized that Janis Joplin, one of the "concert" performers, had died years earlier.
And then there was the time that former WNAP personality Tom Cochrun (who later went on to a career at WHTR-TV Channel 13) decided early one morning that he would hop on a jet and broadcast live from the Boston Marathon.
That kind of spontaneity you don't find in radio today.
Today's technology also has erased the local feeling of radio, whether it's satellite radio or digital programming services. "You can't connect to Pandora or Spotify or satellite radio" the same way, Fulton said.
The film "should be kind of a remembrance of what things could be."
Fulton gets numerous requests for a DVD version of the film, but it is cost-prohibitive. "I would sure like to. The problem is the licensing [cost] of the music."
In the old days, someone might have run a "radio-thon" to help raise money for the legal fees.
Please enable JavaScript to view this content.