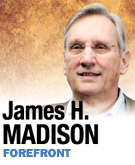 "We are governed by swine," Meredith Nicholson lamented.
Nicholson's house still stands on North Delaware Street, though the windows leak. His harsh accusation stands as well, some might think.
All around us we glimpse our leaders as pigs, oinking and stinking as they rush to the trough.
Root hog or die. Get it while you can.
From 1816, some members of the General Assembly have found ways to do their own business as they talked about the people's business.
The 2013 session is another step in the long history of self-help, whether it's a free lunch or a too-good-to-believe business opportunity—even for your children's companies.
Is there ever a need to recuse?
Because they are citizen legislators, we tend to forgive them. They need to feed their families.
Or do we forgive because we don't understand how important the work they do really can be?
In fairness, it's likely that Indiana has only some piglets and not the big hogs roaming other states.
And we all know some very good people in state government and politics. There are just too few of them.
It's not primarily the smelly politics of getting a free $50 lunch. It's the time spent on the wrong business rather than the people's business.
A German visitor watched legislators debate bills in 1869 "in the most summary and wreckless way. I should not like to live in a country whose welfare is entrusted to such fellows," Heinrich Schliemann wrote in his diary.
Shouldn't we have heard in the Statehouse this session more serious debate on education and jobs, as promised at the beginning? Perhaps even real debate about coal emissions, quality pre-K schooling or public transportation.
Is it the loud oinking of swine that drowns out substantive issues? Is it the cash register clanging with non-Hoosier slop represented by the Koch brothers?
It's been worse. Nicholson was writing in 1926 and had just witnessed a session of the General Assembly controlled by the Ku Klux Klan. The hooded order of the 1920s sets the Hoosier standard for smelliest leadership.
In the 1920s, one governor actually went to the pen and another should have joined him, both caught with their snouts in the trough.
Where are the leaders preaching and thumping for a big vision, a big cause? Who is looking ahead and around the corner?
Where are the leaders willing to risk defeat in the next election?
Where are the candidates for profiles in courage? (Perhaps the governor who just left office will be validated as such a leader, but it's too early to know.)
We've occasionally had big ideas in the Statehouse. Robert Dale Owen from Posey County advocated for women's property rights in 1850. Robert Orr in the 1980s traveled to Japan to court an auto company when many Hoosiers were still raising a middle finger at Japanese cars.
And where are the idealistic kids?
Nicholson regretted not only that swine governed but that, "No young men of conspicuous promise are coming on."
Too few of the best and the brightest seek careers in politics or government. Young women and men prefer consulting firms, Teach for America and secure professions.
We need young, idealist Hoosiers. We need more legislators free to be less cautious, more radical.
We need public servants who live in the 21st century and understand that the big issues are not gay marriage or casinos. Not even tax cuts.
Perhaps that's idealistic. But then so is the democracy Hoosier pioneers created in 1816.•
__________
Madison, an Indiana University historian, is author of the forthcoming book "Hoosiers: A History of Indiana." Send comments on this column to ibjedit@ibj.com.
Please enable JavaScript to view this content.