The statue of Gov. Oliver Perry Morton stands in front of the capitol and gazes across Capitol Avenue at a collection of banal, tone-deaf private and public investments.
The U.S. Capitol and most state capitol buildings reflect the symmetry and balance of our representative democracy—the separation and balance of powers of executive, legislative and judicial branches. Capitol buildings typically possess equal wings flanking a great hall and dome. Their internal floor plans often inform the design of the building grounds, including statuary, walks and trees. The Indiana Statehouse shares many of these traditional features.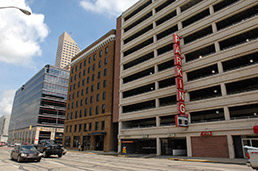 Buildings opposite the Capitol do not reflect its Italian Renaissance-style grandeur. (IBJ Photo/ Perry Reichanadter)
Designed by Indianapolis architect Edwin May, the Italian Renaissance-style building was completed in 1888. It has a Greek cross plan that symmetrically organizes the building. The classical four-story façade supports the 256-foot-tall dome and pinnacle.
But this heroic building, its grounds and adjacent state offices are abutted by a collection of bad architecture and utilitarian streets. Capitol Avenue, Washington Street and West Street are simply ugly.
Capitol Avenue is a wide, one-way street with painfully narrow sidewalks void of landscaping. Facing the statehouse are parking structures, a parking lot, a poorly renovated older commercial building, and suburban-style Late Modern office buildings with dark glass along the street and two small, almost invisible building entries.
It's amazing that we have treated our state capitol's front door as a service street, demonstrating little respect or recognition of Capitol Avenue as a prestige address.
Washington Street also lacks quality pedestrian connections. Buildings are in denial of their context in terms of orientation and design. Simon Property Group's headquarters certainly addresses the capitol in an assertive way on Washington Street. Maybe just a little too assertively.
There are two older, turn-of-the-century commercial buildings on the south side of Washington Street that have regrettably been retrofitted with dark glass. Farther west are convention hotels and parking structures that turn away from the street, leaving Washington Street without a social or comfortable walking edge.
West Street is an extension of Interstate 65 freeway ramps and acts as a barrier to pedestrian connections with IUPUI. West Street should be a great civic boulevard celebrating arrival to downtown while punctuating neighborhood and IUPUI connections.
Most states have capitol district master plans. Many have special planning areas for the blocks that are adjacent to their statehouses. These tools are used to protect historic resources, encourage appropriate development, and better connect state and local investment.
Springfield, Ill., has guidelines for areas around the state capitol and Madison, Wis., does, too. Lansing, Mich., has a citywide comprehensive design strategy for city districts, including the statehouse.
Iowa has a beautiful set of design guidelines for its Capitol Complex in Des Moines that explores the history, and current and future context of the statehouse.
The big government mall in Nashville, Tenn., has a special development zone that ensures appropriate development in the area surrounding the state capitol. And it has the impressive Tennessee Bicentennial Mall and State Master Plan.
The Arkansas General Assembly created the Capitol Zoning District Commission to protect the unique character of neighborhoods around the Little Rock state capitol by creating a special planning and historic preservation commission.
Our neighboring states' capital cities are using urban design plans and guidelines to enhance the quality of their capitol districts. They are implementing plans that consider building heights and design, views of the capitol building and streetscaping.
These states are weaving the statehouse into their growing communities, celebrating them as landmarks and symbols of democracy. In contrast, Indianapolis continues to ignore Indiana's landmark statehouse, allowing buildings to block views of the dome, surrounding it with a pedestrian dead zone, and treating it as a traffic island in the middle of wide one-way streets.
We need to prepare a plan and guidelines for a Capitol District that protects and enhances visual and physical access to the statehouse. It should accomplish the following three objectives:
n Protect formal alignments and views. New and renovated buildings should respond to formal alignments of parapet heights and plan axis to allow the capitol dome to be the predominant skyline feature.
n Provide a streetscape framework. Prepare and implement a streetscape plan for the streets that frame the statehouse edges, defining and connecting the district.
n Enhance pedestrian access. Prepare a traffic and transit access plan that enhances pedestrian access and comfort in the Capitol District.
The current Indiana statehouse took the place of a two-story Greek Revival building that stood for only 42 years because its foundation crumbled. We should learn from this. The original design of our capital city has formal elements that organize our sacred places and monuments. These are our city's foundation for enduring design.•
__________
Bruce Race, FAIA, FAICP, is an award-winning architect and urban planner, owner of RACESTUDIO and recipient of the Indiana Sagamore Planning Award. He lives in a historic Indianapolis neighborhood and teaches urban design at Ball State University's Downtown Indianapolis Center. His column appears monthly. He can be reached at br@racestudio.com.
 
Please enable JavaScript to view this content.