Help wanted: Person with ability to make things sizzle. Must be willing to work long hours, including nights, weekends and holidays. Work environment simulates a pressure cooker—hot with lots of stress. Good management, communications and customer relations skills a plus. Starting pay: $20,000 to $30,000, with opportunities for advancement—including a remote chance of becoming a high-paid TV star.

The above position doesn't sound terribly inviting. But apparently, it is.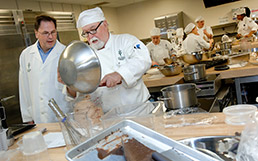 Ivy Tech Community College's Jeff Bricker, left, watches student Joe Gruss finish a chocolate mousse.(IBJ photo/Perry Reichanadter)
With the recent expansion of the Indiana Convention Center, and an explosion in the popularity of The Food Network, enrollment in Indianapolis' culinary schools is rising faster than a loaf of bread with an overdose of yeast. And with good reason, say the schools' operators.

"We have more culinary jobs to fill than we have students to fill them," said Jeff Bricker, Ivy Tech Community College hospitality administration department chairman. "We have businesses calling us every day looking for qualified workers in this field."

The overall growth of Indianapolis' convention business, fueled by the opening of the $275 million expansion of the Indiana Convention Center in early 2011, has brought demand for cooks, chefs and various culinary managers to an all-time high in central Indiana, industry experts said.

A dramatic rise in the popularity of TV shows like "The Iron Chef" and "Chopped" have fanned the flames of interest in culinary training.

Gahl
"These jobs used to be viewed as drudgery. Now chefs are like rock stars," Bricker said. "Channels like The Food Network have raised up role models for people interested in a culinary career."

The area's three primary culinary training providers—Ivy Tech, The Art Institute of Indianapolis and Harrison College—have all seen interest in their programs from prospective students and employers spike.

In 2012, Ivy Tech tripled the space of its culinary school—which includes six test kitchens—by moving it into the recently purchased Stouffer Hotel, at 2820 N. Meridian St., adjacent to the school's campus. Ivy Tech spent $34 million to renovate five floors of the building, including $7 million for the culinary school. The renovation includes the penthouse, which has been turned into a student-run restaurant.

Enrollment in Ivy Tech's hospitality and culinary programs—which have been offered since 1973—grew slowly and steadily until 2005, when double-digit year-over-year growth started. Enrollment this year has hit 982, up 30 percent over last year, school officials said.

"The growth of this school goes back a decade and is directly related to the efforts to expand the Convention Center and this city's hospitality industry," Bricker said.

Since opening in March 2007, The International Culinary School at The Art Institute of Indianapolis has seen enrollment reach nearly 400.

"It's definitely the fastest-growing department in our school," said Marc Aguilera, chef director at The International Culinary School.

Livengood
The Chef's Academy at Harrison College, which opened in 2006, has had enrollment of 250 to 350 each year since it opened, and school officials expect "strong enrollment growth" next year, said Harrison College President Ryon Kaopuiki.

Tasty transformation

There's been an interesting transformation on Indianapolis' dining scene, said Aguilera, a chef with more than 20 years' experience in Paris, London and parts of the United States.

The growth in the convention and travel industry, he said, has given rise to more varied restaurants. That, in turn, "has broadened the palates" of local residents.

"People here have become more curious and adventurous in terms of food," Aguilera said. "There are many more foodies here now than there were a few years ago, and that has deepened the appreciation of what chefs offer—and the demand for what they do."

As the number of visitors to Indianapolis continues to climb—from 20 million in 2010 to nearly 23 million in 2012—the number of hospitality workers needed continues to explode, according to Visit Indy, the city's tourism marketing arm.

From 2009 to 2011, the number of hospitality workers in Indianapolis grew from 69,000 to 75,000. While the city doesn't track people specifically in the culinary industry, Visit Indy Vice President Chris Gahl said "there's a direct correlation" to the overall growth in the hospitality industry.

"Almost every restaurant I know is looking for trained culinary workers, educated or experienced chefs in particular," said John Livengood, CEO of the Indiana Restaurant Association.



The number of downtown restaurants has exploded over the last 15 years, doubling to nearly 300, said local hospitality officials.

Beyond flipping burgers

Livengood's organization has worked closely with high school educators for more than a decade to help steer interested students to the culinary field.

"We had problems initially helping high school guidance counselors realize that there are real opportunities in this industry," Livengood said. "They were thinking we were talking about hamburger-flippers. That's not it at all."

Some of the world's most famous chefs make a seven-figure salary, Livengood said. Chef Bobby Flay, for instance, reportedly makes more than $2 million annually.

While local graduates won't start out at that level, local culinary educators say there are opportunities for rapid advancement. It's not uncommon for an Ivy Tech graduate to start as a sous chef, which is second in command in a kitchen.

"Within three to seven years, they could be making $80,000 to $90,000 working at a country club or more than $100,000 working as an executive chef at a full-service hotel," Bricker said.

Many new graduates, local restaurant operators said, should expect to make $21,000 to $35,000.

"It's like anything else; advancement in this career takes hard work," Livengood said. "But there are ample opportunities."

It isn't just stand-alone restaurants pushing demand. Area hotels also said they've increased the number of culinary professionals on staff—and with good reason.

A recent study commissioned by Visit Indy concluded that, on average, food is the second-biggest expense for Indianapolis visitors—behind hotel room expenses, and only by a few dollars over a multi-night stay. Leisure travelers surveyed recently reported spending on average $147 on hotel rooms and $143 on food. Shopping is No. 3.

Sales from hotels' in-house restaurants account for about one-third of revenue, local hoteliers said. Some said it's as much as 40 percent.

"Not only is it a revenue driver, but it's a major attraction for us. The quality of your restaurants can be a big determining factor of where people stay," said Brian Comes, Hyatt Regency Hotel general manager.

Staffing at the Hyatt, which employs "20 chef-type positions," according to Comes, is typical of other area full-service hotels.

"A good and unique dining experience resonates with visitors and many times is the tipping point in the decision to come to this city," Visit Indy's Gahl said.

Considerable tuition expense

Getting a degree isn't cheap. Ivy Tech students will pay just under $10,000 for a culinary degree. At the other schools, cost ranges from $45,000 to $85,000, depending on whether the degree is two-year or four-year. About seven in 10 culinary students are taking out loans, according to school officials.

Given the tuition expense, the likelihood of a modest beginning salary, no guarantee of ever becoming a TV star, and the only promise being hard work and long hours, some might wonder, what's the allure? Job placement rates above 90 percent certainly don't hurt. But instructors say there's more.

"It's about having a passion and excitement for what you do," Aguilera said. "It's a unique artistic outlet."

"For me personally, it's a job where you get instant satisfaction," said Tony Hanslits, executive chef at Harrison College's Chef's Academy. "I get to express myself with every dish and every plate, and you get reviewed a hundred times a night. That's something that hooks certain types of people."•