A nondescript, 10,000-square-foot building on North Alabama street near Massachusetts Avenue is getting a new tenant—and a much-needed makeover.
Michigan City-based Horizon Bank bought the two-story structure at 302 N. Alabama St. from the Buck Berry Landau & Breunig law firm in December for $1.5 million, according to county property records, and is embarking on a "substantial" investment in the property. Bank officials declined to divulge how much they will spend to rehab the building.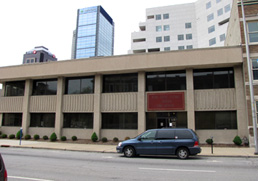 The building will serve as Horizon's first full-service branch in Indianapolis. (IBJ Photo/Scott Olson)
The publicly traded bank operates a loan- and deposit-production office in leased space in The Broadbent Building, 117 E. Washington St. Those functions will move to the North Alabama Street building, which will serve as Horizon's first full-service branch in Indianapolis. The office will employ 30 people and should be open in December.
While it might not be unusual for a bank to buy a building in the downtown area, Horizon followed an unconventional path in sealing its purchase. After bank officials were unable to find a desirable location through property listings, they recruited John Crisp, a principal of Cassidy Turley, who recommended they inquire about the Buck Berry site.
Though the building wasn't up for sale, Horizon officials initiated discussions, and the two sides came to an agreement. The law firm in April moved next door to 310 N. Alabama St. Preston Breunig, a partner at the firm, declined to discuss the sale.
What attracted Horizon to the property was the building's adjoining, 20-space parking lot—a unique amenity for a downtown bank location—and its proximity to bustling Mass Ave.
"It's very difficult [to secure onsite parking], so we feel fortunate we were able to find it," said Bill Denton, president of Horizon's Indianapolis market. "We're going to market heavily to the Mass Ave corridor and to Lockerbie."
Mass Ave and surrounding areas are seeing a surge in new development, as the real estate market regains its footing following the financial crisis. On Mass Ave itself, developers have proposed a $45 million project that would include 235 market-rate apartments, 40,000 square feet of first-floor retail space and almost 400 parking spaces on two levels.
And to the south of the new Horizon Bank building, the city of Indianapolis has received proposals to redevelop a portion of the former Market Square Arena site to include retail space and apartments. The most ambitious of the six bids received proposes a project stretching 52 stories tall.
"It's a great area, right off of Mass Ave, and it's got good traffic," said Rich Forslund, a broker at Summit Realty Group. "It's on the Cultural Trail, so that adds a little something."
Buck Berry had occupied the building since 1979, according to county records.The bank received approval from the Indianapolis Historic Preservation Commission in late March to begin renovating the building, and has started demolishing the interior.
"Every property in the [historic] district is subject to review, but that particular one is not considered to be historically significant," said David Baker, the commission's administrator.
The outside of the building is fashioned with a plaster-type material that will be refaced  with a yellow brick façade. The entrance on Alabama Street will be moved to the south side of the building to face the adjoining parking lot. A green metal roof also will be added.
Horizon entered the central Indiana market by buying Johnson County-based Heartland Bancshares in July.
Expanding into the city was a "natural" progression after the acquisition, Horizon CEO Craig Dwight said. He expects Horizon to open additional branches in the metro area.
Banks overall have been scaling back on branches, as customers conduct more transactions online. Federal Deposit Insurance Corp. data show the number of branches in Indiana grew 20 percent from 2000 to 2009, when they peaked at 2,107. But by 2011, the latest year available, they had slipped to 2,056, the lowest level since 2006.
"People still want to see brick and mortar, but I don't think you need as many branches as you once did," Dwight acknowledged.
Please enable JavaScript to view this content.