Circle Centre mall in downtown Indianapolis performed relatively well in 2012 considering it continued to operate with only one anchor store.
The mall lost one of its two anchors, Nordstrom, in July 2011 and has yet to fill the 210,000-square-foot vacancy. Carson Pirie Scott remains as the only anchor.
Circle Centre last year saw non-anchor sales per square foot increase to $354, a 5.3-percent increase from 2011, according to an annual operating report that mall manager Simon Property Group Inc. provided to the city.
Non-anchor retail occupancy, however, slipped to 88.3 percent in 2012, down from 91.3 percent in 2011, after teen fashion chain Hollister closed its store near the entrance to the former Nordstrom space, Simon said.
On average, Simon's more than 300 U.S. retail properties averaged 95-percent occupancy and $568 in sales per square foot  in 2012, but retail experts say it's unfair to compare the performance of urban malls with the typical suburban shopping center.
The report, provided to the city late last month, partly attributes the growth in sales per foot at Circle Centre to the Super Bowl festivities in early 2012 that drove more mall traffic. The report, however, notes that tenants continued to maintain the strong sales numbers throughout the rest of the year.
Bill French, a retail broker at Cassidy Turley, said it's encouraging that the mall maintained strong sales after the Super Bowl.
"The Super Bowl certainly was a boost, but it's only for a short window of time," he said. "This is a very positive sales increase. It requires a full year to substantiate those numbers."
The city owns Circle Centre's parking garages and the land under the mall. It  paid more than half the cost of building the mall. Most of the mall itself is owned by a partnership of 20 mostly local companies, including Simon, which collects fees for management and leasing.
Simon spokesman Les Morris declined to comment on the mall's performance, saying "we'll let the report stand on its own."
The company also offered scant details in its report as to when the Nordstrom space might be filled.
"This is an opportunity to find a tenant or tenants that even better suit the Circle Centre shopper and will complement the entire downtown area," Simon wrote in the report.
City officials continue to work with the company to help fill the vacancy and remain optimistic.
"We're certainly talking very frequently with Simon," said Deron Kintner, deputy mayor for economic development. "We knew it wasn't going to be easy, but we're working well together."
Brokers say the two-story space vacated by Nordstrom probably is too large to attract another single anchor. Instead, they say Simon likely is retrofitting ground-level space along Maryland Street to attract restaurants.
"As far as any specific prospects they're working with, I know that Macy's has always been in discussions and Target has always been in discussions, but I don't know if there's been any movement on those deals," said Gary Perel, a retail broker at Newmark Knight Frank Halakar.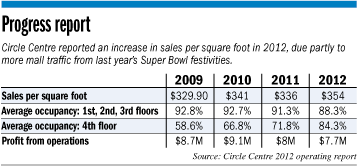 The city built the Circle Centre store for Nordstrom at no upfront cost to the retailer and likely would offer a similar incentive deal for a replacement.
Many retail observers figured Nordstrom eventually would abandon its downtown store after the chain added a second Indianapolis location in 2008, at The Fashion Mall at Keystone Crossing. The market is too small to support two Nordstrom stores, which tend to cater toward repeat upscale customers, not visitors, analysts say.
Unlike suburban malls, Circle Centre relies heavily on visitors and conventioneers to drive sales. But French, at Cassidy Turley, said the growth in downtown housing is contributing as well.
"I see the propensity for above average sales increases over the next few years as downtown Indianapolis continues to grow its residential base," French said.
The vacancy-plagued fourth floor received a boost from the arrival of Brown Mackie College, which pushed the floor's occupancy to 84.3 percent, up from 71.8 percent in 2011.
The mall last year renewed leases with AT&T, Claire's Boutique, Colts Pro Shop, Eddie Bauer, GameStop, Hot Topic, Loft, Lucky Brand, New York & Company, Tilt, and Wet Seal.
The mall had earnings of $8.3 million in its 17th year on revenue of $22.6 million, an earnings decrease of $317,184 that Simon blamed on "an increase in property operating expenses and real estate taxes."
The mall accounted for $6.8 million in sales taxes paid to the state, $2 million in real estate taxes and $885,780 in food and drink taxes paid to the Capital Improvement Board.
 
Please enable JavaScript to view this content.