A local developer plans to tear down part of the Indianapolis Star's downtown headquarters while saving most of the building in a redevelopment that calls for 350 apartments—more units than the massive CityWay.

The Whitsett Group is finalizing a deal with Star parent Gannett Co. to purchase the 190,000-square-foot-building at 307 N. Pennsylvania St. and its 500-space parking garage, real estate sources said.

Virginia-based Gannett considered about a half-dozen offers on the building in early March and since has chosen The Whitsett Group's plan, the sources said. Gannett put the building on the market in July after it determined the newspaper no longer needed such a large space.

Whitsett
The proposal calls for 350 apartments housed within the Star building and another, new structure that would be built near the parking garage at the corner of Delaware and New York streets. The project also would include a small retail component that might attract a restaurant or bank. It's unclear how much the project might cost.

The structure actually is four different buildings made to look like one with the addition of a brick façade.

Part of the southern portion of the building—a small wood structure with a different floor elevation—is the only piece slated for demolition. Whitsett does not plan to keep the building's brick façade.

A non-disclosure agreement limits what the locally based developer can divulge about its proposal, noted company founder Joe Whitsett.

The company is working with local architecture firm Browning Day Mullins Dierdorf Architects on a preliminary design and may be ready to share more details in July, he said.

"Our intention is to not demolish the building," Whitsett said. "I'm too much of a green developer to tear it all down."

That's contrary to what some real estate experts had anticipated.

Brokers at Summit Realty, for instance, predicted in a recent downtown market report that, due to reuse challenges, "the existing facility is expected to go the demolition route with the garage likely staying."

Fellow apartment developer David Flaherty of Flaherty & Collins thinks Whitsett's approach makes sense.

"Joe's expertise is taking older buildings and turning them into apartments," Flaherty said. "That wouldn't surprise me at all if he tried to save the building. There are financial benefits to doing that."

The Whitsett Group, primarily an affordable-housing developer, likely will need to find a partner to raise funds for the project, according to real estate sources who say Browning Investments is a prime candidate.

"We're on our own right now," Whitsett said. "Whether we bring someone in at some point, I don't know."

Officials at Browning declined to comment.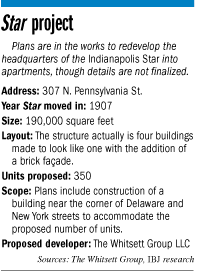 The two firms have an existing relationship. A Whitsett-Browning team is one of six bidders vying to redevelop a portion of the former Market Square Arena site. And Browning executive Dennis Dye is leaving the company later this month to join The Whitsett Group as a partner. (See story, page 6.)

If Whitsett's Star project is completed, it would rank among the largest apartment communities downtown, trailing only Riley Towers (525 units), Lockefield Gardens (493 units) and The Gardens on Canal Court (421 units), data from Tikijian Associates shows.

Whitsett declined to say how large the newly constructed building might be. But it's unlikely it would rise above five stories—retail on the ground level and residential above—because building costs become too expensive.

What worked in 1963, when Riley Towers was built, doesn't work today—largely because stricter building codes make the cost of high-rise residential developments nearly impossible to justify, real estate experts say.

Local real estate developers and brokers have said finding a reuse could be tricky for the Star's labyrinth of buildings combined over the years with multiple floor levels, narrow hallways and a basement built to house printing presses.

Working in Whitsett's favor is the prime location of the Star building—within shouting distance of both Monument Circle and Massachusetts Avenue, and a strengthening downtown real estate market.

"I think it will be a very welcome project for that area," said Abbe Hohmann, president of Site Strategies Advisory. "I'm sure [Whitsett will] do a nice job on the aesthetics."

The Whitsett Group already is familiar with the area. It's teaming with Indianapolis-based Ambrose Property Group to rehab the neighboring American Building at 333 N. Pennsylvania St. into 72 apartment units. Those tenants need a place to park, and the Star's seven-story garage solves the problem.

Downtown, Whitsett also is partnering with Ambrose on a $16 million, 111-unit project dubbed 800 North Capitol Apartments, in addition to converting the 15-story Consolidated Building at 115 N. Pennsylvania St. into 98 apartments.

Founded in 2007, The Whitsett Group last year finished a $7.2 million project at 10th Street and Central Avenue with 86 apartments spread over a new building and the retrofitted former home of Central Products Inc.

The company also has begun construction on projects on the former home of Keystone Towers at Allisonville Road and Fall Creek Parkway and Winona Hospital at 3295 N. Illinois St.

At the Keystone Towers site, Whitsett plans to build up to 140 apartments in a $22.5 million project called The Point on Fall Creek. The hospital is to be replaced with the $6.5 million, 50-unit Illinois Place apartments.

For tax purposes, the Star building is assessed at $21.3 million. The Assessor's Office assigns a more than $14 million value to the land alone and just $7 million to the improvements.

The building was listed by the local office of CBRE, charged with unloading the property and finding the Star's 350-employee staff a smaller, leased space downtown more suited for a media property that has shed hundreds of employees as it adapts to the digital age. There was no asking price.

Real estate brokers say the Star is considering a few options as a new headquarters for its news operation: Artistry, the redeveloped former Bank One Operations Center by Milhaus Development; CityWay by Buckingham Cos.; Regions Tower; and BMO Plaza.

The Star has called the brick-faced offices on North Pennsylvania Street home since 1907.•