The developer of a $17 million mixed-use project proposed for Broad Ripple is expected to seek a city subsidy—support that at least one City-County councilor believes should be reserved for neighborhoods starved for investment farther south.
At-large City-County Councilor John Barth pushed the North Midtown TIF through the council in January on the promise that the property tax revenue it captures would be used to invigorate such areas as 38th and Illinois streets and 30th Street and Central Avenue.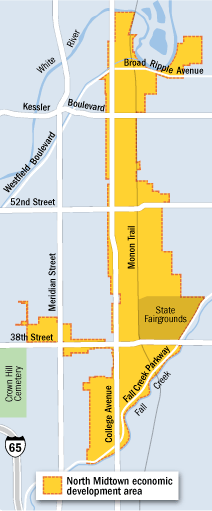 Barth argues Broad Ripple is the wrong area to route tax-increment-financing revenue, given that it is doing well on its own and has no little trouble attracting private investment.
At issue is Browning Investments' proposal to rezone 1.9 acres northeast of College Avenue and the Central Canal to allow for a single 35,000-square-foot retail space—likely a natural foods grocery—plus 70 to 88 apartments.
Additional property taxes generated in TIF districts go toward paying off bonds issued to cover the costs of infrastructure and other government spending.
"My absolute top priority is spending money in the district in areas that have been without investment for decades," said Barth, a Democrat. At this point, Barth does not support Browning's proposal, and he said, "I'm going to do everything I can to stop it."
Browning, which did not return phone calls, hasn't requested a specific subsidy, but Barth and neighborhood leaders who've met with the firm said they were told it would need some form of assistance to overcome the high cost of building on the site, now home to apartment buildings and a vacant Shell gas station.
"My experience and my understanding is, it would be a very challenging site to develop without TIF dollars," said Deron Kintner, deputy mayor for economic development.
Tax-increment financing has supported numerous projects downtown, but within the North Midtown TIF, new tax revenue that could be used to pay off bonds is limited. The largest source of new revenue is a parking garage with first-floor retail on the southwest corner of College Avenue and Westfield Boulevard. Keystone Construction received $6.5 million in city parking-meter revenue to help pay for the $15 million project.
The additional property-tax revenue from Keystone's garage could support a bond issue of $4 million to $5 million, Kintner said.
Multiple priorities
The Central Canal area is just one of five that not-for-profit Midtown Indianapolis Inc. has identified as priorities for public investment. The others are 54th Street and the Monon Trail, 49th Street and College Avenue, 38th and Illinois streets, and 30th Street and Central Avenue.
"How that TIF is invested is essentially the tricky part," said Michael McKillip, executive director of Midtown Indianapolis. The group has one of five seats on the Midtown Economic Council, which was created along with the TIF to represent neighborhood interests.
The council was set up to make recommendations to the Metropolitan Development Commission about TIF-funded projects. Members were invited to an informal meeting that Browning representatives held with Broad Ripple Village Association board members last month.
"We think it's an astounding project," McKillip said. Midtown leaders have always expected that redevelopment of the Shell site would require a subsidy, he said.
But the neighborhoods want infrastructure improvements that promote pedestrian activity, not just new retail and housing, he said.
"If there is going to be a subsidy of that project, we hope the focus will be on those things," he said.
Kintner said that if the Browning project receives TIF support, it could generate additional property taxes that could be deployed elsewhere in the Midtown TIF.
"It's very possible they generate enough property taxes to pay for what they need to jump-start the project," he said, adding that he had not seen any specifics from Browning. "That's really where TIFs work and could be successful."
Barth said he's also heard about the possibility of a win-win for Browning and the TIF district. But he wants to see detailed financial projections. Unless he's convinced that "it's better for the TIF in the long run," he said he won't support rezoning.
Most zoning questions go through the council on consent, but members have the power to call out agenda items for a separate hearing.
Broad Ripple contention
Browning also faces opposition to its rezoning request because its potential retail tenant, Whole Foods Market, would compete with a nearby local business, Good Earth Natural Food Co.
Good Earth President Rudy Nehrling got wind of Browning's grocery plans in late April and in a week's time gathered more than 1,000 online signatures and organized a protest at the May 2 ribbon-cutting for Keystone's parking garage. Nehrling stood behind Mayor Greg Ballard holding a sign that said, "Keep Broad Ripple local."

Kintner
Browning hasn't declared that Whole Foods will be its tenant, but Nehrling said that during an April 23 presentation to the Broad Ripple Village Association's land-use committee, the firm used the terms "natural" or "organic" grocer in reference to its retail tenant eight times.
A conceptual floor plan submitted to the Metropolitan Development Commission in April labels the 35,223-square-foot retail space as "Whole Foods Market." Another organic grocery chain that could use a space that size is Earth Fare, an Asheville, N.C., company that opened a store in Noblesville this year.
With city zoning and site-plan hearings continued into June, Browning has more time to try to persuade the influential Broad Ripple Village Association.
Association Executive Director Brooke Klejnot couldn't be reached for comment, but Nehrling said the board at its last meeting decided to try to arrange a public meeting that includes Browning.
Good Earth is in an old house on Guilford Avenue, one block from the Browning project site. Nehrling's late father-in-law, Robert Landman, started the store 42 years ago.
Nehrling denied that he's afraid of the competition.
"We were the first health food store in the city. We've seen it all," he said.
Instead, he's playing up the question of whether Broad Ripple should include big retail. Renderings that Browning produced for the Shell site last fall showed multiple retail tenants, but the concept plan before the city is for a single tenant, which Nehrling noted would be larger than any store in the village.
"Once it's rezoned for 35,000 square feet, there's no going back. Whether it's a Whole Foods or Walmart or Target, I don't think that's good for the village," Nehrling said.
Browning would need rezoning approval for any commercial space larger than 8,000 square feet and buildings taller than 35 feet. Kintner said his message for the developer was to win over the neighborhood with its plan before talking subsidies.
"They agree and have been doing that," he said.
Barth said he doesn't have a problem with Whole Foods, or whatever tenant Browning lines up, but he wants to ensure that the TIF district is neighborhood-driven.
"There's no way you could spin this as not a developer-driven project," he said.•
Please enable JavaScript to view this content.