Indianapolis Opera's truncated 2012/2013 season featured only three productions—one of which was actually an IU Opera presentation. That put enormous pressure—even more enormous than usual—on the season's only IO-created grand opera, "The Flying Dutchman" (May 10, 12). Compounding the challenge: Last season's closer, a "Faust" outstanding visually and vocally, set a high bar.
Many of the same elements were in play here, but the result, while fine, didn't achieve the same magic.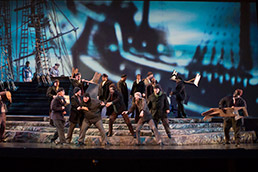 A strong chorus livened up Wagner's "The Flying Dutchman," the only large-scale opera of the season created by Indianapolis Opera. (IBJ Photo/ Perry Reichanadter)
No fault on the performers. There aren't many dimensions to play with the Dutchman—he's doomed to cruise the seas until he finds a maiden willing to love him until death and doesn't seem to be too picky about who he picks. But bass-baritone Kevin Short sang the haunted title character with determination and force.
Tenor Garrett Sorenson made the supporting role of Erik, the jilted lover, feel more like a lead and perked the proceedings up whenever he appeared. As the apex of their passions, Jane Dutton was appealing if at times uncertain vocally.
As the father who willingly turns his daughter over to the Dutchman as a way to acquire treasure, bass-baritone Kristopher Irmiter brought much-need humor to the gloomy tale. And the chorus proved glorious, as powerful collectively as the able and strong Indianapolis Chamber Orchestra.
While his projection-based visuals added to "Faust," though, stage director Joachim Schamberger's set and video design weighed down this "Dutchman." Images, projected on a scrim, wore out their welcome and, in the case of the boat being tossed by waves, bordered on comical. Even in opera, sometimes less is more.
Schamberger's take on the story isn't about a lovesick gal and a bewitched guy but, rather, about an attempt to reunite the two halves of a person into a whole. He sees the Dutchman and Senta as a single person—an interesting concept but, unfortunately, its setup pulls attention away from the overture. Rather than offer a chance for the audience to settle in with Wagner, he diverts attention with added stage action.
What seems forgotten: The primary glory of grand opera is the music (that's why, for instance, we talk of Mozart's "The Magic Flute" rather than librettist Schikaneder's "The Magic Flute"). Again, less might have equaled more.
To his credit, Schamberger's concept does lead to a visually powerful last moment, beautifully staged and played. I'm just not convinced it charted the best course to get there.
Amy Herzog's "4000 Miles," being given a luminously low-key production at the Phoenix Theatre (through June 9), does what seems to be a simple thing but is actually a rarity in contemporary theater. It lets its characters be.
Not-so-fresh from a bike ride across the country, Leo (Andrew Martin) arrives at the apartment of his grandmother in New York.
He's primarily riding away from things—the death of his best friend, an awkward encounter with his adopted sister, responsibility in general—rather than toward anything. His ex-girlfriend visits. So does a potential new conquest (a breath of smartly drawn fresh air from actress Arianne Villareal).
But the play focuses on Leo and his grandmother, Vera (Martha Jacobs, earning rather than demanding respect, laughs and tears). She's an octogenarian more angry than sad about the moments when her "head isn't really right." She takes him in, listens (when her hearing aid is turned on) and, well, don't look for tons of plot twists and shocking revelations. Herzog has more subtle things in mind.
Neither her leads nor her supporting characters are generic types. They are specific people. Every quirk doesn't have a late-in-the-show payoff. Their issues aren't resolved with hugs (although there are some beautiful, complex hugging moments). They are living through their specific, sometimes messy, lives and Herzog respects that, which is enormously refreshing.
The only place the narrative stumbled for me was in a revelatory monologue that's overwritten and unnecessarily absurd. The scene, though, is smartly directed and beautifully acted, ending in the magical transformation of what could be a bring-down-the-house punchline into a sweet, truthful and far more satisfying moment.
Other shows may have better scripts, stronger performances or more interesting design and direction, but I haven't seen anything else this season where all of those work together so harmoniously.•
__________
This column appears weekly. Send information on upcoming arts and entertainment events to lharry@ibj.com.
Please enable JavaScript to view this content.