Barren walls surround a two-room suite at the back end of a factory near downtown.
Little else is there besides a table with a scattering of plastic and metal trinkets manufactured by the room's only other noteworthy furnishing—a $625,000 machine about the size of a small SUV.
The founders of 3D Parts Manufacturing see their business's humble home as the future scene of an industrial revolution.

Brand
Launched in January, 3D Parts joined a recent surge in rapid prototyping and additive manufacturing operations known as 3D printers.
Rather than screwing and gluing parts together, operators plug digital designs into machines that shape plastic and metal powders from the bottom up, one microscopic level at a time. Several hours later, a prototype or part is ready for use.
Kim Brand, who launched the company alongside his son, Adam Brand, and longtime business associate, Alan Michel, likened 3D printing's potential to the microprocessor boom that gave rise to the personal computer.
"There's going to be this revolution, and I believe it's going to be very similar to when I graduated college in 1975," said Brand, whose career has mostly focused on information technology, including running two IT companies. "We were handed this technology, microprocessors. We didn't really have any notion of what would happen."
The technology in 3D printing has been around for close to 30 years. More than 100 companies already offer some form of the manufacturing service in Indiana, according to listings with the Central Indiana Corporate Partnership.
But recent attention has sped up its evolution, meaning demand will likely spike and costs will come down, said Tim Gornet, manager of Rapid Prototyping Center Operations at the University of Louisville.
"The big advantage that we've always had as a country; we tend to be early adopters of new technologies in the U.S.," Gornet said. "So we're willing to push the envelope. That's something we need to take advantage of."
New direction
Michel, who founded and sold audio equipment supplier MWM Acoustics before opening a 3D printer in China, pitched the idea of a U.S.-based facility to Brand in July 2012.
Michel fronted the costs of the 3D printer the company needed, plus another $100,000 to prepare the facility. Brand, meanwhile, runs the U.S. operation.
Brand was already CEO of computer file backup support service Server Partners and president of IT service Computer Experts Inc. His son, meanwhile, is a partner at web developer Marketpath in Indianapolis.
The elder Brand admitted he knew nothing about the technology or its market when he first spoke to Michel about the 3D printing business prospect.
"For the first 10 minutes, I thought he was talking about getting me involved with printing [on paper]," Brand said with a laugh.
Phoenix soaring
The founders still are working on a business plan that will likely call for $5 million in investments over the next few years as the operation ramps up.
They plan to hire 65 engineers and salespeople and install 22 printers by 2018. By then, the company should generate at least $20 million in revenue a year.
If the Indianapolis operation is anything like its slightly older Chinese affiliate, the company will have positive cash flow within the year.
Weifang 3D Precision Machinery Manufacturing Co., a separate 3D printing company Michel started in October in the industrial city of Weifang, began making six-figure sales within its first few months.
A legendary bird helped.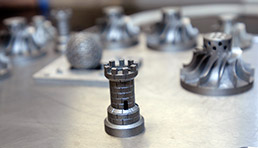 A chess piece made with a 3D printer has individual bricks on the exterior and a winding staircase inside.(IBJ photo/Perry Reichanadter)
The curator of a Beijing-based traveling art exhibit ordered a metallic statue of a phoenix. The customer responded with a follow-up order for about 30 more, totaling more than 1 million RMB, or about $160,000 U.S.
The operation has also tied down an order for 1,100 casting molds for tires.
"I know it sounds silly, but who would have predicted we'd get a million dollars worth of orders from a museum in China? You can't make this stuff up," Brand said. "With this ability, what do you do with it?"
Design store
Once customers have designs ready for 3D Parts, they have the option of selling their products through an app-store-like database on the company's website.
Other customers can peruse a digital catalog of previously made products and buy ones they want. 3D Parts will make the part or prototype, then throw some money from the sale in the form of a royalty to the original designer.
"Designers who need to scratch an itch can post it on our website," Brand said.
"Think of art," he later added. "Additive manufacturing—it is a means of expression, like a writer uses a word processor, a sculptor uses a hammer and chisel, whatever. But now you have this other means of expression."
The company won't sell the actual designs, as a way to protect intellectual property rights.
R&D roots
Research and development has driven the emergence of 3D printing over the past few decades.
Engineers and designers began using the technology in its earliest forms in the 1970s.
Previously, companies had to design parts, then adjust their production equipment to make the new parts. Often, they found out they had to go back and adjust their designs, which consumed more time and money.
Rapid prototyping was the solution.
Printers make models and prototypes within a few days instead of the typical weeks or months with standard manufacturing.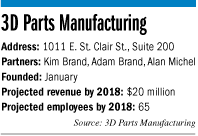 "Every day you're not on the market, that's important," Todd Reese, owner of 3D printer Realize Inc. in Noblesville, said about the amount of time companies spend developing products.
R&D has supported his business since it began in 1994, mostly through orders for plastic prototypes. The company does a little additive manufacturing as well.
"Things are looking good," he said. "We've got some plans in place to make sure we're growing, adding equipment as needed."
Hearing aids to bike parts
More advanced printers have allowed companies to use better materials and make the actual parts, which is commonly referred to as additive manufacturing.
Tim Gornet, manager of Rapid Prototyping Center Operations at the University of Louisville, used aerospace parts and medical devices as examples of the specialized products that 3D printers serve well because they need custom touches.
"Hearing aids are specialty devices needing mass customization," he used as an example. "Every hearing aid is exactly the same, and every hearing aid is exactly different."
Brand acknowledged his steel- and plastic-producing machines can't match needs for some of the highest-end materials customers might need.
"Then again, if you satisfy tens of thousands or hundreds of thousands of applications, and you can't fulfill the rest, you've still got a hell of an operation."
Brand said 3D parts is receiving inquires from racing teams in Indianapolis to bicycle manufacturers in Colorado.•
Please enable JavaScript to view this content.