Center Township is looking to sell its headquarters at 863 Massachusetts Ave., a location that seems ripe for redevelopment.

The township board in late May gave Trustee Eugene Akers permission to list the property, which has a five-story office building on 1-1/3 acres of land. The township offices are adjacent to the Trail Side on Mass retail-and-apartment development and across the street from the former Coca-Cola bottling plant, which is one of Mayor Greg Ballard's priority redevelopment sites.

Akers
Akers said he's taking his time with the sale, however, because he wants to make sure he finds a new location that's convenient to people seeking township assistance and other services. The township headquarters has been in the former bank building since 1975.

"This has to be studied," Akers said. He said he hasn't chosen a broker and doesn't know how soon the property will be listed.

Center Township owns a large portfolio of real estate, including the ground under Trail Side, which is leased by Riley Area Development Corp., and the site of the former Fall Creek YMCA at 860 W. 10th St.

Buckingham Properties, which built retail and apartments on the YMCA site, is leasing the ground with an option to buy for $3.3 million.

The township also owns the seven-story Julia M. Carson Government Center on Fall Creek Parkway and a dozen lots, most of them in the surrounding neighborhood north of the Carson center.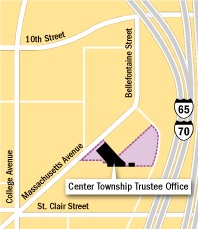 Akers said he's also looking to sell all the vacant residential lots and parking lots, which came with the Fall Creek office building when the township bought it from Standard Life Insurance Co. in 1994.

Akers is concerned about the cost of maintaining the township's under-used real estate, but he also has added to the portfolio. Last year, the township bought an industrial building on Roosevelt Avenue to house a job-training program.

The township board OK'd listing the Mass Ave property because the staff uses only two floors, and it needs a lot of work, board member John Warren said. Elevators and boilers need repair, he said, and the roof needs to be replaced.

About three dozen employees work in the building, Akers said.

He obtained two appraisals, each for about $1 million, but the board instructed him to initially ask for $3 million, based on a previous, though unofficial, professional opinion of the property's value, Warren said.

The most valuable component of 863 Mass Ave is probably the surface parking, which is rare in the restaurant and shopping corridor, said Jon Owens, managing director and principal at Cassidy Turley.

"The parking would be very valuable," he said. "That would make it a viable opportunity."

Demand for condos and apartments on Mass Ave is strong, and that extends to the lesser-developed northeast end where the trustee's headquarters sits, said Newmark Frank Knight Halakar CEO Todd Maurer. "I think the whole avenue is doing well now. It's all growing."

Strickland
Maurer built the 3 Mass condominiums, at 333 Massachusetts Ave. He said his firm definitely would take a look at the Center Township property when it hits the market.

Riley Area, a not-for-profit community development corporation, hasn't expressed an interest in buying the property but is open to the opportunity, Executive Director Eric Strickland said.

The CDC wouldn't try to outbid a for-profit developer for the land, Strickland said.

"We certainly have done our job if there is competition," he said.

Strickland added that Riley Area would favor re-use over demolition. Along with the former Coca-Cola bottling plant and the Jungclaus-Campbell Construction headquarters, Center Township's offices form a trio of unique properties at the northeast end of Mass Ave, he said.•