Indianapolis ad agency Young & Laramore is ever-practicing the art and science of "brand engagement"—trying to get consumers to bond with a client's products rationally or emotionally.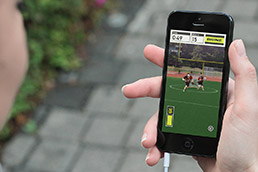 Young & Laramore's video game displays the Brine logo throughout the game. (Photo courtesy of Young & Laramore)
A recent project for footwear giant New Balance is a sign that advertisers are taking the idea of engagement to a deeper level. The agency's marketing plan for Boston-based New Balance included developing a video game intended to reach young consumers who've grown up with a smartphone as a bodily appendage.

The "Shootout" game app for New Balance's Brine unit—which makes products for lacrosse, soccer and field hockey—shows the Brine logo throughout the game. It's not obnoxious, but the logo is omnipresent.

A game app might seem worthy of a secondary marketing approach to, say, website ads or a television commercial. Y&L indeed did a TV commercial for New Balance's lacrosse line as part of its work.

But none of those could match the exposure the game brought the Brine logo, given that the average time spent on the game is nearly 14 minutes, "a heck of a number when you're talking about voluntary engagement with a brand," said Y&L's CEO, Paul Knapp.

He contends that it is "absolutely essential" for brands to think outside of traditional media. Brands must actually engage their customers and potential customers and "not just talk at them."

Indeed, Y&L is developing a second game app for New Balance brands, encouraged that the first game has been played over 6 million times by 250,000 unique visitors.

Denari
Y&L President Tom Denari said the approach to engage those interested in lacrosse underscores the need to reach an audience in ways the audience is most receptive.

"The millennials are natively digital. They don't know a world where there haven't been devices like that," Denari said of portable phones and computers.

Game apps aren't standard fare for all of Y&L's clients in getting the brand out there, however. It uses the approach when it makes sense, he said.

Indeed, even firms that are adept at producing interactive video, such as Indianapolis digital production house The Basement, don't recommend games for every client. It's only to the extent a game might fit into a client's overall marketing objectives, said The Basement's president, Jacob Leffler.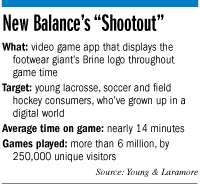 In fact, he said, the mechanics of a game could be embedded in an advertiser's online experience, instead.

Lorraine Ball, creative director at Indianapolis marketing strategy firm RoundPeg, said she's seeing an increase in companies looking for ways around consumer resistance to advertising—with games and other apps among the options.

Much of the demand is among larger advertisers who have the budgets, she said.

"The static TV ad is dead. Remote control, Hulu and Netflix took care of that," she said.

But brand-blazing games haven't necessarily been exclusively in mobile-app form.

A few years ago, when Y&L developed the "Knock on Wood" TV campaign for local insurer Indiana Farm Bureau, the agency came up with a video game played on a kiosk the insurer towed to events such as ballgames and fairs.

Players were invited to shoot down perils, such as tornadoes, that fall from the sky. Shields of Farm Bureau insurance logos fly across the sky to protect property.

Cleverly, the game allowed players to leave an email address to which their results could be sent and then posted on a social media page, bringing more exposure to the insurer.

Some brands have been wise to interactive forms of brand engagement for years.

Four years ago, Kentucky Fried Chicken's ad agency, Louisville-based Creative Alliance, tapped The Basement to create a game inspired by the "Guitar Hero" series.

Visitors steered a rock star over a throng of adoring fans, with the image of Colonel Sanders hovering nearby.

But the video game was carefully integrated with other forms of advertising in the campaign, such as a heavy use of television ads and an interactive website, noted Leffler.

All these marketing channels built on one another, such as the game driving fans to a website created for the campaign, he added.•