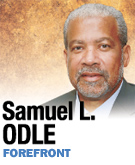 There has been much discussion recently about the need to "beef up" Marion County law enforcement to reduce crime. I agree. The Indianapolis public safety director recently reported that only about half of the sworn officers are on the street.

However, we cannot make the critical mistake of thinking law enforcement is the only and final solution.

Most of the serious crimes can be traced to an identified number of ZIP codes. The same ZIP codes produce a growing number of criminals and repeat offenders year after year. In Marion County, the number of adult offenders has grown from approximately 11,000 in 1990 to 28,378 in 2011.

These areas are the shameful gardens where we grow the next generation of criminals we all fear. These areas exist because we let poverty and hopelessness exist, right under our noses. If we think we can continue to allow this hopelessness and not suffer the results, we are highly mistaken and our great city will suffer.

We must rebuild hope so the people in these areas believe they can participate as equal citizens in healthy society.

The cost of incarceration far exceeds what we invest in education and social services.

It is disappointing that our Democratic majority of the City-County Council is not focusing on these neighborhoods, since these are the very areas from which many of them are elected. The mayor and council should find improvement they can agree upon. Surely this deserves as much importance as the development of cricket fields.

I suggest we set up comprehensive social-service outposts that would include aggressive law enforcement, but also:

• Education and job counseling. Many of the people in these ZIP codes are school dropouts. We need to reintroduce them to options for education—at minimum a GED and, if possible, even further schooling. Job-placement counseling to connect these individuals with job-readiness training and an entry-level job, with transportation support if necessary, would be ideal. Goodwill Industries has an excellent model that could be built upon in the neighborhoods.

• Health services and nutrition counseling. This is desperately needed for both adults and children, along with ongoing access to primary care services. Even if these services exist nearby, these communities are closed and distrusting. Maybe it's time to reintroduce the concept of going door to door. This would also help the growing infant mortality rate, which is concentrated in poor communities.

• Food support. Many of these homes, even those with children, live in a state of food insecurity. It has been proved that, when people live with food insecurity, they tend to overeat when food is available and choose unhealthful options. This can lead to obesity.

• Legal aid. To deal with absentee landlords and public officials who refuse to appropriately regulate and adhere to safe housing standards, we must require that properties are kept in livable condition if these landlords are going to receive public dollars in rental assistance.

• Childhood education. Indianapolis Public Schools needs to step up. The board is searching for a new superintendent. An important criteria will be this individual's ability to collaborate with the community at large to ensure the best educational options in these areas. Many of these gardens of despair are in the district.

We need to rebuild hope. Indianapolis is a great city, and we keep reminding ourselves of that fact—but we also must acknowledge that it's not great for everyone.•

__________

Odle is the former chief operating officer of Indiana University Health and CEO of Methodist and University hospitals. Send comments to ibjedit@ibj.com.