Bloomington-based Big Red Liquors made a splash in March when it expanded into Indianapolis by acquiring the assets of United Package Liquors Inc.
Now, after taking over operations of the 24-store chain, Big Red Liquors has made an even bigger commitment to Indianapolis by buying a 33,000-square-foot building on the city's south side.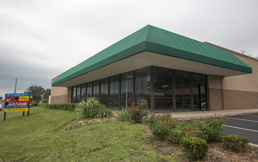 As many as 40 corporate employees could occupy Big Red Liquors' new HQ. (IBJ Photo/Aaron P. Bernstein)
Big Red plans to renovate the vacant structure at 5439 S. East St., also known as U.S. 31 South, and make it the company's headquarters.
Up to 40 corporate employees should occupy the space by Labor Day after they move there from Bloomington and another location in Indianapolis. The company is leasing space at 6350 Rucker Road near Binford Boulevard and East 62nd Street, which had been the home office of United Package Liquors.
Besides serving as Big Red's headquarters, the building ultimately could house a warehouse and even a retail liquor store, said Michael Sloan, a real estate broker at The Broadbent Group who represented the building's seller, United Leasing Inc. in Evansville.
"It's 20 yards from 50,000 cars a day," he said. "It's got great, great visibility, but it was neglected. It was in need of some attention."
United Leasing bought the building in March 2012 from Famco Properties LLC in Evansville for $961,653, according to Marion County records. Big Red declined to divulge how much it paid when it acquired the property in May, and a sale price has yet to be entered into county records.
United Leasing, an auto leasing company, gave the exterior a bit of a facelift, Sloan said, and repaved the parking lot after gaining possession from Famco.
Big Red plans to make a "significant investment" in the property that should run "well into seven figures," company CEO Don Rix said.
The building is about 25-percent larger than the company's Bloomington corporate office. But the real advantage is its proximity to the much larger Indianapolis metro market and the liquor suppliers here, Rix said.
"We're a very consumer-driven company, so it's our desire to be more centrally located," he said.
South-siders may know the building on the east side of U.S. 31 between East Thompson Road and East Epler Avenue as the Old Gray Goat Bike Building. The three-acre property housed the bike shop until about three years ago, when it moved to 7750 S. Meridian St., southwest of its old location.
"We really want to be a good neighbor, and it's been a vacant building, so we're not only going to upgrade the interior but also the exterior," Rix said.
Rix spent more than 30 years at Marsh Supermarkets before joining Big Red in February 2012. Founded in 1972, the company is owned by Mark McAlister and operates 48 stores. Half the locations are in the Indianapolis area.
Big Red signed long-term leases for all United Package locations with Indianapolis-based LOR Corp, a local real estate development firm that owned the chain.
United Package Liquor of Kentucky Inc. continues to own and operate four liquor stores in Bowling Green, Ky.
 
Please enable JavaScript to view this content.