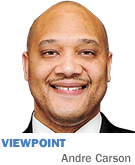 On July 1, interest rates on federally subsidized student loans doubled from 3.4 percent to 6.8 percent, increasing the cost of attending college and calling into question whether millions of Americans will now have the opportunity to pursue higher education.

Over the last few weeks, education advocates, economic experts and students have taken to the halls of Congress to make their case: allowing interest rates to double would have dire consequences not only for student borrowers, but also for the overall strength and stability of our economic recovery. Yet despite these warnings and agreement from both sides of the aisle that a solution was needed, Congress failed to address the issue in time.

The economic reality is stark, and the need for a thoughtful, long-term solution is clear. Student loan debt has now topped $1.1 trillion, outpacing both credit card and auto loan debt. More than 7 million Americans and over 271,000 Hoosiers hold student loan debt, and as a result of the doubling of rates, they now face an additional $4,000 in interest payments.

The consequences of congressional inaction extend far beyond financial hardship for those who take out loans, though. Skyrocketing student loan debt also stresses our overall economic stability.

According to the Consumer Financial Protection Bureau, the housing market, small businesses and entrepreneurship, retirement funding and health care all take major hits as students struggle to pay back their loans and postpone injecting energy and capital into our economy. By impeding that crucial economic activity, student debt is poised to be the next great fiscal crisis. In a time when we should be finding ways to reduce the cost of college and open university doors to more Americans, we cannot afford to add to this growing problem.

In Indianapolis, we recognize the value of pursuing higher education. Just a few weeks ago, we were named the best city in the country for college graduates, touting an unemployment rate of just 1.9 percent for degreed individuals. We are home to cutting-edge manufacturers, leaders in health care and bioscience innovation, a growing tech industry, and some of the best research programs in the country.

We know that a college degree is critical to our preparedness for the global marketplace and the jobs of the 21st century. That's why I'm urging my colleagues in Congress to take a lesson from the Hoosier state and join me in finding a real solution to this challenge.

When Congress reconvenes, we must pass legislation that returns interest rates to their previous levels and provides students with certainty about the cost of attending college. The other options on the table, such as tying interest rates to fluctuating markets and allowing them to approach 9 percent, are inadequate.

Of course, keeping interest rates low is only one piece of what must be a comprehensive solution to the student loan debt crisis. We must also tackle rising tuition costs and ensure that students have the necessary information to make smart financial decisions.

That is why I recently introduced the Higher Education and Employment Transparency Act, legislation that would ensure students have access to clear and robust employment placement information, allowing them to assess which colleges and areas of study would provide them the best career outlook after graduation.

Addressing the issue of student loan debt is critical to keeping college affordable and accessible and strengthening our economic recovery. We should solve this issue immediately and continue focusing on ways to ensure a college education remains a sound investment.•

__________

Andre Carson is the U.S. congressman representing Indiana's 7th District. Send comments on this column to ibjedit@ibj.com.