A high-profile Carmel office complex near the North Meridian Street corridor that once housed the headquarters of Indianapolis developer Lauth Group Inc. is officially on the market.
Jones Lang LaSalle is listing the trio of buildings known as Meridian Corporate Plaza for owner LIP Holdings LLC, an affiliate of Chicago-based Inland American Real Estate Trust.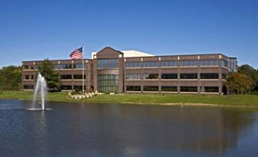 Meridian Corporate Plaza is 92-percent leased, which should help it fetch bids between $130 and $150 per square foot. (Photo/Jones Lang LaSalle)
Inland, a former financial backer of Lauth's, took possession of the buildings as part of the bankruptcy reorganizaation of Lauth Investment Properties LLC, a Lauth Group affiliate whose bankruptcy reorganization wrapped up in 2011. Lauth Group since has moved its offices to The Congressional, a 181,000-square-foot office building at 116th Street and Pennsylvania Parkway in Carmel that it bought last year.
Meridian Corporate Plaza, located just north of Interstate 465 between Meridian Street and College Avenue, totals 329,546 square feet and is 92-percent leased, said Jim Postweiler, a manager director of Jones Lang LaSalle.
Jones Lang LaSalle is listing Meridian Corporate Plaza without a price and instead is opting to take bids in a call-for-offer process. Bids need to be in the range of $130 to $150 per square foot, Postweiler said, which would translate into a total price between about $43 million and $49 million.
The buildings' tenants include Guggenheim Insurance, Hartford Insurance, Belden Inc. and Blackbaud Inc.
"We're excited about the opportunity to sell what amounts to a Class A stabilized package in the best location in the suburbs," Postweiler said. "The health of the commercial office market is good and improving, and the attractiveness of Indianapolis to investors is good and improving."
Jones Lang LaSalle is trying to get a higher price per square foot than other suburban office buildings have fetched in recent months, none of which has sold for more than $100 a square foot, said Darrin Boyd, managing director and principal of Cassidy Turley.
"It's definitely on the high side of what's traded in Indianapolis," he said. "But it's a property that should trade at a high price because it's well-leased and it's at a good location. It's got a lot of good things going for it."
Meridian Corporate Plaza's 8-percent vacancy rate is far below the overall vacancy rate in the north Indianapolis/Carmel market, which stood at 20.2 percent in the first quarter, Cassidy Turley statistics show.
The asking rent for the complex of $22.50 per square foot is higher than the average rate of $18.27 rate for Class A office space throughout the entire Indianapolis market.
The complex's three buildings range from three to four stories. The two newest buildings were finished in 2006 and 2007. To have such new product up for sale is unusual for the suburban market, said Dan Richardson, senior vice president for investment services at CBRE.
Most transactions in that market the past five years have been so-called "value-add" sales, he said, meaning investors could add value by increasing leasing activity or improving functions to make the properties more appealing.
"But this is stabilized," Richardson said of Meridian Corporate Plaza. "It's good product. So it's going to attract a different type of buyer."
Jones Lang LaSalle has yet to set a deadline for offers.
 
Please enable JavaScript to view this content.