A case brought early this year by the executive assistant to WTHR-TV Channel 13's former president was the seventh since 2005 by a woman alleging sex discrimination at the NBC affiliate.
The station's federally required public inspection file reveals that those complaints included ones filed by former weekend anchor Linsey Davis and ex-WTHR meteorologists Parella Lewis and Tina Simpkin.

Wiley
The Equal Employment Opportunity Commission, as in most such complaints, was unable to find cause to sue on the employee's behalf. But two of the seven women sued the station in federal court, most notably former Executive Assistant Debbie Wiley.
As IBJ reported in March, Wiley alleges station President John Cardenas was at times drunk and verbally abusive, and made inappropriate physical contact with her during a funeral for a station employee. A settlement conference is set for Aug. 16.
WTHR parent Dispatch Broadcasting Group denied Wiley's allegations and vowed to fight them.
Regarding the six other women who brought complaints against the station, "as previously stated, we do not comment on personnel matters," said Diana Riggsby Gardner, vice president of human relations at Columbus, Ohio-based Dispatch.
"The EEOC findings speak for themselves," she added.
That the EEOC didn't file a lawsuit in the cases isn't necessarily indicative of its merits. In most cases, the agency finds it is unable to determine whether cause exists, and issues a right-to-sue letter, said Donna Ballman, a Fort Lauderdale, Fla.-based labor law attorney and author of "Stand Up for Yourself Without Getting Fired."
In "rare cases," the agency decides to sue on behalf of an employee, Ballman said, but even then it tends to look for cases that involve groups of employees.
"Either way it, it doesn't mean the employee doesn't have a case."

Cardenas
Cardenas came to WTHR in June 2010, well after the time most of the women filed EEOC complaints. In November of that year, reporter Rachel Hardy filed an EEOC complaint alleging sex and race discrimination at the station. Her EEOC complaint is not publicly available.
Wiley named Cardenas in an EEOC complaint she filed last September, but her allegations didn't become public until she filed a lawsuit in January.
Leader in allegations
Local TV news ratings leader WTHR has the inglorious distinction of having more allegations of sexual discrimination than any other commercial TV station in the market.
Sex-based discrimination, under federal law, broadly involves treating someone unfavorably because of that person's gender. 
Generally, it involves everything from pay levels to job assignments to promotions. Unwelcome sexual advances or even offensive remarks about a person's gender can cause the EEOC to take notice.
Court and station records show WISH-TV Channel 8 received no such complaints during the seven-year period, while WRTV-TV Channel 6 had one.
WXIN-TV Channel 59 earlier this year settled a lone complaint, from a former account executive who alleged her boss belittled her pregnancy to the point she had to resign.
"I must say in all the years I have been involved in the industry, and I was a news director for 12 years, I never had an EEOC complaint filed at a station I worked at, and I've never had a client file one," said Rick Gevers, a Zionsville-based agent representing news directors and on-air talent around the country and CEO of Rick Gevers & Associates.
The 35-year industry veteran said he has no knowledge of the discrimination allegations at WTHR. But he noted they cover the terms of several news directors and senior managers who've come and gone.
Gevers wondered whether one complaint bred another, as most of the discrimination complaints covered the period of 2005-2006.
Settlement fueled complaints?
Indeed, the women may have been emboldened by what appeared to be a successful case brought in 2005 by Shelley Triol, a former executive producer at WTHR.
The EEOC declined to intervene, so Triol brought a complaint in U.S. District Court that alleged WTHR paid women less than male counterparts. She also alleged the station proposed to broaden her responsibilities yet pay her the same or only nominally more.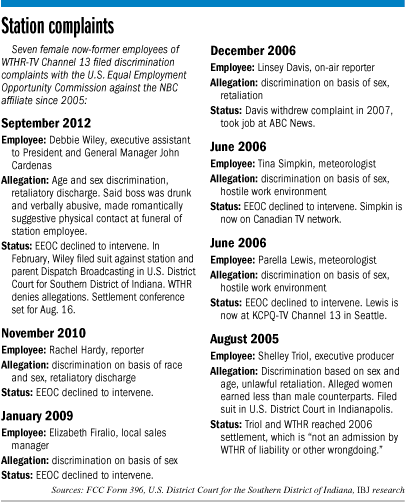 After wrangling in court, which included a counter-argument by WTHR that Triol was among the station's highest-paid employees, the two sides reached a settlement.
Triol, who is now a vice president at Indianapolis-based consulting and communications firm Sease Gerig & Associates, declined to discuss the case.
Later that year, three other women filed EEOC complaints against the station. Weekend anchor Davis alleged discrimination on the basis of sex, as well as retaliation.
But Davis dropped the complaint soon after, taking a job at ABC News.
Meteorologists Lewis and Simpkin also alleged discrimination based on sex and a hostile work environment, although the EEOC again declined to intervene. They both remain in the TV business, Lewis in Seattle and Simpkin in Canada.
Details of their complaints were not available because EEOC cases are confidential unless the agency or complainants introduce them in court.
Risky move
Employers often contend complaints of discrimination are brought by disgruntled employees, Ballman said. "But I've found that most employees don't want to be in an adversarial situation with an employer or ex-employer and they think long and hard before filing."
In industries such as television, where options are limited, "employees are afraid other employers in the industry won't hire them if word gets out that they complained about an employer."
Wiley, the 61-year-old former executive assistant to WTHR chief Cardenas, filed, anyway.
The former Mrs. Indiana and mother of five painted an unflattering image of Cardenas, one of Dispatch's rising stars. She alleged he referred to her as "handicapped" and questioned whether she could bend down.
Cardenas was drunk at work "and kept getting into my personal space, which made me feel uncomfortable," she alleged in the suit.
She also claims Cardenas touched her leg during a ride to a funeral for a former employee and put his arm around her inappropriately during the funeral.
Wiley's attorney, Eric Pavlack, recently filed a list of witnesses she intends to call, including engineering staff employees who sat behind her and Cardenas at the funeral. A settlement conference is set for Aug. 16.
Court case proceeding
She claims a corporate employee who witnessed the contact called WTHR's human resources director on the way back from the funeral to ask if Cardenas and Wiley had a "close relationship."
Another was a programming assistant whose desk was close to Wiley's. He was interrogated by a Dispatch lawyer to the extent "that [the employee] cried during the interview," according to Pavlack's filing.
While Cardenas is disparaged in the lawsuit, it didn't stop Dispatch from promoting him last month to president and general manager of its flagship, WBNS-TV, in Columbus. He also added the title of vice president of news for Dispatch.
Named as Cardenas' replacement at WTHR was Larry Delia, general manager and vice president at WXIN. Delia has yet to formally take over at WTHR. Local television insiders said he's likely awaiting the expiration of his contract with WXIN.
When Delia arrives at WTHR, he won't be without experience in discrimination cases.
Last December, an account executive at WXIN, Amanda Price of Fishers, filed a lawsuit in federal court in Indianapolis alleging sexual harassment and gender/pregnancy discrimination.
Price alleged that her boss in the sales department belittled her pregnancy and harassed her numerous times. After Delia returned from vacation, Price's boss was suspended, she said. But she later resigned from her job, citing stress.
Price sought not less than $150,000 in damages. She and WXIN settled the case last January for undisclosed terms.
In the television industry as a whole, age discrimination cases seem especially common these days, said George Siedel, a professor of business administration at the University of Michigan.
"Five well-publicized cases were brought or settled by TV anchors over the past 12 months. In each case, the anchor alleged age discrimination, often in combination with other claims," Siedel said.•
Please enable JavaScript to view this content.