A local real estate fund manager sued by a former client is fighting the charges by claiming in a countersuit that it's owed more than $20 million in fees.
 

Garrison
HDG Mansur affiliates brought the claim against the Cayman Islands-based Global Property Investment Fund after the fund accused the local firm of misappropriating $5.8 million in assets. The lawsuit and counterclaim are both pending in a federal court in New York.
Companies tied to HDG Mansur own the downtown Market Tower, a 31-story building that's the city's fourth-tallest, in addition to the Illinois Building across the street.
An HDG Mansur spokesman declined to comment on the dispute, and lawyers for both parties did not return phone calls from IBJ.
Judy Woods, a lawyer at the Benesch firm who often represents companies in financial disputes, has seen cases like this before.
"It's not unusual to have parties pointing the finger at each other with wildly different amounts," she said. "These are often fact-intensive disputes when you get down to it. That's the tricky thing about these cases."
GPIF unleashed a few zingers in its initial complaint, accusing HDG Mansur of misleading two of its funds with deceptive accounting practices as it attempted to avoid further financial distress. GPIF claims in its suit that the HDG Mansur affiliate had little to no sources of additional revenue other than the fees from the funds.
"There is a significant possibility that without their 'cash grab' from the funds' assets, the HDG entities would be unable to continue operating," GPIF says in its suit.
The funds—which manage money for overseas investors—hired the HDG Mansur entities in 2002 to provide management and investment advisory services.
Their relationship remained intact for 10 years, until December 2012, when the funds say they discovered that the HDG entities had paid themselves millions of dollars from the funds' assets without their knowledge.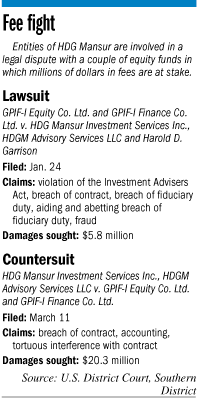 The funds claim in their suit that they were told by HDG Mansur CEO Harold Garrison that the HDG entities charged them $5.8 million in additional financing fees to rectify a billing error dating to the inception of the agreement.
HDG arrived at the figure after determining it was entitled to fees based on total amounts invested in the funds, rather than on just the financing arranged for each investment, the funds allege in their suit.
"The HDG entities' new interpretation of the agreements would result in their being paid again based on the gross acquisition price, and thus is a classic case of 'double dipping,'" GPIF said in its claim.
In its counterclaim, HDG strikes back, charging that it is owed $20.3 million, or "well over three times what plaintiffs are seeking from defendants."
HDG arrives at the amount by claiming it is owed $6.5 million for leases negotiated with tenants of the funds' properties that were not signed before their relationship soured in December.
"But the HDG entities performed most, if not all, of the work involved, and by standard industry practice are entitled to those fees," HDG Mansur said in its countersuit.
HDG also says the funds' termination of their agreement entitles it to a $5.4 million severance payment, in addition to $3.4 million in transaction fees and $2.6 million in what's known as capital appreciation performance fees.
HDG is suing the funds for breach of contract and also has brought a counterclaim against a third party, New York-based HSBC Securities Inc.
As the funds' placement agent, HSBC was charged with marketing the funds to potential investors to raise capital. But HDG claims HSBC stopped raising capital for the funds because senior HSBC executives resented that the funds were performing better than HSBC's funds.
HSBC's failure to raise capital for the funds meant HDG had less capital to manage and ultimately limited the funds' ability to acquire property investments, reducing the returns of investors as well as HDG's fees.
Both the funds and the HDG entities are represented by New York law firms.•
 
Please enable JavaScript to view this content.