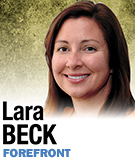 The morning the news broke that the U.S. Supreme Court had struck down a key part of the Defense of Marriage Act, people across the country did a double-take. Was it possible that the members of the highest court in the land rendered one of the greatest wedge issues of our time obsolete?

Gay marriage is a wedge issue. In 2000, conservative operatives realized they could galvanize their base with cheap shots and scare tactics.

The result? Their base regularly comes out to the polls and votes their "values." The irony, of course, is that these are the same people who vote against their own economic self-interest because their politicians have duped them into thinking that gay marriage is the single greatest threat to the survival of our families.

I have news for them. It's not the single greatest threat to our families. Two loving parents lead to healthy, thriving children who contribute to society.

Among the many threats Hoosier families face is a dangerous slide into poverty that our leaders seem unwilling to solve because they are spending time and taxpayer dollars discriminating against the LGBT community, simply because they have a different lifestyle.

From 2005-2011, childhood poverty in Indiana grew 35 percent compared with 21 percent nationally. Approximately 2.2 million Hoosiers live at or below the poverty line. Fifty-five percent of Hoosier single mothers with children under age 5 are in poverty.

Hours after the Supreme Court announcement, Sen. David Long and Rep. Brian Bosma announced that they would push forward for a vote on House Joint Resolution 6, a constitutional amendment that defines marriage between a woman and a man.

Gov. Pence, who campaigned on jobs rather than on his record as a crusading social conservative in Congress, pledged his full support to the effort while his office simultaneously deleted the comments of people who disagreed with him on his official Facebook page.

But here is where things get sticky for the base-galvanizing politicians: As written and approved by the Legislature, the amendment is overly broad, and has raised legitimate questions about the impact on domestic partnerships and civil unions. It also will have a chilling effect on how Indiana attracts and engages top-flight talent to the many businesses headquartered here.

Indiana is home to corporate powerhouses like Cummins, Eli Lilly, Roche and WellPoint—all of which offer domestic partnership benefits. Some of our great academic institutions—Indiana, Purdue, Ball State and Butler universities—also offer domestic partner benefits.

Last year, the city of Indianapolis began offering domestic partner benefits to its employees. These benefits, used by same- and opposite-sex partners, will disappear if the amendment is passed.

More concerning is the message Republicans are sending to current and prospective employees of our leading companies, many of whom live, work and pay taxes in our state.

It's disingenuous to campaign on a pro-jobs platform, but ignore the concerns of business leaders who have spoken out during consecutive legislative sessions as to how the amendment will negatively impact their recruitment efforts. It's impossible to extol the virtues of our legendary Hoosier hospitality while writing discrimination into the state's constitution.

Pushing the gay marriage amendment won't bring us one step closer to lifting Hoosiers out of poverty.

Greater economic opportunity will enable more Hoosiers to earn a sustainable living to support their families, and leave our children in a better position than the generation before.•

__________

Beck served on the staffs of former Mayor Bart Peterson and former first lady Maggie Kernan. A resident of Irvington, Beck owns the strategic communications firm Beck Communications. Send comments on this column to ibjedit@ibj.com.