Tom Anders read a comment board last year and had an epiphany—there are grown men who enjoy "My Little Pony."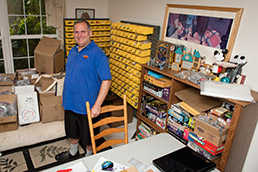 Tom Anders has hundreds of figurines ready to exhibit at Gen Con. (IBJ photo/Eric Learned)
The realization turned out to be lucrative. It helped him raise a staggering $105,000 for his business in barely a month—from supporters eager for access to his products, not an ownership stake in his company.
Anders, 44, has run Impact! Miniatures out of his Fishers home since 2007. The company makes wizards, orcs, demons and a legion of other fantasy figurines—including those magical ponies—for tabletop role-playing games akin to "Dungeons & Dragons."
Once a self-funded, part-time hobby business, Impact! became a full-time endeavor after Anders lost a six-figure computer consulting job at PricewaterhouseCoopers in 2009.
He needed capital to boost his miniature figurine business to support his family, but banks showed no interest. So Anders and his partner turned to the fundraising website Kickstarter in September 2012 to rally support for a new product line he dubbed "Chibi Dungeon Adventures." Kickstarter answered the call in a big way; supporters gave him more than 30 times what he hoped.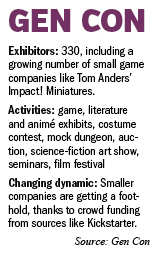 Impact! is among a growing number of small game companies who will join a pantheon of industry titans starting Aug. 15 at the Gen Con Indy gaming convention.
The small guys are there largely because they can get the money they need to keep themselves alive via the fundraising technique known as "crowd funding" or "crowd sourcing." Crowd funding typically refers to raising money while crowd sourcing might only involve gathering feedback.
Gen Con convention owner Peter Adkison has noticed a changing dynamic among the more than 300 exhibitors at his event since Kickstarter launched in 2009.
"We've always had a lot of newcomers each year," said Adkison, whose convention drew an estimated 41,000 visitors in 2012. "The big question is whether they're still around two or three years later."
Crowd funding helps because game producers can collect feedback on their products as they develop them. Games stay popular for longer because startups, despite their limited resources, can find money to update their products.
"Sometimes in our past, somebody would come out and be a really big force in the industry, then it crashes on the other end, like a fad," Adkison said. "What's nice now is, there seems to be more hits, and they're smaller and more incremental, making things broader and deeper. It's a much healthier situation."
Adkison knows the business better than almost anyone. He founded Seattle-based Wizards of the Coast in 1993 and created the popular card game "Magic: The Gathering."
"I had to write a business plan, go to investors, sold stock in my company, a very traditional sort of model," he said. "Crowd sourcing enables financing for projects that would not make for a good story to a financial investor."
First turn
Other crowd funding sites have popped up over the years: Indiegogo, RocketHub, Fundable. Some are an exchange for equity in businesses while others, like Kickstarter, help collect donations.
Unlike when Adkison established himself 20 years ago, gaming entrepreneurs now set up online fundraisers. In response, the innovators and artists reward their supporters by introducing products and giving some of them away.
Anders, for instance, originally planned to design nine characters for board games if he hit his fundraising target of $3,250. He promised to add a few more characters for every additional $2,500 he raised. By the end of the campaign last November, Impact! had agreed to create 104 warriors and monsters.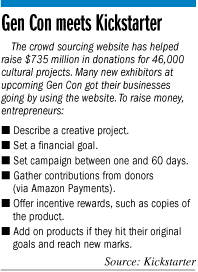 "We're still trying to finish the fulfillment of it, it got so big," he said.
Anders extols the virtues of interacting with those who comment on his Kickstarter page. If he did not, he would not have discovered the self-identified "Bronies"—slang for "bros" who like "My Little Pony" figurines.
"We gave them ponies with wings and a hat," Anders said. "We generated over $3,000 off that population. Was it huge in comparison to $105,000? No. But we look in comparison to how much money we started at, we got that just from looking at the comments and responding to them accordingly."
Some game retailers and wholesalers have felt a sting because crowd funding donors often receive the products directly from creators.
But Steve Board, general manager for central Indiana retailer The Game Preserve, said the lost sales in the short term are overcome by long-term gains.
"To me, that's a pretty minimal side effect," Board said. "In a lot of instances, a lot of these products wouldn't get made in the first place if it weren't for Kickstarter."
Games dominate
The website Kicktraq, which analyzes Kickstarter data, reported in August 2012 on games' booming popularity.
Board and card games in the first half of 2012 raised more than $7 million. A year earlier, they netted $1.7 million.
Hitting $100,000 is rare.
Indianapolis has had 106 projects reach their fundraising goals on Kickstarter, most of which yielded a few thousand dollars. Countless others have received no funding because they fell short of their goals, and Kickstarter takes an all-or-none approach.
Four projects hit $100,000, with two others at more than $90,000. Four of the six projects were related to gaming.
One fundraiser, for a tabletop role-playing game called Myth, reached $926,000.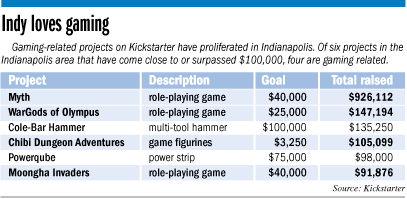 Reputation matters
Indianapolis resident Max Michael's friend, Martin Wallace, needed help last year. Wallace, who started Treefrog Games in 2008 in the United Kingdom, was moving to New Zealand, and it was costing his company a lot in missed revenue.
Michael, who runs Stratamax games with two partners, set up a Kickstarter campaign on Wallace's behalf. The men intended to raise $40,000 for the science fiction board game "Moongha Invaders."
Within 39 days, the game raised just shy of $92,000.
Wallace credited the campaign's success to his track record over the four years that he and his wife ran their company part time.
"In many cases, the games [on Kickstarter] are not developed fully, which means the final product is not as good as it could be," he wrote in an email.
"Potential pledges are now wary of committing to projects. However, if you have a good track record, then this can reassure people. The strategy, then, was to cash in on my reputation."
Credibility helps with sales, too.
Board, of The Game Preserve, said crowd funding sites yield enough games with potential that employees routinely scour the website looking for ones to buy. But out of hundreds of titles in inventory, "maybe four or five" originated on Kickstarter, he said.
Releases from the established companies—Fantasy Flight Games, Rio Grande, Z-Man Games—are still much stronger magnets for customers, he said.
On to Gen Con
Anders did not see the situation being much different this year among exhibitors at Gen Con.
"The gaming industry is still owned by the big guys, without a doubt," he said.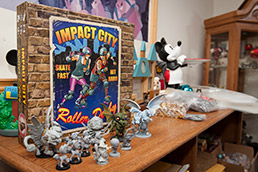 Fishers-based Impact! Miniatures received $105,000 in donations via Kickstarter to create plastic figurines for role-playing board games. (IBJ photo/Eric Learned)
"I get people who come to me, 'I'd love to buy your products, but why can't you paint them? Why can't you do like Wizards of the Coast and sell painted figures?' Well, I don't have assembly lines in China, where one guy paints pants on figurines all day long."
But without the extra funding he pulled in last year, his booth would look much barer, he acknowledged.
"Without Kickstarter, there's no way I could have launched a 104-figure line in a year," he said.
A game called "Shadows of Esteren" specifically targeted Indianapolis for a Kickstarter campaign so it could get its developers across an ocean to Gen Con.
The French role-playing game—described by its creators as set in a "harsh medieval universe, whose prevalent themes are the gothic and horrific"—raised $110,000 on Kickstarter, with three days to go as of IBJ's deadline.
The trip to the United States would have happened, regardless. But crowd funding covered enough other expenses that the group felt comfortable investing money in a publicity tour in the U.S. and Canada, according to one of the game's developers, who publicly identifies himself only as "Nel" or "Nelyhaan."
"This strategy promoted by our editor has borne fruit: it requires money, but has resulted in gathering a steadfast community and making our work known. This is also a means to meet potential partners," Nel wrote.
"We have been to the United States for our first time last year, at Gen Con, and it was a huge success," he later said, "probably due in part to the curiosity of seeing 'Frenchies' being present at this great American convention."•
Please enable JavaScript to view this content.