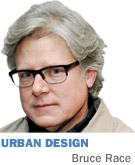 As you know, I have been in Cardiff, Wales, teaching. My previous columns this summer discussed what we can learn from another capital and sports city's effort to reinvigorate its downtown and former industrial waterfronts. This month, I am thinking about something a little closer to the ground—pubs and the stories they tell about our cities.

In May, a story in Cardiff reviewed the 20 most popular pubs in Wales. I had already been to four of them, and three more are nearby and have been moved to my to-do list. These aren't trendy, multi-tap brewpubs. Some have been open hundreds of years. Most are in historic buildings with beautiful interiors. All of them are hubs for their neighborhoods.

"Pub" is short for "public house," meaning it is a house open to the public. The long-standing tradition for pubs and inns dates back to the Romans. Wales, England and Ireland have been perfecting the pub for centuries. The traditional pub is also an inn. Many of the pubs in Cardiff have rooms upstairs, dining areas, service bar and outdoor patios.

The oldest continuously occupied pub building in Cardiff is the black-and-white, Tudor-style, wood frame Rummer Tavern built in 1713. The name "Rummer" refers to a large drinking glass with a stem that was popular from the 1400s to the late 1600s. Every pub has a story, and the Rummer is no exception. The famous Cardiff 100 Miles Road Cycling Club used the Rummer as its headquarters from the 1890s until World War I. The Rummer, which is on Cardiff's haunted pubs list, is one of six remaining pubs built before 1800 and is a protected historic resource. It is going to be around a long time.

Unfortunately, that has not been true for all of Cardiff's historic pubs. In 2012, the Victorian-era pub called the Vulcan Hotel was dismantled and put in storage with the thought that it would become an exhibit in the St. Fargan's (Welsh) National History Museum. Built in 1853 and part of a neighborhood of terrace houses in working-class Adamsdown, the Vulcan witnessed 159 years of Cardiff history. The site is now part of a newly planned mixed-use center just over the tracks on the southern edge of downtown Cardiff.

Of course, we have some historic pubs of our own in Indianapolis. The great Indy blues venue, The Slippery Noodle Inn, is south of the railroad tracks at South and Meridian streets. This building's history includes fascinating stories about our city.

The Noodle's building is Indiana's oldest, continuously operated bar. It opened in 1850 as a roadhouse and bar called the Trenton House. The 1858-1859 McEvoy Indianapolis Directory has 16 people listing the Trenton House as their address. Occupants included three carpenters, a steward, a baggage master and an engineer. That is exactly whom you'd expect to find in a roadhouse next to Union Station in a booming Indianapolis.

In the 1860s, Trenton House became The Concordia. During the Civil War, the bar and inn was part of the Underground Railroad. Maps from 1887 indicate the building was called the Germania House. It was a center for the German community. During World War I, the name was changed to Beck's Saloon. After the war, the neighborhood south of Union Station went through some rough times and the saloon transitioned from posh hotel in a residential neighborhood to bordello in an industrial district.

Old city maps show us what the area was like. In 1915, the now-underground Pogues Run creek flowed in the back alley and the inn's South Meridian Street neighbors included warehouses and packing businesses. Maps from 1927 and 1929 show the area south of Union Station evolving into an industrial and warehousing district. A gas station and nickel-plating company were across Meridian Street and the Vonnegut Machinery Co. was across South Street.

During Prohibition, the building was used for illicit purposes, including bootlegging and as a hangout for the famous gangster John Dillinger. It reopened as Moore's Beer Tavern in 1935 and was a rather notoriously seedy inn until the residential portion closed in 1953.

The Slippery Noodle Inn has been under the same family ownership since 1963. It is an institution where generations of blues enthusiasts have kept this little corner of downtown alive. It is one of the last truly original buildings south of Union Station and is on the National Register of Historic Places.

The building has been part of our history for 163 years and in an area poised to change again. I cannot imagine it is going to be our Vulcan Hotel—dismantled and moved to the Indiana State Museum. However, South Street's pell-mell pattern of older buildings, parking lots and suburban chain pads are under pressure to change. But change into what?

The Noodle deserves to be part of a new, cool story about an area that prospers. Cheers!•

__________

Bruce Race, FAIA, FAICP, is an award-winning architect and urban planner, owner of RaceStudio and recipient of the Indiana Sagamore Planning Award. He lives in a historic Indianapolis neighborhood and teaches urban design at Ball State University's Downtown Indianapolis Center. His column appears monthly. He can be reached at br@racestudio.com.