Last December, I dedicated a column to the substantial upgrading of the Fashion Mall food court. What used to be a string of forgettable lunch-slingers on the claustrophobic bridge between the two retail halves had been transformed into a ground-level, high-ceilinged hang-out space.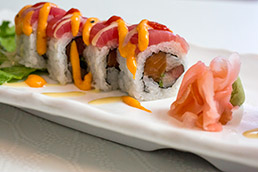 Naked Tchopstix spin-off Ban brings hand-rolled sushi to the Fashion Mall. (IBJ Photo/ Aaron P. Bernstein)
At that time, though, all of the new food purveyors weren't yet in place. So, kicking off this month of mall restaurant reviews, I thought I'd return to the Fashion Mall to catch up with one eatery that wasn't there when we last reviewed.

At Ban (8702 Keystone Crossing, 218-4415), a counter-service spin-off of Naked Tchopstix, the emphasis is on fresh sushi. There's no glass showcase from which to do a grab-and-go. Instead, you order from an extensive menu of options and wait for the chef behind the counter to craft your roll. For those without the patience, there's also a by-the-pound buffet ($9.99/lb.) of standard Chinese restaurant offerings (General Tso's Chicken, Egg Drop Soup, et al.) which, alas, proved no better than an average Chinese mega-buffet.

For all the effort put into the sushi—and recalling satisfying meals I've had both at the Naked Tchopstix sit-down joints and the airport food court location—I was surprised at the relative blandness of our lunch.

In addition to the buffet plate, we sampled three made-on-the-spot rolls, which we thought would represent a range of flavors and textures: The Mafia Roll ($13.99), with salmon, hamachi, green onion, tuna and three sauces; the Orange Sunshine Roll ($14.99), with orange, salmon, shrimp tempura and (allegedly) spicy mayo; and the Illinois Roll ($8.99), with shrimp, avocado and cucumber. (Side note: While our neighbor state to the west has its signature roll, we have yet to see an Indiana version. Come on, people.)

All three selections were served unappetizingly warm. Yes, I know, there's debate in the sushi world over warm vs. cold rice, but I'm of the opinion that sushi is like revenge—a dish best served cold. I know purists say ice-cold fish—like ice-cold beer—doesn't offer as much flavor as room temperature. Which might be true.

But roll that phrase around in your mind for a while: Room-temperature sushi.

More of an issue was the overall blandness of the dishes—especially when we specifically asked the very pleasant counter attendant for recommendations, including spicy choices. With such a lack of flavor, the wasabi and the pickled ginger served with the rolls seemed essentials rather than optional accents.•

—Lou Harry

__________

First in a month-long series (with time out for a State Fair trek, of course) of new-mall-restaurant reviews.