Two proposals to add much-needed downtown housing for the homeless have the support of city officials, but one of the projects is drawing stiff resistance from neighbors concerned that it will create a host of safety issues.
Both affordable housing developer BWI Development & Management Inc. and Wheeler Mission Ministries Inc. received city approval this month that could enable them to begin construction within six months.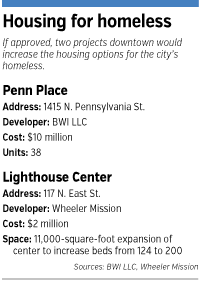 BWI plans to add a fourth story as part of a $10 million permanent housing project that will include 38 apartments in a vacant building at 1415 N. Pennsylvania St.
And Wheeler Mission Ministries Inc. is set to build a two-story, 11,000-square-foot building on a portion of a parking lot west of its Lighthouse Center at 520 E. Market St. and near the new Artistry mixed-use development set to open in November.
The $2 million project will enable Wheeler to move shower facilities and administrative offices to the new building and expand the number of beds it has at Lighthouse from 124 to 200.
The projects are sorely needed, as Indianapolis last year saw the number of people counted as homeless grow 5 percent, from 1,567 in 2011 to 1,647 in 2012, according to a report from the Coalition for Homelessness Intervention and Prevention.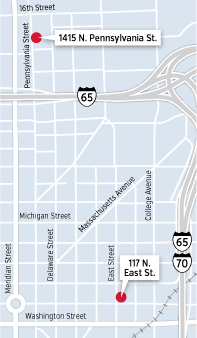 "We are not unique in that we are still facing some challenges with our homeless population," CHIP Executive Director Christy Shepard said. "We've made some headway with families, but we're also seeing more families because Mom and Dad have been out of work for so long."
Reluctant neighbors
But several neighbors of the building on North Pennsylvania Street that BWI wants to rehab strongly oppose the developer's plans. Among them: The Propylaeum, a not-for-profit whose historic headquarters on Delaware Street sits directly behind the property; various small businesses along Pennsylvania Street; and perhaps most important, The Old Northside Neighborhood Association.
Topping their concerns is that Penn Place will cater to homeless residents with serious mental health and substance abuse problems. BWI is partnering on the project with Midtown Community Mental Health, which will refer residents and offer off-site services for them.
"People hanging around in an area for no reason negatively impacts area businesses that depend on a hospitable environment to operate successfully," Old Northside President Doug Sapp wrote in a letter to city officials. "The proposed usage is likely to give an unhealthy perception of our neighborhood."
The Indianapolis Historic Preservation Commission could sign off on the building's design next month, giving BWI the go-ahead to begin construction on what would become Penn Place.
BWI sought federal tax credits to help fund the project and was awarded them Aug. 22. If all goes well, BWI hopes to start work in January.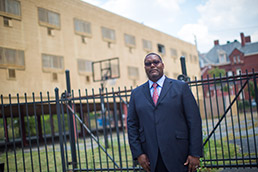 Gary Hobbs wants to redevelop a vacant property on North Pennsylvania Street into housing for the homeless, despite opposition from some neighbors. (IBJ photo/Aaron P. Bernstein)
"We're committed to working through any concerns that Old Northside residents have," BWI President Gary Hobbs said. "It's a nice urban community. Our commitment is to make this a really nice apartment complex and keep it safe."
That's not enough reassurance for Karin Glass of Occasions Divine in Zionsville, which provides catering services to The Propylaeum on evenings and weekends for special events and weddings.
Glass said she's sensitive to the plight of the homeless, having volunteered her time to several social-service programs, but thinks BWI's proposal is a poor fit for the historic neighborhood.
"A lot of them will be diving in my Dumpsters looking for the residuals from the wine bottles, because they do already," said Glass, noting that she's at times poured bleach in the bottles to try to deter the activity.
'Vast improvement'
For its part, the city's historic preservation commission says the safety concerns are outside its jurisdiction and that it has authority on only two matters: approving the design of the building and a variance to allow eight more units than the 30 that already are permitted. The commission approved the variance Aug. 7.
"Staff continues to believe the physical design of the project is appropriate and would be a vast improvement over the condition of the property today," the commission said in a staff report.
The three-story structure was built in 1959 as the Drake Motel. In 1982, the property was granted a variance to be used as a residential and rehabilitation center with services provided for up to 80 federal and county probationers. In 1997, a modification was granted to expand the number of residents to 160.
It operated as Riverside Community Corrections until December 2010. A local entity called Pinebrook Properties LP bought the building in October 2011 for $180,000, according to property records. BWI's purchase would be dependent on the tax credits.
An iron fence at the rear of The Propylaeum served as somewhat of a barrier from the residents of Riverside who still would hop it to catch a nearby city bus stop, on Delaware Street.
If BWI builds Penn Place, the Propylaeum might attempt to build a sturdier buffer and also might hire a security guard, said the not-for-profit's president, John D. Long.
But BWI's project is backed by Indianapolis Downtown Inc. and Near North Development Corp., both of which voiced their support in letters to the city.
"They're folks who are at risk for homelessness because of addiction or other issues, but they are folks ready for permanent housing," Near North President Michael Osborne told IBJ. "It's not a homeless shelter; it's permanent, supportive housing."
Beyond capacity
Meanwhile, Wheeler Mission's Lighthouse Center is operating at beyond capacity. The facility for men has 124 beds and room for another 46 to sleep on the floor.
Besides administrative offices and shower facilities, the new building next to the center will feature a larger "day room" and a fenced-in outdoor area to discourage the homeless from loitering in the streets, said Rick Alvis, Wheeler's president and CEO.
Unlike the Penn Place proposal from BWI, city officials said Wheeler's expansion plans received no opposition.
"When we're done with that site, it will look very attractive," Alvis said. "We want it to be an attractive site for the neighborhood and for the city."
Wheeler so far has raised $2 million as part of a $6.5 million capital campaign to fund the expansion and other needs.
Alvis said he'd prefer to have $3 million raised before starting construction, which could be by the end of the year, to fund the $2 million project and to pay off $1 million in acquisition costs.
Wheeler bought the property at 117 N. East St., which contains the parking lot and a vacant building, in November from Wayne Bank and Trust Co. for $675,000, according to city records.•
Please enable JavaScript to view this content.