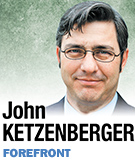 A realization struck recently as I was sitting in the shade of an umbrella stuck into the white sand that rims Thunder Bay in northeast Michigan, a copy of "The Last Policeman" across my lap.

My beach reading the last three years has an unintentionally heavy Hoosier rotation, featuring novelists Ben H. Winters, Dan Barden, John Green and Michael Koryta.

Then another thought occurred since I was between chapters and needed to replenish my drink. Imagination runs high in Indianapolis.

These authors are among many here who assemble words into great stories. Others express their imaginations with paint and music and pixels. Terry Border does wondrous things with bent wire. Brian Payne did it with the Cultural Trail. Don Brown's done it a couple of times with tech companies. You get the idea.

These thoughts occurred as I crossed the sand. The next one struck as I crossed the infernal gravel parking lot barefoot. With all this creativity flowing in close proximity, why won't our elected officials display some imagination?

Each painful step produced another question.

Why doesn't income tax flow to the county where it's earned if the worker lives in another county?

Why does Indiana's three-tier alcohol regulation scheme persist?

Why can't Hoosiers decide for themselves whether they want to pay additional taxes for mass transportation?

Why are we going to vote whether to restrict Hoosiers' rights in the very document that grants those rights?

Why won't we embrace more health insurance for Hoosiers?

Why don't we have a comprehensive plan to pay for our transportation infrastructure?

Why do we still have township government?

The simple answer is also the cynical one: A politician's quest for power requires a relentless pursuit of the tried and true. Creativity here is displayed through finding ways to separate donors from their money and bending district boundaries to ensure reliable elections that ensure a party's grip on power.

Let's just say a particularly sharp pebble fired those cynical neurons. As the pain eased and I refilled my glass, my thoughts took an optimistic turn.

John Barth is still on the City-County Council, Sharon Nagele is in the General Assembly, and they are among many other politicians with a public-service bent. If the electorate gets off its duff and decides government should serve them and not the other way around, we'll have a lot more folks like them in the halls of power.

There are a lot of regular Hoosiers who—excuse me, John Green—don't forget to be awesome. Look around you. IndyFringe exists because someone made it so. The French Market at St. Joan of Arc raises money for the parish and gives the neighborhood a chance to celebrate. ExactTarget sustains so many families in Indiana because its founders dared to create the company.

For those unfamiliar with "The Last Policeman," it features a diligent detective who solves crimes even as nearly everyone around him freaks out. They're freaking out because an asteroid is on a collision course with Earth and in less than 90 days, it's game over.

As I crossed the gravel lot again, flip flops on my feet, I was relieved to realize there are no literal or figurative asteroids out there and the traits displayed by Detective Hank Palace are far more common than not.

So I'm more confident our collective imagination will overcome our political shortcomings. I just don't know yet how that will happen. Maybe I'll figure it out in "Countdown City," the second installment in Winters' trilogy.•

__________

Ketzenberger is president of the Indiana Fiscal Policy Institute, a not-for-profit dedicated to non-partisan research into the state's tax policies and budget practices, and tweets at @JohnKetz. Send comments on this column to ibjedit@ibj.com.