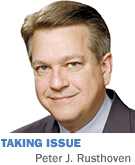 Last week marked the 50th anniversary of the March on Washington and Dr. Martin Luther King Jr.'s "I Have A Dream" speech. Few speeches merit recall a week later. King's will be remembered as long as America lives.
President Obama marked the occasion by saying King would have liked Obamacare. Maybe. But that comment seems to have less to do with King's dream and legacy than with Obama's dreams about his own.
More insightful was Juan Williams' Aug. 27 Wall Street Journal op-ed, "Songs of the Summer of 1963 … and 2013." Williams, a liberal who regularly defends Obama on Fox News, starts with the poetry of King's address and then-popular music (such as Bob Dylan's "Blowin' in the Wind," which Peter, Paul and Mary sang that day to the 250,000 at the Lincoln Memorial).
Williams then contrasts these with today's rap music. This includes Jay-Z's "Holy Grail," which talks "about 'psycho b****es' and uses the n-word seven times while bragging that he is 'Living the life … Illest [n-word] alive.'" Another is a Lil Wayne release "with an obscenity in the title, using the n-word repeatedly and depicting himself as abusing 'hoes' and 'b****es.'"
Williams is holding back a bit. Jay-Z titles include "That's My B****," and (all one word, like Internet addresses) "F***WithMeYouKnowIGotIt." In that ballad, the artist advises "My b**** whip cost a hundred grand," adding, "Sexy b**** I hope she 'bout it / Sexy b**** I know she 'bout it / F*** with me, you know I got it." Catchy.
Lil Wayne's 2012 "I Am Not A Human Being" album features "Gonorrhea," warning "P***y a** [n-word], I don't want your gonorrhea." Noted. The "obscenity in the title" number Williams references is "Rich As F***," from 2013's "I Am Not A Human Being II." Chorus? "All my [n-words] look rich as f*** (B****) / All my [n-words] look rich as f*** (Ho A**) / All my [n-words] look rich as f***."
Whether or not he would support Obamacare, the man who dreamed his children "will not be judged by the color of their skin, but the content of their character" would be appalled at the music shaping young people's character today.
He would also disapprove of some blacks treating others as "disloyal" for not conforming to stereotyped political or cultural norms. An example is ESPN commentator Rob Parker asking last December about Washington Redskins quarterback Robert Griffin III: "Is he a brother, or is he a cornball brother?"
Parker explained: "He's not real. OK, he's black, he kind of does the thing, but he's not really down with the cause. He's not one of us." Why? "We all know he has a white fiancée. There was all this talk about how he's a Republican … " No! Say it ain't so!
None of this advances King's vision of a color-blind America. As Williams observed about modern rap, failure of today's civil-rights leaders "to denounce these lyrics for the damage they do to poor and minority families is a sad reminder of how long it has been since the world heard the sweet music of the March on Washington."
This is an area where some words from our president, who talks about almost everything, could help. He once said his iPod has lots of Jay-Z and now features some Lil Wayne. It would be good to see him reverse course, and say why.•
__________
Rusthoven, an Indianapolis attorney and graduate of Harvard College and Harvard Law School, was associate counsel to President Reagan. Send comments on this column to ibjedit@ibj.com.
Please enable JavaScript to view this content.