Yes, I rolled down a Tennessee hill in a big wet ball.
Let me explain.
Earlier in the summer, my returning-from-Florida daughter secured a ride back as far as Tennessee. There, Dad would pick her up to complete the journey home. Newly addicted to amusement parks, though, she insisted that I take her and her pal to Dollywood, the theme-park anchor of Pigeon Forge. And as anyone who has driven through the Smoky Mountains knows, Dollywood does not stand alone in luring tourists to Pigeon Forge. The town overflows with attractions.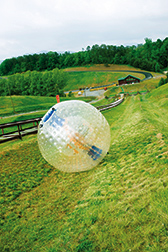 Zorb takes riders on a wild downhill ride. (Photo courtesy of Pigeon Forge Tourism)
Until recently, I would have driven right through without a thought of stopping. When you grow up in a tourist town (in my case, on the Jersey shore), you don't place a high priority on visiting other tourist towns. Yet as I've gotten older, I've found something quintessentially summer about tourist meccas—cities where entrepreneurs compete to build the biggest water slides or the craziest miniature golf course. Places where the brochure racks at the hotel are packed with come-ons for wacky attractions.
Hence, my presence in a rolling watery orb.
It's called Zorb and the only other ones, as of now, are in Amesbury, Mass.; Guam; and New Zealand. Riding it is a giddy, too-soon-over exercise in helplessness as you slosh around in the inner chamber of the rolling ball, giggling uncontrollably all the way. Daredevils can opt to be strapped in so that, instead of sliding around inside, you roll head over heels, but I'm no daredevil.
A drier but equally unique experience can be found at Lumberjack Feud, a dinner show housed in its own warehouse-like theater that covers an acre of ground and seats 1,000. The concept is that two rival families in the 1930s compete in outdoor challenges in order to decide which has claim on precious land.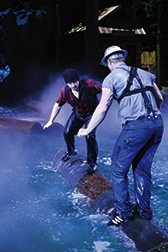 Lumberjack Feud offers unique live entertainment. (Photo courtesy of Pigeon Forge Tourism)
While the dialogue and gags are lowest common denominator and the food marginal, the spirits are high and the contests fun. The creators see it as being to logging as Cirque du Soleil is to the circus. Not quite. But with a waterfall, a 40-foot mountain and climbers scooting up 70-foot trees, Lumberjack Feud offers the Americana equivalent of Medieval Times.
Other Pigeon Forge attractions might be more familiar. This is a town with not one, but two, mirror maze complexes (we tried both) and plenty of miniature golf and go-kart action. We passed on the Titanic Museum, but did join Rose and Jack on the deck of the doomed ship at the Hollywood Wax Museum.
Opened in 2012, this is less a museum than a series of photo ops, allowing visitors to get instant Facebook gratification by posting shots with James Dean in a late-night diner or Arnold in full "Terminator" gear. Some of the choices are odd (Jack Black for "Nacho Libre"? Michael Caine for "The Cider House Rules"?), but we found it surprisingly fun. And we managed not to get fresh with the Dolly Parton wax figure—as tempting as that might be to tourists.
Speaking of Parton, she is the empress of this part of the Smokies, adding real-life celebrity pull to her namesake amusement park—even if she's found primarily on posters and brochures rather than in the flesh.
As with most theme parks, there's a dearth of in-between rides at Dollywood—with little betwixt kiddy and coaster. But as one would expect, there are plenty of under-an-hour musical reviews leaning toward country and gospel.
Parton's park's primary pleasure, though, comes from the way it embraced rather than plowed over the natural beauty of the area. Sure, some landscape changes had to be made to accommodate thrill rides, but the down-homeness doesn't feel overtly manufactured here. It's got a 30,000-square-foot aviary complete with bald eagles, and a craft area featuring blacksmiths, candle dippers and leather toolers. There are bumper cars, a zipline and rides whose very names (Wild Eagle, Blazing Fury, Fire Chaser Express) tempt with dare-you pleasures.
We left Tennessee with smiles, fun photos and terrific memories. Can a town be called a tourist trap when families happily and willingly get caught?•
__________
This column appears weekly. Send information on upcoming arts and entertainment events to [email protected]
Please enable JavaScript to view this content.