Wireless network Sprint on Sept. 13 kicked off an advertising blitz for "NextRadio"—an app that allows certain wireless phones it sells to receive FM broadcast signals like a transistor radio, along with interactive data.

Until then, the app developed by Indianapolis-based Emmis Communications only quietly began appearing on certain HTC phones Sprint sold after Aug. 16.

While it's way too early to tell whether the app woos back listeners and generates big ad dollars for the radio industry, it's safe to say NextRadio is functional and idiot-resistant enough to warrant interest from the mobile masses.

Brenner
IBJ sat down with a newly equipped Sprint phone and with the app's brainchild, Emmis technology chief Paul Brenner, for a spin-through.

For now, it can only be loaded on HTC One and HTC Evo 4G phones sold by Sprint, though other models and likely other carriers soon will introduce enabled phones.

The dirty little secret is that most wireless phones already have an FM tuner in their chipsets. But unlike in Europe, U.S. wireless carriers ordered phones with the FM function disabled. That ensured that customers who wanted to listen to the radio had to stream it over the Internet, for which carriers could collect revenue in the form of data minutes.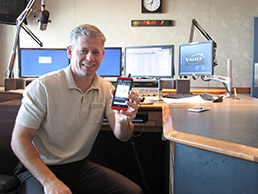 Paul Brenner shows off the "NextRadio" app. (IBJ Photo/ Chris O'Malley)
Just how much Emmis and other industry supporters of NextRadio are compensating Sprint to forgo lucrative data minutes is a well-kept secret.

"That's the real estate we paid for," said Brenner, pointing to the blue-and-white icon on the screen of the Sprint phone.

One touches the button and up pops a list of radio formats such as country, rock and talk. Call letters of local stations appear beneath the appropriate category.

The app knows which stations to display based on GPS coordinates of which city the phone is in a given moment.

Select a station on the touch screen and one immediately notices a big difference compared with streaming on iHeart radio or other services: The station begins playing immediately.

That's because the phone is picking up the signal over the air rather than waiting for packets of streaming data to load.

The old-tech, terrestrial origin becomes apparent, however, when Brenner reorients the phone—bringing a brief shower of static. He points out the window and notes that his office is surrounded by several tall office buildings downtown. The key is to make sure to plug in the phone's ear phone cable, which serves as an antenna.

Brenner counters that Internet streaming—the competition for this service—has its share of data dropouts and delays.

One cool feature for those who remember when radios had dials is that one can pull up a virtual knob on the screen and drag a finger around it to change stations. There's even the sound of hissing when one dials over empty frequencies.

Select a station and a station logo or album art appears. The information is fed by the Emmis-developed TagStation cloud service, for which stations can register for free.

While TagStation streams data via the Internet rather than on FM, it's still only a fraction of the data that would be sent had audio also been streamed. According to Brenner, NextRadio also doesn't wear down a phone's battery as fast as conventional streaming.

Stations pay a fee if they want TagStation to deliver other kinds of data to the phone, such as its website or certain kinds of programming information and advertisements. How much Emmis isn't saying, although Brenner said the cost is still less than what stations pay for traditional streaming over the Web.

One can also tap a button to "like" or "dislike" a song—information useful to stations and even to record labels. A user can also buy a song he just heard, via Google Play.

Of course, what has Emmis and others in the NextRadio consortium so pumped is the app's potential to generate additional advertising revenue—"a game changer," as Emmis chairman and CEO Jeff Smulyan is fond of saying.

Fiddle with the app long enough and you'll encounter an interactive ad. For example, touch the Car-X logo on the screen and up pops a QR code one can save and scan later at the garage to redeem a coupon.

Such digital ads are a turnoff to mobile phone users—but perhaps not so with NextRadio, said Bruce Reese, president and CEO of Minneapolis-based radio chain Hubbard Radio.

Consumers are accustomed to a steady stream of ads on radio and accept it as part of the relationship, Reese said.

Although Reese said it's far too early to gauge consumer reaction, he's seen some promising data. Those using the app have listened for longer periods of time than the usual 10- to 12-minute window stations hope to get at minimum.•