About 12 years ago, the phone rang at the home of Dr. Louis and Linda Cantor. On the line was family friend Gene Glick with a probing question: Why didn't the Indiana University School of Medicine have a world-class eye institute?
Louis Cantor, who was program director in the Department of Ophthalmology and went on to chair the department, explained that the endowment was too small to enable it to compete with other programs for coveted National Institutes of Health grants.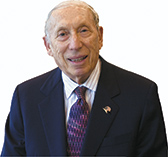 Glick's optimistic world view came from his choice to put setbacks in perspective, after surviving warfare. (IBJ file photo)
A few years later, in November 2006, Gene's wife, Marilyn, made a beeline to Linda at an annual fundraising event for Prevent Blindness Indiana and blurted that she and Gene wanted to throw their support behind an eye institute.
Within five compact months, the paperwork for a $30 million gift had been signed and the press conference staged. Today, on the IUPUI campus sits the Eugene and Marilyn Glick Eye Institute, a gleaming building dressed in touches of eye-drop yellow.
The donation was classic Gene Glick, who died Oct. 2, at age 92. Humanitarian. Purposeful. And big.
"Anything Marilyn thought strongly about, Gene was right there, because they had such an enduring relationship," recalled Linda Cantor, now the development director at the eye institute. "This was the gift that was going to define them in so many ways.
"This was going to be their legacy."
Gene Biccard Glick, who died at home following a long battle with Alzheimer's disease, built affordable housing sprawling across 10 states—a business empire that paved the way for tens of millions of dollars in donations to causes ranging from medicine to recreation.
Born in 1921, the Indianapolis native attended Shortridge High School and Indiana University, where he earned a bachelor's degree in business.
After college, Glick served in Italy, France and Germany during the height of World War II. As a German speaker, Glick often served as a front-line interrogator for Army scouts. His war experiences were featured in Tom Brokaw's best-selling book, "The Greatest Generation."
Glick's division took Nuremburg and Munich, and helped liberate the Dachau concentration camp in April 1945. Many of the photos Glick took in Germany were donated to the U.S. Holocaust Memorial Museum and Emory University.
He received every European Theater ribbon awarded and was decorated with the Bronze Star and Combat Infantryman's Badge.
One of his war experiences played a major role during the rest of his life, Glick recalled in his 1997 autobiography, "Born to Build." He and his fellow soldiers were under heavy shelling and trapped in an ice-covered trench. He had to lie face-down in freezing water for what seemed like hours as shells and shrapnel rained down.
"I said to myself, 'How much worse can it be? If I survive, I'm not going to forget this day,'" he wrote. "Any time I think I've got it tough or things aren't going well, I'm going to say to myself, 'Glick, how does this compare to Nov. 11, 1944?'"
When he returned from the war, Glick married Marilyn Koffman in 1947. The couple founded what would become the Gene B. Glick Co., which became Indiana's most prolific private developer of single-family homes. It began transitioning to the development and management of apartment communities in 1962, and now manages about 20,000 apartment units.
"His business philosophy was consistent with his world view," said David Barrett, CEO of Glick Co. and husband to one of Glick's granddaughters, the former Jackie Grande. "He thought, 'Let me see how I can make things better for people.' … His goal was to provide affordable and market-rate housing to people, where they would truly find value."
Marianne Glick, the Glicks' eldest daughter and chairwoman of the Eugene & Marilyn Glick Family Foundation, recalled how her parents, both of them driven and strong-willed, nonetheless avoided friction.
Early on, Marilyn worked alongside Gene, often pulling a trailer behind the family station wagon to haul cinder blocks or wood to building sites.
Gene had witnessed conflict between his parents and vowed he wouldn't say words he couldn't retract.
"My parents really never argued," said Marianne, a philanthropist in her own right. "He might be quiet. But he would never yell at her."
Gene Glick remained chairman emeritus of Glick Co. after retiring from the CEO position in 2008.
Fortune directed well
The Glicks channeled part of their fortune toward civic projects and charitable organizations throughout central Indiana.
In 1982, the couple established the Eugene & Marilyn Glick Family Foundation, one of the largest private foundations in the state. The pair also established The Glick Fund of the Central Indiana Community Foundation and The Glick Fund of the Jewish Federation of Greater Indianapolis.
The Glick Fund operated by CICF has given out more than $45 million in grants since it was founded in 1998.
One of the Glick's favorite charities was the Children's Bureau Inc., a not-for profit that provides child and family social services in 47 Indiana counties. Three facilities operated by the Children's Bureau are named in honor of the Glick family, including the Gene Glick Family Support Center & Executive Offices. Glick founded the Children's Bureau's Pro-100 youth summer-work program in 1981.
It was in the couple's later years—Marilyn died in 2012—that they made some of their largest philanthropic donations—the eye institute, the Indianapolis Cultural Trail, the Indiana History Center and the Indianapolis Art Center.
The couple was so involved in philanthropy together that it could be difficult to tell which idea originated with whom.
The eye institute was Marilyn's passion, Linda Cantor recalled, but Gene was fully behind the idea.
The gift has rocketed the Department of Ophthalmology to the cusp of the top 10 in National Institutes of Health funding, scorching growth considering that it hadn't even ranked in the top 100 just five years ago.
Since the original gifts, the endowment has grown by $1.2 million, and the building fund has added $373,210—mostly through local donations.
The department hopes to build a $50 million to $70 million research tower next to the new building and raise $40 million in endowment funding to fuel more research.
Becoming No. 1 against such perennial powerhouses as the Wilmer Eye Institute at Johns Hopkins University—a laughable notion before the Glick donation—is now within reach if the momentum continues, Louis Cantor said.
Horizontal legacy
Human welfare and significance also were on Gene Glick's mind when he chipped in $17 million for the Indianapolis Cultural Trail: A Legacy of Gene & Marilyn Glick.
Gene for years had mulled a monument on the scale of the St. Louis Arch or Seattle's Space Needle to commemorate such humanitarians as Martin Luther King Jr. and polio vaccine inventor Dr. Jonas Salk when Central Indiana Community Foundation President Brian Payne broached the notion of a trail.
Fielding the request was Frank Basile, who had long managed the Glick housing portfolio and later took on some of Glick's philanthropic work. Payne and Basile pitched the idea to Glick as a trail with stops honoring humanitarians. It would be big, but horizontal instead of vertical.
An initial request for $5 million swelled to the $17 million for the trail and sculptures after Basile's wife, Katrina, told Basile that $5 million wouldn't be enough to make the trail high-quality.
Glick processed the idea and made the decision like so many entrepreneurs—quickly, and from the gut. After Basile laid out the need for the extra money, Glick, who was known to take out frustrations with people by imagining their faces on golf balls and then whacking the balls with a driver, almost instantly offered his OK.
But as Basile made his way out of Glick's office, Glick quipped, "The next time somebody calls and asks me for money, don't go home and discuss it with Katrina."
Glick is survived by four daughters, nine grandchildren and five great-grandchildren.•
Please enable JavaScript to view this content.