Ten years ago, a car dealer's ad might scream such claims as, "Write your own deal" or "Name your own price!"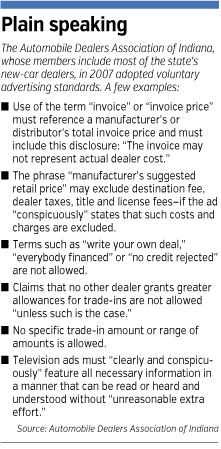 And until only a few years ago, some dealers advertised they'd pay off your trade-in "no matter how much you owe."
Efforts by trade groups such as the Automobile Dealers Association of Indiana—and, more formidably, a recent crackdown by the Federal Trade Commission—have discouraged the use of such potentially misleading ads.
"We think it's helpful for the dealers. It's also helpful for the ad agencies they're dealing with," Marty Murphy, executive vice president of the ADAI, said of the association's guidelines.
"Everyone across the country is trying to clean up their standards."
A quick review of local dealer print and broadcast ads shows some dealers still push the proverbial envelope.
Take a current promotion by Don Hinds Ford in Fishers offering "up to $7,000 over book for your trade!"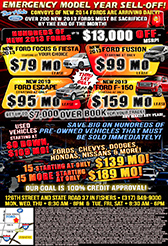 A recent advertised special at Don Hinds Ford is enticing but complicated. (Photo courtesy of Don Hinds Ford)
Squint through the 450 words of fine print at the bottom of the ad, and there's a disclaimer that the $7,000 is applicable for a trade-in on just one of 200 new 2013 vehicles Hinds is trying to clear out—a $43,965 Ford F-150.
The fine print does indicate that Hinds, rather than the customer, pockets the $4,500 in Ford rebates. It also states the dealer will pay wholesale value for the trade-in and that the customer has to finance through Ford Credit. A consumer just has to work hard to spot the catches.
Hinds owner Bud Colglazier said the challenge for dealers and their ad agencies is to find a balance between presenting an appealing offer and yet clearly disclosing terms of the offer, which can clutter the ad with disclaimers.
Consumer cynicism
Another advertising technique that remains these days is to offer thousands on trade for a clunker—such as the $3,500 minimum trade-in that one of Bill Skillman's competitors was offering on a new car.
"To me it's deceptive. It's wrong," said Skillman, scion of the Ray Skillman Auto Group empire.
"It's a shell game. [Dealers] take all the rebates" on such a deal. "I don't want to advertise like that."
Those kinds of ads, at the very least, appear to violate the spirit of advertising standards the Automobile Dealers Association of Indiana formalized in 2007.
Among the voluntary standards covering 19 categories is that no specific trade-in amount or range of amounts shall be featured in advertising. Another tells dealers they shouldn't represent that no other dealer grants greater allowances for trade-ins "unless such is the case."
That, of course, is almost impossible to prove. It's perhaps why Ed Martin Automotive Group, in a 2012 ad, was safe in boasting of the "highest trade-in allowance in the Midwest."
Admittedly, we're talking about an industry that uses superlatives with the fluency of P.T. Barnum. Consumers are cynical about dealer claims. Arguably, the cynicism itself is a form of consumer protection.
"The average consumer has very little in the way of expectations for advertising at that level, for local car dealers," said Michael Hanley, an associate professor of advertising at Ball State University.
"I'm glad to see Indiana car dealers do that," he said of the developing ad standards. "I don't think it's going to have much of an impact on consumers," however.
Beware the regulators
But the ADAI's standards could help new-car dealers avoid the wrath of the Federal Trade Commission.
In September 2012, the agency reached settlements with five dealers—none in Indiana—relating to ads promising to pay off customers' trade-ins no matter how much they owed on their loans.
The agency claimed such ads caused consumers to believe they'd no longer be responsible for paying off the remaining balance of their loans. In fact, dealers simply rolled the negative equity into the new vehicle or required the consumer to put down the difference in cash.
A few years ago, a number of Indianapolis-area dealers made the same claims as the dealers disciplined by the FTC. However, most also ran disclaimers at the end noting that negative equity would be applied to the loan for a new car.
Among the local dealers that promise in radio ads to work with customers with negative equity is Hare Chevrolet in Noblesville.
One of the dealer's principals, Courtney Cole, said the message is designed to appeal to consumers who often don't even consider walking into a dealership because they figure they're too upside down on their existing car loan.
"A lot of folks want to trade their car if they could. We try to bring those folks into the market. Our big strength is our finance department," Cole said.
In an article she wrote for Auto Dealer Monthly a year ago, Cole told dealers that many consumers just don't think there's a way they can trade a vehicle "without getting killed" financially.
"If this is the case, could we possibly write an attention-getting message that tells the customer that they deserve a nicer, new vehicle and we will give them up to $3,500 more than their trade is worth? How would we do that? How about using a disclosure at the end that says all discounts and rebates go to the dealer?"
Cole told dealers such a message resonates more with car shoppers than the typical ad, such as, "We have the largest selection. We are the number-one dealer. Come get our Malibus for $199 a month!"
Really, she, added, skeptically, "Does it cause them to jump off the couch and come flood your showroom?"
Standards not mandatory
That more conservative message works for Ray Skillman Auto Group, said Bill Skillman, who indeed runs the $199-a-month Malibu kind of TV spot.
Some of his ads even talk about the qualities of the 900 employees at the giant group of dealerships that sell more than 1,700 cars a month.
Skillman starts grumbling about a competitor who recently boasted he could deliver a new Ford Fusion for $15,000—if the customer had a trade-in worth $5,000.
This kind of offer also bugs Hinds' Colglazier, who used to be head of the ADAI and remembers how tough it was to get some dealers to comply with ad standards. As far as some dealers and their ads, "Indianapolis, quite truthfully, is still the Wild West," he said.
Skillman said over-the-top tactics are unecessary. "You don't have to make wild claims to sell automobiles," said Skillman, who admits the city's largest dealer chain once used the "screaming man" approach ("Saturday!, Saturday!") that he didn't like. "It was like, 'Holy moley, how many people are we scaring away?'"
Yet even dealers taking Skillman's conservative approach to advertising still need to be careful to comply with ever-expanding federal regulations, including the Truth in Lending Act. These require a certain level of financial disclosure about credit terms, such as down-payment requirements and terms of lease. These generally appear in small print at the bottom of the TV screen.
Among the ADAI standards is that any disclosure appearing in a television commercial must clearly and conspicuously feature all necessary information in a manner that can be read or heard and understood "without unreasonable extra effort."
Just what makes for "unreasonable extra effort" is hard to say. Even those watching the parade of local TV ads on a big-screen TV are often hard-pressed to make out the words before they disappear.
Murphy couldn't recall any cases where the ADAI took a dealer to task for not complying with the ad standards.
"We hope that it promotes voluntary compliance," he said, noting that it's in the industry's best interest to self-police so as not to invite regulator intervention.
Dealers go digital
Among the ADAI standards aimed at helping consumers and protecting the industry are those that apply to so-called invoice pricing. The invoice price should refer to a manufacturer's or distributor's total invoice price on a vehicle and "conspicuously" include the disclosure: "The invoice may not represent actual dealer cost."
Good luck trying to find that disclosure in many of the "factory invoice pricing" ads, however.
Murphy said the association reviews the standards roughly once a year. He said he expects updates in the future will likely focus on good practices regarding digital advertising.

Pearson
That medium is where dealers, including Pearson Ford in Zionsville, are increasingly placing their ad outlay.
Owner John Pearson is one of few dealers who've avoided the "cult of personality" ads that are ubiquitous in radio and TV commercials.
In fact, Pearson doesn't do broadcast commercials. Rather, he said his approach is more focused on the Web and getting word out about the dealership through involvement in community causes. One effort involved restoring a car for a client of The Julian Center, a shelter for abused women and children.
He figures a targeted outreach to the community, rather than a shotgun ad approach, is more appropriate for a dealership that's been around for 53 years. He doesn't knock his competitors for television advertising, however.
"TV works, or they wouldn't be doing it."•
Please enable JavaScript to view this content.