A local developer in the rejuvenated Fountain Square neighborhood southeast of downtown is poised to launch another residential project in the area.
Deylen Realty's latest development along bustling Virginia Avenue calls for 68 apartments and 9,900 square feet of retail space between the existing Mozzo apartments and Villagio condos in Fletcher Place.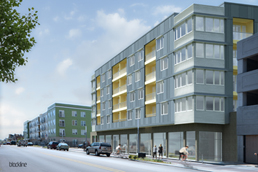 The $10 million Deylen Realty project would add another residential option in the booming Virginia Avenue corridor. (Image courtesy Blackline Studio)
The yet-to-be-named $10 million project would be built at 501 Virginia Ave., where an occupied warehouse now sits. It would follow The Hinge, Deylen's $7.5 million project that opened in August 2012 a few blocks south at 719 Virginia Ave.
The Hinge brought to Virginia Avenue 56 market-rate apartments over a parking garage with 57 spaces, along with 12,000 square feet of commercial space mostly occupied by Rook restaurant and The Bureau, a shared workspace.
"People definitely want to live there," Deylen principal Craig Von Deylen said of the area. "It amazes me how many people are walking up and down Virginia Avenue on a day-to-day-basis."
The Indianapolis Cultural Trail's leg linking downtown to Fountain Square contributed to the renaissance. The trail, which opened in May, has brought more pedestrian traffic to a part of the city previously isolated from the central business district.
The trail has helped spawn a slew of residential and commercial development, including a pair of mixed-use projects from Milhaus. Its $5.8 million, 64-unit Mozzo opened in March. Another Milhaus project, a proposed $6 million development with 57 apartments and 3,100 square feet of retail at 1015 Virginia Ave., is in the approval stages.
The Metropolitan Development Commission's hearing examiner is set Nov. 14 to consider Milhaus' request for a variance to build a four-story structure taller than the height allowed in the area.
"The Cultural Trail stands by far and away the No.1 reason [for the success]," said David Leazenby, vice president of development services at Milhaus. "It's the main outdoor recreation activity for downtown today."
Milhaus built Mozzo where a BMV branch and parking lot once stood, next to the warehouse occupied by Impact Group Inc. that Deylen is in the process of purchasing for its residential project. Impact, a scenic arts and display company, has yet to announce where it will move.
Deylen plans to raze the warehouse to make way for a five-story building. It hopes to begin constructing early next year. Completion is set for spring 2015.
Monthly rents, including parking, for Deylen's market-rate apartments would start at $850 for a studio and run as high as $2,000 for a luxury two-bedroom with a skyline view.
Deylen is targeting a bank to occupy the first-floor space. The bank could feature a drive-through and access to the Cultural Trail for what could be the first bike-up teller window in the city, the firm said.
A 104-space parking garage with 76 underground spaces also is part of the plans.
The architect for the project is Blackline Studio, which designed The Hinge and is co-owned by Von Deylen. He also is a co-owner of the Murphy Arts Center in Fountain Square.
Deylen Realty launched in 2006. Its other projects in the area include Fletcher Place Lofts and Fletcher Place Terrace.
 
Please enable JavaScript to view this content.