Architect Dustin Eggink bikes to work every day for one reason.

It's so easy.

Eggink
Eggink lives about two miles north of his downtown workplace, Ratio Architects, and now much of the route follows a super-wide sidewalk, the Indianapolis Cultural Trail. Ratio provides indoor bike parking, but Eggink parks at the Indy Bike Hub, the YMCA branch that opened at City Market two years ago.

"The city's made some really good progress," Eggink said.

Ballard
Indianapolis' rise as a bike-friendly city is not solely a local government initiative—the Cultural Trail was privately and federally funded—but city planners are looking to ensure the progress continues, even if bike enthusiast Mayor Greg Ballard doesn't seek or win a third term in 2015. The Metropolitan Development Commission will vote Oct. 16 on a bicycle master plan that lays out a host of educational and policy initiatives to encourage two-wheeled transportation.

"We want to make sure all this stuff we've been doing … isn't fluid, depending on a person or staff positions," said Jamison Hutchins, bicycle and pedestrian coordinator in Ballard's Office of Sustainability.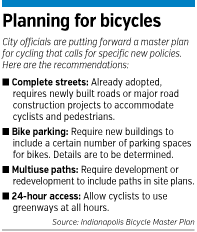 The plan calls for several policy changes, including requiring installation of a certain amount of bike parking in all new buildings and allowing 24-hour access to greenways like the Monon Trail.

One proposal—a "Complete Streets" ordinance requiring road designers to look beyond the needs of motorists—was passed by the City-County Council and signed by Ballard last year.

Others, though, might never go beyond the 71-page master plan. Round-the-clock access to greenways is a priority for cycling advocates, but the policy would have to be presented by parks officials to the Board of Parks and Recreation, Hutchins said. The board extended the hours of the Monon Trail beyond daylight, 5 a.m. to 9 p.m., so commuters can use it in winter, but hasn't discussed 24-hour access.

Another policy change included in the master plan would require developers to build multiuse paths, such as the one along 62nd Street between Keystone Avenue and Allisonville Road, to accommodate bikes and pedestrians along major thoroughfares in suburban areas. Hutchins said requiring multiuse paths was a "brainstorm," but that no one is pushing an ordinance to that effect.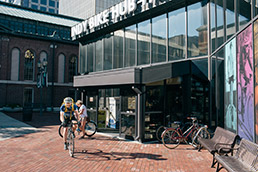 Many bicyclists who commute to work take advantage of the Indy Bike Hub at City Market. (IBJ photo/Aaron P. Bernstein)
Bike parking is one component of the master plan that likely will get some attention. The city has 74 miles of bike lanes but an apparent dearth of racks.
"It's one of the biggest requests I get," Hutchins said.

The master plan calls for passing a bike-parking ordinance similar to one in Carmel, which requires a certain number of spaces for residential, commercial and institutional developments. Details of the Indianapolis version will be worked out under Indy Rezone, an overhaul of zoning and development regulations, Hutchins said. The first draft is due next March.

In the meantime, the Office of Sustainability is preparing to install 100 bike racks in high-demand areas—including Massachusetts Avenue, Fountain Square and Monument Circle—next month, Hutchins said.

As a recent convert to bike commuting, Eggink said there's still more the city can do. He thinks a park-and-bike facility, one or two miles outside downtown, would appeal to people who live too far away to commit to longer trips through bad weather.

Data collected by the Office of Sustainability suggest bike facilities that keep riders separate from cars get the most use. Those include trails like the Monon and the city's first "bike track," which is a bike lane protected by bollards, on Shelby Street south of Fountain Square. The master plan calls for connecting as many of the city's trails as possible.

Hutchins believes all the new bike infrastructure added since 2011—most of it, apart from the Cultural Trail, in conjunction with street improvements under Ballard's Rebuild Indy program—makes cycling a growing mode of transportation.

That's hard to document at this point, however. More Marion County commuters walked to work, or worked from home than took "other" modes of transportation, which include cycling, according to the U.S. Census Bureau's American Communities Survey. (One percent of commuters used other modes, while 2 percent walked, and 3 percent worked from home, according to the survey.)

Center Township has the largest segment of alternative-means commuters—2.2 percent.

A recent survey by the Marion County Health Department considered bike use more broadly, asking people: "In the past week, how did you get most places you need to go?" The survey found 1.2 percent of the 5,000 households surveyed relied on a bike.

Do the numbers justify the amount of time and money the city has invested in bicycle transportation? Urban planning and design critic Aaron Renn thinks so. Bike facilities are one of the least-expensive types of infrastructure cities can build, and the return, in terms of trips generated, is high, he said.

Renn, who has lived in Indianapolis, thinks much of the biking is to places other than work, so new infrastructure benefits people other than commuters.

"You have to start somewhere," he said. "Imagine in 1903 saying, 'Why pave roads when no one drives to work in a car?'"•