A digital streaming service that television broadcasters deem so threatening they recently petitioned the U.S. Supreme Court for help plans to enter Indianapolis next year.
Aereo Inc. seemed innocuous enough when it launched last year as a way to help New York City dwellers find a cheap way to lasso local television signals deflected by tall buildings. Just punch up your computer or mobile device and watch. Or you can stream it to your TV.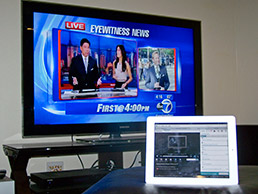 Aereo's video streaming service is picked up by an iPad, which has wirelessly sent the newscast on New York City's WABC-TV Channel 7 to a homeowner's television. (IBJ photo/Chris O'Malley)
The only problem is that the Long Island-based company, unlike cable and satellite television operators, doesn't pay retransmission fees to stations or networks. Broadcasters say Aereo violates their program copyrights and could reduce their ad revenue and control over subscription fees.
For casual couch potatoes, on the other hand, the $8-a-month Aereo could be a welcome alternative to pricey cable and satellite subscriptions. It even throws in a cloud-based digital video recording, or DVR, function into the package.
Aereo also can be viewed on the go, on one's smartphone or tablet. Not only is the younger generation inseparable from such devices, but members of that age group are often more averse than their parents to paying traditional cable fees that can easily top $100 a month.

It also doesn't hurt Aereo that the younger generation is accustomed to buying programming a la carte—say, picking a movie on Netflix or Amazon Prime.
"There's a whole new generation that doesn't buy into that [cable] prescriptive model," said Virginia Lam, Aereo spokeswoman.
Different way to watch
In Indianapolis, as in markets where Aereo currently offers service, it will lease space in a local data center where computers will handle DVR recording, programming and distribution.
On a nearby rooftop, in a space about the size of a one-car garage, Aereo will install an array of coin-size antennas—one for each customer. That's important for Aereo's arguably convoluted legal contention that a customer is essentially buying an antenna for personal use.
Subscribers use the service via an onscreen program guide. Another portion of the screen runs a parade of images promoting this show or that.
Clicking on a show in the program guide brings up a screen that requires one to click on "play" before watching, like a YouTube video.
There are also controls for retrieving recordings. The shows are recorded as they're streamed, and the base $8 subscription allows customers to retrieve up to 20 hours of recordings a month. Those who want 60 hours of DVR time need to shell out another $4 a month.
While Aereo can be accessed through a variety of computers, such as the iPad, it also can be streamed to a television by using a device such as Roku or AppleTV.
Based on Aereo's offerings in New York City, Indianapolis customers could expect to access all the local broadcast stations, including PBS television.
In New York, Aereo also offers city government television and networks familiar to cable such as Bloomberg and Home Shopping Network. Aereo also includes feeds that local stations air on their digital subchannels, such as Cozy, Ion and Qubo networks.
Hard-core TV watchers hoping for popular networks such as HGTV, the Discovery Channel or the big sports networks would appear to be out of luck, at least for now.
But those who'd be happy to get what comes over the air should be more than satisfied—including those who've complained that they can't pick up local stations any longer, since stations converted to digital broadcasts.
So concerned is WTHR-TV Channel 13 with digital reception problems that it recently asked the Federal Communications Commission for permission to boost power 83 percent, to 77,000 watts (IBJ, Aug. 17).
Disenfranchised antenna watchers could be among those who find Aereo appealing in Indiana.
Broadcasters want their cut
For affected TV stations, Aereo would be a mixed blessing. They've worried that programming on Web-delivered television services—by some estimates less than 1 percent of all viewers—won't be counted by ratings-tracker Nielsen Co.
Easing those concerns, Nielsen early this year said it would begin tracking Web-delivered TV in the future.
"All local stations care about ratings, and if those eyeballs are going to be counted," said Dominic Caristi, a professor of telecommunications at Ball State University, noting that the more viewers, the more a station can charge for ads.
But even to the extent Aero might bring stations more eyes, there's still the bigger problem of Aereo's not paying broadcasters for transmission rights.
So far, Aereo has prevailed in a flurry of lawsuits from broadcasters and networks. The latest win was early this month when a federal judge in Boston declined to issue an injunction sought by Hearst Stations Inc. to halt Aereo. The court said Hearst would be unlikely to show it suffered irreparable harm from Aereo.
But a few days later, a group of major networks filed a petition with the U.S. Supreme Court, seeking to stop Aereo once and for all. Among plaintiffs are Fox, PBS, Univision and a number of stations in Aereo markets.
They worry an Aereo victory could ultimately torpedo the broader revenue stream they collect from cable and satellite companies.
"We had this same debate in the 1960s, with cable television," said Caristi, noting that cable companies initially didn't pay fees, either, just as today's disruptive technology Aereo.
Indianapolis television stations have deferred to their corporate parents to work out the issue in court, said Joe Misiewicz, president of the Fishers-based Indiana Broadcasters Association.
As such, the IBA hasn't taken a position on Aereo.
"We need to see how these lawsuits play out," Misiewicz said, noting it took years to get cable to pay up.
That's essentially the approach of Cincinnati-based E.W. Scripps, which owns 19 television stations including Indianapolis ABC affiliate WRTV-TV Channel 6.
Scripps is not part of the recent efforts to petition the Supreme Court.
"We're waiting to see what happens in the courts. We do believe it's stealing our content," said Carolyn Micheli, spokeswoman for Scripps.
Among Aereo's financial backers are Barry Diller, CEO of New York-based IAC Inc. and former head of Paramount Pictures. In January, Diller and a group of investors raised another $38 million to help Aereo enter an additional 22 markets.
Diller's IAC owns Web and media properties including Ask.com, Match.com, Vimeo and The Daily Beast.•
Please enable JavaScript to view this content.