Everybody knows Hoosiers have a hankerin' for racing, basketball and biscuits-n-gravy.

It might be time to add another, more peculiar favorite—participating in "Family Feud."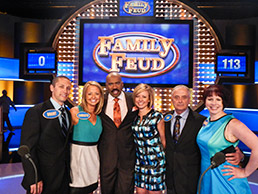 The Goodpaster family appears in episodes scheduled to run Nov. 26-27. (Photo courtesy of WNDY-TV Channel 23)
At least eight central Indiana families are contestants this season for the syndicated television game show, according to WNDY-TV Channel 23, where the show airs locally. But that number belies the real interest in the show.

Hoosiers flooded the production company with 4,400 emails and phone calls expressing interest in competing on the show, with thousands later stampeding to a two-day audition session at the Indiana State Fairgrounds last April.

"They packed in 615 families," said Scott Hainey, director of creative services at WISH-TV Channel 8, WNDY's sister station.

A year earlier, Hainey's team was hoping to at least rally the show to make Indianapolis a stop on the auditioning circuit. But after this year's auditions, the show's coordinators said they never had so many would-be contestants show up at one city. Consider that the audition tour early this year included many larger cities such as Boston, Miami and San Francisco.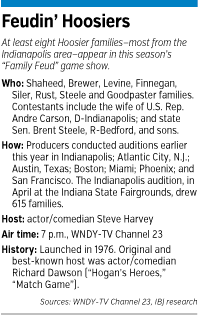 A publicist for the show's California production company, Fremantle Media, confirmed the strong Indiana turnout.

Auditioning is one thing, but making it onto the show is another. Just ask the Siler family, from Indianapolis, who not only had to survive the Indianapolis "cattle call," but also had to audition once more, in Atlanta, where the show is taped.

"They weren't looking for the smartest. They weren't looking for the prettiest. They look for good television," said Cathy Siler, who, with husband David and three of their children, is scheduled to appear on the Nov. 13-14 broadcasts of the show.

"I just think we're open and friendly people," Siler said of Hoosiers' success at getting on the show.

She and her daughter Elizabeth—her most competitive kid—were watching a Butler University basketball game on WNDY one day when they saw an ad for "Family Feud" tryouts. Cathy Siler grew up watching the show, which launched in 1976, back when actor/comedian Richard Dawson was the host.

Christie McDonald, of the Goodpaster family, also had the bug.

"We had always talked about trying out for some type of game show," said McDonald, a McCordsville dentist, whose family airs on Nov. 26-27 episodes. Her dentist husband Brent, sister Lorie Brinson, father Tim Goodpaster and cousin Karmen Fink made up her team.

For her clan, it wasn't about the money as much as having fun and helping a charity. Family Feud's current host, the mucho-mustachioed comedian Steve Harvey, autographed a shirt they'd later put up for an Alzheimer's charity auction.

For those who haven't seen the show over the last several decades, the theme is that two families compete against each other by seeing which can best match responses to a previously conducted survey. For example, there's "Name an animal likely to perform tricks," or, "Name something overpriced that people buy every day."

The family whose answers best match the survey responses gets the most points, with results disclosed after the host says the famous line, "Survey says …"

How hard could that be? Cathy Siler figured. "I always thought, 'Our family is smart. We could do that,'" she recalled.

Oddly enough, she learned that success is often predicated on fast reflexes and the ability of each family member to come up with a diversity of answers to a question.

On one of the questions, Siler admits to coming up with an answer that was, well, "inappropriate." Let's just say it would not conform with the values of the Catholic institution for which she works.

"My husband put his head down on the desk. My daughter was shooting death lasers out of her eyes at me."

A producer assured them there were no wrong answers, although her response won't make it on air next month.

"When people are put on the spot, they can say some silly things," said McDonald, of the Goodpaster tribe. But the show's staff is supportive. "You felt like the entire [production] team was cheering for you."

The show has seen a ratings resurgence since Harvey took over as host three years ago from actor John O'Hurley. Ratings were up 44 percent in the 2012-2013 season, according to Fremantle Media and Debmar-Mercury, which produce and distribute the show, respectively.

As production output goes, "Family Feud" operates like a well-oiled machine, contestants said. During the six to seven hours of taping each day, up to six episodes are wrapped and put into the proverbial film can.•