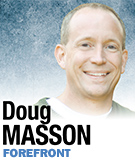 We ask juries to do a lot in Indiana.
In simple terms, juries are a body empaneled to be fact finders as part of the judicial process for resolving criminal charges or civil disputes.
Hobbes described the lot of man in the "State of Nature" as "solitary, poor, nasty, brutish, and short." It is the War of All against All. In such a state, there are no rights—at least none that are enforceable. One does not have property, merely stuff he or she is strong enough to hold for the time being. One does not have life or liberty, merely the strength to fight off aggressors for the time being.
Hobbes saw the fix for this as being the Leviathan, a predator strong enough to clear away all the lesser predators that made life intolerable in the State of Nature. The Leviathan was the king.
Certainly, the king might be capricious and act in a manner ruinous to a certain number of subjects. But, overall, this was a net gain compared to the alternative.
We have done away with the king but still wish to keep the predators at bay. The jury plays a role in this process.
The Indiana Constitution takes a strong stand on juries. Article 1, Section 19, says, "In all criminal cases whatever, the jury shall have the right to determine the law and the facts." Section 20 says, "In all civil cases, the right of trial by jury shall remain inviolate."
And, for the princely sum of, perhaps, $15-$25 per day, jurors are called upon to decide whether a defendant is entitled to keep his stuff or maintain his liberty.
What's more, they are asked to do so with limited information. Frequently enough, jurors are asked to sift through scientific evidence presented by experts or pseudoscience presented by charlatans on subjects far beyond their ken, under a limited time frame.
Once the case is given to the jury, jurors are, essentially, confined to a room until they make a decision, forbidden to do outside research.
Despite its integral role in preserving our rights, performed under less-than-ideal circumstances, the jury is not typically held in high regard. Certainly the position is not much sought after.
There is the old joke about not wanting to be judged by a group of people not smart enough to get out of jury duty. Judges, to their credit, take a dim view of citizens attempting to shirk their civic duty.
Verdicts certainly can be unreasonable. But, sometimes we set the body up for failure.
If you empanel a group of jurors with uncertain math skills, show them the sticker price of medical bills without letting them know what was actually paid, allow the testimony of a paid (but credentialed) professional spouting unreliable statistics, then tell the jurors to put a value on "pain and suffering," you are bound to get some unsatisfactory results.
Still and all, our juries are usually composed of Hoosiers attempting to do their level best. People forgoing income, leisure and family time to do their civic duty.
Lawmakers and judges should look for ways to remove structural impediments in order to enhance just outcomes. I would suggest, among other things, better screening of "experts" and perhaps a review of the math jurors use to arrive at a damage amount.
We have come a long way from the predations of kings and highwaymen, but there is certainly room for improvement.•
__________
Masson is a Lafayette attorney, author of Masson's Blog and former counsel for the Legislative Services Agency. Send comments on this column to ibjedit@ibj.com.
Please enable JavaScript to view this content.