Carmel Mayor Jim Brainard will wait until next year to seek a new director for the city's beleaguered redevelopment commission, the once-big-spending agency now facing a tight budget, staff exodus and brow-raising audit.
"This is a good chance to step back and re-evaluate how the [Carmel Redevelopment Commission] works and who we need in those positions," said Brainard, the mastermind behind Carmel's aggressive push to rebuild downtown.
For more than a decade, the CRC fueled that transformation—borrowing $240 million to support projects like City Center, the Arts & Design District and the Center for the Performing Arts.

Brainard
Revenue from the city's tax-increment financing districts paid the bills. Until last year, when expenses threatened to outpace revenue. The City Council agreed in late 2012 to refinance $184 million in CRC debt to keep it in the black, and members have kept a tight grip on the checkbook ever since.
In August, in fact, councilors rejected a $60,000 contract extension for longtime Executive Director Les Olds, a retired architect working as a $100-per-hour consultant. Finance Committee Chairwoman Luci Snyder balked at the expense, given the lull in redevelopment activity.
She also criticized the executive director's job performance, citing the commission's financial crisis and evidence of abysmal recordkeeping under his watch.
The mayor implored the council to keep Olds in place, calling his industry experience invaluable. Two days later, Brainard sat down with the State Board of Accounts to discuss results of the 2012 audit.
The annual review of CRC records identified some procedural errors, like failing to use approved ledger forms, along with seemingly serious missteps such as not collecting more than $835,000 in payments due to the agency.
In an Oct. 30 interview with IBJ, Brainard explained the bulk of that away as a cash-flow issue, saying an audit covers a specific period of time and does not take into account payments made after the cutoff date.
"It got resolved in early 2013," he said.
But that's not the case for the $18,000-plus owed by BJS LLC, the entity that ran Shapiro's Delicatessen at 918 S. Range Line Road in City Center for 12 years before closing this summer.
The Carmel Redevelopment Commission bought the restaurant's $2.5 million mortgage in 2010. Shapiro's agreed to pay $1,000 per month in rent, plus a percentage of sales.
It paid only $6,000 during 2011 and 2012, the audit found. Since sales records were not provided for review, auditors couldn't determine how much more the eatery owed.
(After Shapiro's closed the Carmel deli, the company signed over its ownership stake in the building to the CRC.)
Auditors also dinged the commission for using TIF proceeds to cover operational expenses—a practice the report said is not allowed—and to fund $1.8 million in grants made to the private Carmel City Center Redevelopment Commission for "uses that cannot be verified."
The CRC's attorneys have a different take on the rules governing TIF distributions, Brainard said. "Our legal advice was to the contrary."
Deputy State Examiner Mike Bozymski acknowledged the relevant state laws are "lengthy and subject to some interpretation."
"Different communities—through their redevelopment commissions—use TIF funding in different ways," concurred Mike Howard, a veteran municipal attorney who represents both Hamilton County and the city of Noblesville.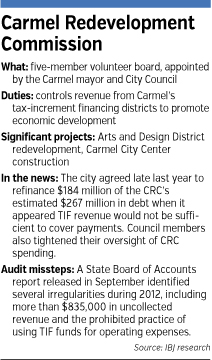 Noblesville, for example, spends it almost exclusively on public infrastructure: the roads, sewers and drainage that make a site more attractive for commercial development.
The work is overseen by city employees. Howard puts together the financing. Clerk-Treasurer Janet Jaros pays the bills. The Common Council must approve every project.
"We're just a lot more conservative in how we do things," he said.
This time last year, the Carmel Redevelopment Commission had a staff of six working from leased space above an art gallery on Main Street. By summer, it was down to two employees: Olds and Operations Manager Matt Worthley. They both resigned in mid-October with no public explanation.
Before last year, the CRC operated without much oversight or transparency. Although redevelopment commissions are required to seek approval from elected officials before issuing bonds, it found a way around that by issuing other forms of debt—to the tune of $139 million since 2009.
Carmel Clerk-Treasurer Diana Cordray said she was the commission's fiscal agent until 2010, when she stepped down in frustration over a lack of cooperation from the CRC. It hired a financial consultant to handle the books.
"I got tired of asking for things I was obligated to ask for and not getting an answer," she told IBJ.
Before the council refinanced the CRC debt, it passed ordinances requiring approval for any future borrowing—and for any expenses over $25,000. It also moved the commission's operations into a city department. Cordray is again overseeing finances, as best she can.
The transition has been rocky. Records were slow to arrive, files are incomplete, and she's appalled by the State Board of Accounts report.
"I've never seen an audit as bad as that one," said Cordray, who, along with Brainard, is serving a fifth term. "It's just ludicrous. If they didn't know what they were doing, they should have brought someone else in."
State Sen. Luke Kenley is bothered by the lack of transparency when it comes to redevelopment commission operations across the state, and sees Carmel as an example of the problem. The Hamilton County Republican has introduced legislation the last several sessions that would require annual reports to elected officials and an annual audit. It has failed to gain traction.
He also advocates additional restrictions on redevelopment commissions' use of TIF funds.
"As time goes by, they've veered pretty far from their intended purpose," Kenley said. "They're supposed to be used to build infrastructure in the TIF area to produce significant economic development."
Five-term Carmel Councilor Ron Carter said that's just what the Carmel Redevelopment Commission has accomplished during Brainard's tenure.
"Few communities in the Midwest have undertaken redevelopment on the scale we have," he said.•
___
Read more about the Carmel Redevelopment Commission in IBJ's North of 96th blog.
Please enable JavaScript to view this content.