The homegrown speaker and headphone maker Klipsch Group in recent weeks released a bevy of new products and launched a marketing campaign headlined by high-profile athletes and a rock band.
The Gig mini-speaker in particular is getting lots of attention from trade publications and audiophiles alike. Selling for $200, the 1.4-pound Gig is Bluetooth-compatible and designed to compete with the similarly priced small wireless speakers by Beats and Jawbone.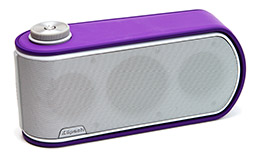 The Gig mini-speaker is part of Klipsch's plan to broaden is demographic reach. (Photo courtesy of Klipsch Group)
Klipsch, founded in 1946, has long made a name for itself manufacturing and selling the highest-end audio speakers and headphones—many used commercially and costing thousands of dollars. One of the big reasons New York-based Voxx International Corp. bought Klipsch in 2011 was the attractiveness of Klipsch's low-volume, high-margin speaker business, supported mostly by word-of-mouth and ads in industry trade publications.
The company's latest maneuvers signal a fundamental shift in Klipsch leaders' collective mind-set. It wasn't long ago that Klipsch was forsaking some technological advancements in favor of staying on its traditional course. For example, in the early 2000s, Klipsch made inroads with an iPod docking station but didn't aggressively pursue it because it fell outside the firm's core mission.
Still, Klipsch CEO Paul Jacobs said the Gig and other new wireless products—along with the high-profile endorsement deals and multimillion-dollar ad campaign to support them—don't ultimately divert from the company's long-standing business model.
"These items aren't aimed at cost-conscious consumers," Jacobs said. "You can get a Bluetooth device for $19.99 at Walmart right now. These new products are about having the best quality sound you can get, and being able to take it with you.
"This is about meeting the demands of the next generation of music lovers."
Jacobs thinks the new line of products—including the more modestly priced Gig ($200), KMC1($300) and KMC3 ($400) speakers, its pricier set of wireless speakers called The Stadium ($2,000), and a wireless home audio/video system that will sell for $25,000 or more—will boost the company's revenue 10 percent in 2014. If that projection is realized, the new product line would account for $20 million in annual sales.
Sales at the 260-employee Klipsch are expected to hit $180 million in the 2013 fiscal year, which ends Feb. 28. Revenue is projected to be 11 percent higher than it was three years ago, but still 20 percent below its peak before the recession.
Officials for Klipsch parent Voxx anticipate high-single-digit percentage growth in Voxx's premium audio sector, primarily due to the Klipsch products coming to market, Voxx CEO Pat Lavelle recently told analysts.
Jacobs points out that Klipsch's new products can just as easily be wirelessly attached to a television or video game system as a music stereo, which will broaden their appeal.
Embracing new and emerging trends now is more a part of the company's fabric, he added.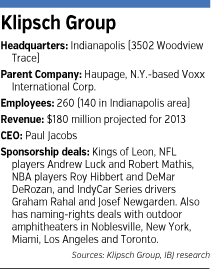 "Every company eventually comes to this point. … We see there's a generational shift in what people want," Jacobs said. "You either pursue it or you don't. You either move forward or stand still."
Analyst embrace
Klipsch's maneuvers are being largely met with positive reviews by industry analysts.
"They're reacting earlier rather than later, and they're doing it in a methodical manner," said Scott Tilgham, a senior analyst who covers Voxx out of B. Riley & Co.'s Boston office. "It's the ideal way to evolve a product line."
Some analysts especially like Klipsch's entry into the wireless arena.
"Everything that could be done wirelessly, should be done wirelessly. Nobody likes cords," said Robert Unmacht, principal of iN3 Partners, a Nashville, Tenn.-based media and technology consulting firm. "I think their strategy is good. Not just going wireless, but the company's efforts to integrate technology. That's what the next generation is demanding."
But Klipsch's strategy of using technological advancements to become more mainstream has serious challenges, analysts warn.
"The problem for a company like Klipsch is brand awareness," Unmacht said. "How do you rise above all the noise in this category?"
One way to do that, Tilgham said, is for Klipsch to stress "sound quality rather than being trendy."
"Wireless signals and sound quality with these products has been an issue with a lot of companies, including Voxx," Tilgham said. "Klipsch has the chance to raise the bar here. But they can't get caught using a lower price to chase volume. That would be counter to Voxx's reason for acquiring Klipsch."
Klipsch has yet another challenge, Jacobs admits. Its prototypical customer is relatively old—about 40 years old and getting older—and is mostly men.
"We want to reach a younger demographic and more females," Jacobs said. "The challenge we wrestled with is, how do we reach other people without alienating our current audience?"
Marketing blitz
Jacobs is confident Klipsch has a long-range plan to address the company's challenges.
"Lots and lots of new brands have entered our space and spent millions and millions of dollars making a lot of noise by telling people how cool they are," Jacobs said. "The noise level has now lowered. We didn't waste millions of dollars on something that doesn't work. We have lots of dry powder … and the strongest product portfolio we've ever had. It's time for us to do something that substantially raises our profile."
To raise its brand awareness and broaden its audience, Klipsch has for the first time signed a deal with a major music group—Kings of Leon—to be the title sponsor of its upcoming tour.
Klipsch also recently signed its first deals with athlete pitchmen, inking agreements with Indianapolis Colts Andrew Luck and Robert Mathis, Indiana Pacers budding star Roy Hibbert, Toronto Raptor DeMar DeRozan, and IndyCar Series drivers Graham Rahal and Josef Newgarden.
Klipsch also hired New York-based advertising and marketing firm Peppercomm to supplement the work already done by Klipsch's Indianapolis-based marketing agency, Dittoe Public Relations.
Jacobs
While financial terms of Klipsch's marketing deals have not been disclosed, Jacobs said the investment in a three-year marketing plan is "in the millions."
Klipsch selected marketing partners that could appeal to a broad audience—from teens to baby boomers, Jacobs said.
In the case of Kings of Leon, Klipsch was looking for a band with new music and an upcoming U.S. and/or world tour.
Not only does the band have a 26-stop U.S. tour running from January through April, the Kings—like Klipsch—had never embarked on such a title sponsorship venture "and like us, they're a family. Even during hard times, they always come back together," Jacobs said.
Not only that, but the Kings offered a perfect demographic mix for Klipsch.
"We haven't signed up a bunch of rap artists," Jacobs said. "That's not who we are. The Kings of Leon started by appealing to a kind of hipster crowd, and then they've broadened."
The effort for Klipsch to more aggressively market to music lovers dates back to late 2011 when the company signed a deal with Live Nation to be the title sponsor to the 24,000-seat Noblesville amphitheater formerly known as the Verizon Wireless Music Center. Subsequently, Klipsch has signed deals with similar venues in New York, Miami, Los Angeles and Toronto.•
Please enable JavaScript to view this content.