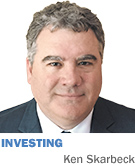 The folks at the investment firm of GMO are as good as anyone when it comes to "investment thinkers." They back up their material with a blend of research, logic and contrarianism. The recent white paper issued by GMO's James Montier titled "No Silver Bullets in Investing (just old snake oil in new bottles)" ridicules some of the "innovations" that are popular in the investment field. His criticism addresses concepts like smart beta, risk parity, and real asset inflation hedges.
Montier's dissertation concludes with his golden rule of investing: "No asset or strategy is so good that you should invest irrespective of the price paid." He equates this tenet to the well-known real estate mantra of "location, location, location," which he alters to the refrain of "valuation, valuation, valuation." He claims one of the myths perpetuated by the investment industry is that there are lots of ways to generate good long-run returns, whereas the GMO brain trust believes there is only one way: buying cheap assets.
That, in a nutshell, is the key to being successful as an investor. Whether you are buying stocks, bonds, land, oil, condos in Miami—you name it—acquiring assets at a significant discount to their underlying value is the path to long-term wealth accumulation. The probabilities move in your favor as low valuations tend to "revert toward the mean" over time.
Buying at cheap prices also provides protection against downside risk, and they create a margin of safety. Assets selling at half their intrinsic value are less likely to fall as much as assets selling above their intrinsic values in market downturns.
People make value decisions every day, whether it's in the grocery store, or arriving at the approximate value of their house. Valuing businesses is not difficult, but the important thing is you must be rational. The use of overly optimistic assumptions in valuing endeavors will get you into trouble.
With the stock market trading at a 15 to 16 price-to-earnings ratio, stocks appear in a "fairly valued" range and can hardly be called cheap. However, take a look at a couple of recent buys by Warren Buffett, IBM and Exxon. Both are large, high-quality companies.
IBM is the worst performer this year of the 30 stocks in the Dow Jones industrial average, down 7.5 percent, while the Dow soared 21.9 percent. Exxon has lagged well behind the Dow's return over the five-year period, rising only one-third as much. Both stocks look underpriced, with PEs of 10 and 12, respectively, and both companies have bought back massive amounts of their own stock with their hefty free cash flows. This value-creating maneuver serves to increase the percentage ownership of existing shareholders.
Around the globe, private-equity buyers are combing Europe for distressed assets at cheap prices. It might be early to buy in Brazil, whose market is down 20 percent over the last three years, but one could start looking for underpriced stocks.
Ben Graham chose the following quote, attributed to the Roman poet Horace, to grace the opening page of his investment classic "Security Analysis": "Many shall be restored that are now fallen and many shall fall that are now in honor."•
__________
Skarbeck is managing partner of Indianapolis-based Aldebaran Capital LLC, a money-management firm. His column appears every other week. Views expressed are his own. He can be reached at 818-7827 or ken@aldebarancapital.com.
Please enable JavaScript to view this content.