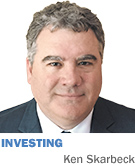 The stock market has a remarkably perceptive ability to see past inconsequential issues that sometimes dominate the investment environment and instead peer ahead into the future. This is why economists call the market a forward-looking indicator.
This characteristic also explains why the market can seem out of sync with current events. A year ago, the financial news was consumed with political dysfunction and worry over a "fiscal cliff" triggered by expiring tax cuts and an ill-advised budget sequestration. There was plenty for investors to worry about. But the stock market apparently wasn't listening and vaulted forward 30 percent this year, as measured by the S&P 500 index with dividends reinvested—its best year since 1991.
Recently, it was announced that the U.S. economy grew 4.1 percent in the third quarter, the fastest rate in two years and well above economists' expectations. This is the sort of news the stock market was anticipating with its inexorable rise over the past two years. The market's advance has essentially been validated by the more upbeat news surfacing these days. We could call this the "seeing the forest through the trees" effect.
To a degree, it was understandable how investors could have adopted a gloomy outlook. They were bombarded daily in the financial press with concerns over the debt ceiling, European bank solvency, the fiscal cliff, and economic distortions caused by the Fed's quantitative easing.
Investors who were scared away from stocks have missed a major move. Chief among them were such investors as pension funds and hedge funds. Consultants have been counseling pension funds to reduce their stock holdings since the credit crisis and instead boost their exposure to "alternative investments" like hedge funds.
That has been a costly mistake. The average hedge fund is up only 8 percent this year, far behind the market's 30-percent rise. Hedge-fund returns have lagged the market by a wide margin since 2008.
The poor results from investor groups that are (mistakenly) thought to be superior investors brings to mind Warren Buffett's satirical scolding of "institutional investors." In his 1986 annual letter, he equated the term to an oxymoron like "jumbo shrimp" or "inexpensive lawyer."
Investors who were able to overcome a fixation on negative macroeconomic issues and instead focus on business fundamentals could see that stocks were cheap in 2010. As the economy has slowly improved, companies have been able to generate free cash flow to buy back stock, pay dividends and make strategic bolt-on acquisitions.
Today, a sampling of cable news finds the airwaves full of worry over the Federal Reserve's decision to taper its quantitative easing program. Yet the underlying economic picture appears to be brightening. Growth is higher, unemployment is slowly falling, capital goods orders are strong, and the housing industry continues to improve.
One trend that has been underreported is the renaissance in energy. In the U.S., energy supplies are surging with fracking technology and the dynamic increase in renewable energies. Now, the opening of the Mexican oil market to foreign investment combined with oil sands in Canada have North America on the verge of becoming energy-self-sufficient. Abundant energy supplies and lower energy prices portend an enormous boost to economic growth.•
__________
Skarbeck is managing partner of Indianapolis-based Aldebaran Capital LLC, a money-management firm. His column appears every other week. Views expressed are his own. He can be reached at 818-7827 or ken@aldebarancapital.com.
Please enable JavaScript to view this content.