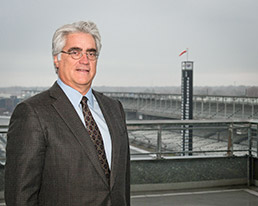 Cutline goes here (IBJ file photo)
Mark Miles became CEO of Hulman & Co. in December 2012, and he wasted no time making big changes to Indianapolis Motor Speedway and the IndyCar Series.
In February, Miles made his first major break with Speedway tradition. On behalf of the IMS, Miles requested public funding assistance to make major upgrades to the 104-year-old landmark. It was the first time the Speedway sought government funding.
Gov. Mike Pence in May signed a bill authorizing the state to loan the speedway $100 million to make track improvements.
The loan will be paid back using increased sales and income paid at the track and with a $1 per admission tax for events. Lawmakers estimate those will generate about $5 million per year. In addition, the legislation requires the Speedway to contribute $2 million per year to help pay for upgrades at the facility.
Rep. Eric Turner, R-Cicero, an author of the bill, said he thought the improvements would draw more people and increase tax income from the facility. That additional income, he said, would be used to retire bonds used to pay for the track.
Miles spent much of 2013 overhauling the staffs of the IMS and IndyCar Series. He made several hires, including naming racing veteran Derrick Walker to oversee IndyCar competition.
In December, Speedway officials announced a list of improvement projects, including repaving and reconfiguring the Speedway's road course, a new scoring pylon and video screens, and an apron on the inside of the oval designed to improve NASCAR racing.
The IMS decided against spending $20 million to install lights, saying the return on investment wouldn't be big enough.
The improvements to the facility's road course will be key in hosting the first IndyCar road race at the Speedway. Miles announced in September that the month of May will kick off with a 200-mile IndyCar road race. The inaugural Grand Prix of Indianapolis will be held May 10.