The Indiana Pacers are the hottest team in the National Basketball Association, and their winning ways are paying off for the team and its broadcast partner.
Not only is the Pacers' bandwagon loading up with fans, it's also packing in advertisers for its telecasts. By early December, advertising inventory on the team's Fox Sports Indiana telecasts was sold out for that month and more than 90 percent sold out for the entire season.
While Fox Sports Indiana General Manager Jack Donovan wouldn't say how much ad sales were up, he noted, "It's a lot. We're selling out faster and at higher unit rates."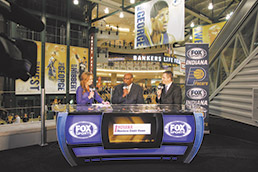 Ratings for Pacers games on Fox Sports Indiana are higher than they've been in over a decade, although it's not clear how much of a financial boost the team will see. (Photo courtesy of Fox Sports)
"It's been a phenomenal year," Donovan said. "It's been like a freight train. And we're still picking up speed. We think we're going to have a great run for two, three, four years."
Local sports marketers and media buyers said ad inventory during Pacers games last year was less than 70 percent sold. There are about 40 ad spots per game, Donovan said. Plus, Fox can sell other sponsor mentions during the telecast.
Since ad inventory sold either before the season started or in the early season is often priced based on last year's ratings, a number of regular advertisers "are getting twice the audience they bargained for," Donovan said.
Local media buyers estimate that ad rates on Fox Sports Indiana during Pacers games have increased since the beginning of this season from about $140 to $170 per rating point to $200 to $230 per rating point. That means a 30-second spot has gone from as low as $280 to now as high as $1,000.
"They're putting up huge [rating] numbers and the demographics show they offer a highly educated, affluent audience," said Bruce Bryant, president of Indianapolis-based Promotus Advertising. "With the supply dwindling and the demand still going up, that's pushed their ad rates very close to the level of a good local TV newscast. That's strong."

Donovan
Ads during news broadcasts and live sporting events are often most sought after, Bryant said, because viewers record those shows less often than others. "That means people aren't zipping through commercials like they would with a recorded show."
Renewals from last year's advertisers were 90 percent, and Fox Sports officials have been able to leverage the Pacers' hot start to ink several new advertisers, including Comcast, Subway and Franciscan St. Francis Health, Donovan said.
"Clearly, there's more demand than there was a year ago," he said. "Our current advertisers want more, and new advertisers are coming out of the woodwork."
With much of its ad inventory sold, Fox Sports Indiana is now likely looking forward to the first-round playoff games and even next season.
"I can guarantee you that renewals for next year will be starting early," said David Morton, president of local sports marketing firm Sunrise Sports Group. "Now is the time to leverage big deals for next season. Now that they've demonstrated what the following and the ratings for this team are, [Fox Sports officials] are negotiating from a position of strength with advertisers. That's something they haven't been able to do in a while."
Pacers rating hike leads NBA
The increased ad sales have been triggered by skyrocketing TV viewership. Ratings for Pacers games on Fox Sports Indiana are higher than they've been in over a decade.
Through December, ratings are up 141 percent, the highest year-over-year percentage increase among the regional TV broadcasts for the league's 30 teams, according to New York-based Nielsen Media Research.
Through 29 games on Fox Sports this year, the Pacers are averaging a 4.5 rating, which means about 50,000 households are tuning in to each game, according to Nielsen. Fox will carry 80 games live this year and also have the opportunity to televise some of the team's first-round playoff games if the Pacers qualify for the postseason as expected.
The ratings, Fox Sports officials said, are still picking up steam.
The Dec. 10 Pacers' 90-84 win over the Miami Heat in front of a sellout crowd at Bankers Life Fieldhouse earned a 9.33 rating (100,100 households), the highest ever for a Pacers game on Fox Sports, according to Nielsen. That surpassed the previous high of 9.32 set Feb. 4, 2003, vs. the Los Angeles Lakers. Fox Sports has broadcast Pacers games since the 1996-1997 season.
If the team, which won 25 of its first 31 games, continues playing on such a torrid pace, sports marketing and broadcasting experts think its average rating could reach 5.0. That would put the team in elite company. Only three teams' (Oklahoma City, San Antonio and Miami) regionally televised games last season eclipsed a 5.0 TV rating.
Competition caution
But even with viewership of Pacers games going up exponentially this season, Morton said Fox Sports officials need to be cautious with rate increases.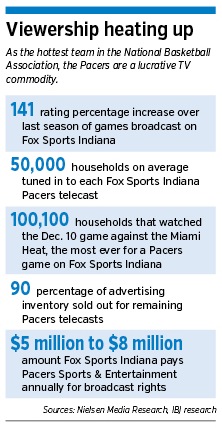 "The Colts are having success and they have a lot of inventory on their local radio broadcasts and local TV programming," Morton said. "And there's still IU, Purdue, Notre Dame, Butler, the Indianapolis Motor Speedway, the Indians and the new soccer team, the Indy Eleven."
The Pacers' market size also works against the team. While its TV ratings are now among the NBA's highest, its audience size is still less than half of the regional audiences for televised Knicks, Lakers and Bulls games. And about 40,000 fewer than for Heat games, according to Nielsen.
Even so, broadcast experts estimate that, when this season is done, ad revenue from games on Fox Sports Indiana will be up at least 30 percent over last season.
Windfall for Pacers?
It's not clear how much of a financial boost—if any—the Pacers will see. Many of the NBA regional TV deals are structured with the team getting a flat rate. Sometimes a team gets a small cut of advertising revenue once the broadcaster's minimum threshold of sales is reached
Fox and Pacers officials don't divulge terms of the deal, though Donovan said it was a multiyear agreement. Those familiar with such deals said Fox pays the Pacers $5 million to $8 million annually for broadcast rights. Fox would likely have to reach at least $5 million in ad sales before the Pacers got any additional money, sources said.
"If the Pacers' run of success continues before the current deal with [Fox Sports Indiana] runs out, you can bet the Pacers will be asking for more money upfront," Morton said.
While Pacers Senior Vice President Bill Benner said team officials are "delighted with the ratings," he declined to discuss finances.
If the Pacers do what some basketball prognosticators are beginning to predict—win the NBA championship—an even bigger payoff for Fox Sports Indiana and the Pacers is likely ahead for next season.
"If that happens, I think demand [for ads during game telecasts] will exceed supply," Promotus' Bryant said. "It moves from sales to order-taking. And the price-negotiating part of it—that's all but over."•
Please enable JavaScript to view this content.