On this edition of the "Hammer and Nigel Show," we have WTHR-TV Channel 13 anchor Julia Moffitt, sitting at a microphone at Coaches Tavern with a pair of veteran disc jockeys.

Moffitt, on vacation, is wearing a Daisy Duke tank top and headphones and reflecting on what it's like to be on live TV. Under the interrogation of the trained radio professionals, she confesses to having lost her poise on the air once, while reading a story about a guinea pig that was strapped to a parachute and thrown off a roof.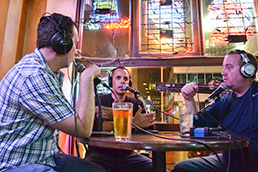 "Hammer and Nigel Show" guest Pacers head coach Frank Vogel is flanked by Jason Hammer, left, and Nigel Laskowski. (Photo courtesy of Jason Hammer)
Jason Hammer is chuckling and Nigel Laskowski nearly blows beer out his nose.

"By the way, how does one get a job that they're allowed to drink during the actual job?" Moffitt asks the duo.

"That's the magic of when you own everything you do," Hammer replies.

Hammer and Laskowski are free from the corporate overlords of modern radio, these days operating their own podcast after having lost their full-time on-air gigs.

Hammer has created a company known as Dead Radio Entertainment that creates the podcast featuring some of Indianapolis' top celebrities. The shows each Thursday for nearly the last three years are unedited and out of reach of the fiendish little bureaucrats at the Federal Communications Commission.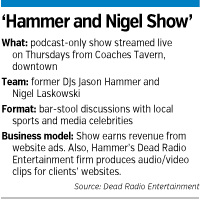 Dead Radio also creates online audio and video content for small businesses, and actually makes some advertising bucks from the "Hammer and Nigel" podcast website.

Not much, mind you.

"We know we're not going to get rich. This is our passion. This is our hobby," said Hammer, whose LinkedIn account lists accomplishments such as winning the title of "Sexiest Man in Beech Grove," 2009-present.

For some reason, we're left to doubt a sanctioning body exists to bestow such an honor.

The veteran DJs have day jobs, just to be safe. Hammer is promotions director at WIBC-FM 93.1 in Indianapolis, owned by locally based Emmis Communications Corp.

Laskowski has had many irons in the fire. He works part time at WRZX-FM "X-103," where until last October the "Hammer and Nigel" show aired.

Owner Clear Channel Communications decided it wanted to go in the proverbial "another direction," Hammer said, despite favorable numbers for the show.

Whatever. Both are resigned to the fact that the corporatization of radio by behemoths like Clear Channel and Cumulus has stripped and sanitized most local stations of their individuality and creativity.

Nowadays, it's: "'You've got 30 seconds. Talk up the hits and be quiet.' It's so corporate now," Hammer said.

But in the form of a podcast, "We're the bosses now," he said, savoring his words like some kind of linguistic prime rib.

This is not "radio" for the faint of heart, however. Sometimes the language is coarse, and is reminiscent of the early days of "The Bob & Tom Show" on WFBQ-FM 94.7.

Hammer and Laskowski reflect on such things as an upcoming Brickyard 400. They remind listeners that the show is co-sponsored by local strip club Brad's Brass Flamingo. One of them makes a joke about Southern race fans, but it's a little too saucy to repeat.

And then there's sponsor Sunrise Coffee.

"If you're not drinking Sunrise Coffee, you're drinking crap!" Hammer bellowed, for the coveted sponsor.

"We're shameless," he said, also pitching clients on social media.

This dynamic duo manages somehow to be earthy one moment and erudite the next, when interviewing their esteemed guests. They're like the two guys sitting in a pub in Europe talking like sailors one minute, then switching to a literary discussion about James Joyce when a family with children enters the pub.

Other guests have included WTHR's Scott Swan, Indianapolis Colts player Matt Overton and WXIN-TV Channel 59's Chris Hagen and Ann Keil. This eclectic mix of guests also includes former "Watson's Girl" Jennifer Eichler, WFMS-FM 95.5 personality Tammy Lively, WIBC talk show host Abdul Hakim Shabazz, basketball coaching legend Bobby "Slick" Leonard and local radio legend Jay Baker.

It's not surprising, given Hammer's long list of media contacts and a sense of camaraderie among those in the local broadcast media, particularly after the assimilation of local stations by out-of-state companies. Everybody's in the same pot now.

"You never know who you're going to work for next," Hammer said.

The show also offers hijinks from friends of the show who appear regularly, including Marcus Jones, referred to as "Black Marcus." Jones started out as a heckler. Hammer and Laskowski (he doesn't like that name—call him "Nigel") one day shoved the microphone in Jones' face and they worked up a shtick ever since.

"There's no filter. Everything is off the cuff," Jones said. "It's the idea of trying to build on a foundation of getting radio back to its roots. … You never know what to expect."

Indeed, one never knows who will walk in at Coaches during the show. One day, former Marion County prosecutor Carl Brizzi showed up. One might want to behave, however, as the video portion of the show is streamed live. In February, the Thursday show at Coaches will move from 9 p.m. to 7 p.m.

Hammer remembers only one time when the show had to be edited—when a former WISH-TV personality made a comment about an Indiana Pacer and a sexual act. "We had to edit that out."

Some aspects of the show feel like local radio, such as car washes to raise money for cancer research. OK, it was a bikini carwash, but then you'd expect that from these two rascals.

How about syndication—perhaps putting the show again on a local radio station?

"We've talked about that, actually," Hammer said.

That, of course, would require cleaning up the show a bit, and some careful editing.•