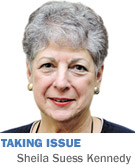 Here in Indiana, we're used to religious warfare. We aren't called the buckle of the Bible Belt for nothing.
Many of those battles begin with semantics, because—while all good Hoosiers believe in freedom—we define the term differently, especially when an issue is hotly contested, and there's no social or religious consensus about its resolution.
Our legislative battles generally pit people who understand religious liberty to require state neutrality in matters of belief against folks who want government to give everyone the "freedom" to live in accordance with "correct" beliefs (which just happen to be theirs).
That, in a nutshell (no pun intended) is what the current fight about HJR-3 is all about. Proponents can pontificate all they want about what's best for children or society, but opposition to same-sex marriage (and the desire to send a message to GLBT folks that they really aren't welcome here) is entirely based upon religious dogma.
Proponents of HJR-3 remind me of a City-County Council hearing many years ago, when I was corporation counsel. At issue was a proposal to ban rock concerts in city parks. I testified that the proposal as written would not withstand a First Amendment challenge, and a pastor who had come to support the ordinance screamed out "My Bible is more important than your Constitution." (Apparently, it wasn't his Constitution.)
Given the mean-spiritedness of remarks made by so many self-identified "godly" people, we sometimes forget that large numbers of religious folks do consider the Constitution theirs. They "get" the purpose of the religion clauses and separation of church and state. They not only understand their God to require love and inclusion, but they also—importantly—recognize the threat to authentic belief posed by those who would use government to impose their preferred doctrines on everyone else.
Matt Boulton, president of Christian Theological Seminary, testified against HJR-3 at the Legislature. His entire testimony is worth reading, but it was his truly compelling closing observation that deserves to be widely shared:
"Now, my position as president of CTS puts me in relationship with a dazzling variety of Indiana religions and denominations and congregations and theological points of view. Indeed, questions of human sexuality are matters of passionate debate within Christian circles; we have a good dose of that diversity at CTS.
"You'll hear later today from the other side that civil unions would threaten the 'traditional view of marriage' allegedly demanded by Christian faith, and so on. I respect that perspective, even as I disagree with it.
"But here's the point I want to underline: Despite what those on the other side may say, there is no one Christian view of HJR-3. Many Christians, even those who disagree on the underlying human sexuality issues, oppose HJR-3 because their Christian faith calls them to be open, hospitable, fair and loving toward their neighbors.
"And the role of the state, we respectfully suggest, is not to take sides in this theological debate, much less enshrine one side or the other in the Indiana state Constitution. Rather, the state's role is to respect the religious diversity of our community on this question, and to allow freedom of religion—faith's freedom—to flourish in Indiana by setting aside HJR-3 once and for all."
And let us all say, "Amen."•
__________
Kennedy is a professor of law and public policy at the School of Public and Environmental Affairs at IUPUI. She blogs regularly at www.sheilakennedy.net. She can be reached at skennedy@ibj.com. Send comments on this column to ibjedit@ibj.com.
Please enable JavaScript to view this content.