A local developer plans to build a hotel, apartments, offices and retail space on the last two vacant parcels in Keystone at the Crossing.
PK Partners expects to invest $60 million to $80 million to develop about 15 acres along River Crossing Boulevard near The Fashion Mall.
The plans call for 100,000 square feet of office space and 200 apartments with an attached parking garage and lakefront views on roughly 10 acres on the east side of River Crossing Boulevard, north of the Shoppes at River Crossing. Across the boulevard, on 4-1/2 acres, the company plans to construct a 125-room hotel, and eventually could add 50,000 square feet of office and retail space, and possibly more apartments.

Podell
The company plans to create a pedestrian-friendly project by incorporating a one-mile walking trail that loops the 25-acre lake into the development, said Wes Podell, the company's vice president of leasing and development. On-street parking and sidewalks also would be integrated into the design.
"We're trying to create an urban vibe," Podell said. "We think that's what people are looking for today, especially in a suburban setting."
The building that houses the Champps Americana restaurant, which PK Partners owns, is included in the plans and could be redeveloped as part of the overall project.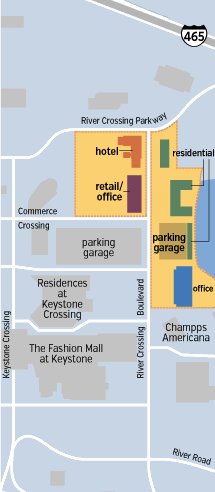 PK Partners hopes to start construction on the first phase yet this year. The entire project could take three to seven years to complete.
The firm first needs the city to rezone the land to give it more flexibility. The Metropolitan Development Commission's hearing examiner is slated to consider the request Feb. 27, with the full MDC to follow March 19.
Rich Forslund, an office broker at Summit Realty Group, thinks the project can be successful.
"Blending the combination of residential, hotel, office and retail, and creating that physical and functional integration, is what people want," he said.
The Keystone office market is quite healthy and has one of the lowest vacancy rates in the city, at about 15 percent. That's down from a recent high of 24.9 percent in 2010 and is lower than the current vacancy rates at both the North Meridian corridor (16.1 percent) and downtown (22.9 percent) markets.
Office, residential activity on the rise
The development floated by PK Partners would be the first mixed-use project of that scale to be built in the Keystone market in years.
The now-defunct Premier Properties USA Inc. had planned to build its $750 million Venue project at the southwest corner of East 86th Street and Keystone Avenue before the credit markets tightened, forcing Premier to abandon its plans in 2008.
Premier's Christopher P. White had proposed a 24-story office tower, 20-story hotel, two 10-story residential towers, a 5,000-seat theater, a dozen restaurants and a retail center with four anchors including Whole Foods and Barnes & Noble.
Wisconsin developer Hendricks Commercial Properties bought one of the properties Premier had assembled out of foreclosure and is building its smaller, $30 million Ironworks project that will consist of 30,000 square feet of restaurants and retail on the first floor and 120 high-end apartments on the upper four floors.
Ruth's Chris Steakhouse will move from its current north-side location near Keystone Avenue and East 96th Street and will occupy 16,500 square feet. Ironworks is slated to open in May.
And last month, Cincinnati-based Neyer Properties purchased Woodfield Crossing II and Woodfield Crossing III—also part of Premier's Venu plan—out of receivership for $25 million. The two Class A buildings total 348,000 square feet. Woodfield II is 65-percent occupied and Woodfield III just 32 percent.
The Keystone market is experiencing not only more office activity but multifamily growth as well.
Counting Ironworks, more than 800 units will have come on the market in the Keystone at the Crossing area in the last few years.
Newer multifamily projects include 82 Flats at the Crossing (232 units); the conversion of the Sheraton hotel into the Residences at Keystone Crossing (129 units); and Solana, a former condo development Milhaus bought out of bankruptcy (336 units).
Occupancy rates for the complexes are 80 percent to 90 percent, with monthly rents for a one-bedroom unit typically fetching $900 to $1,200 and $1,200 to $1,800 for two bedrooms, said Michael Wernke, who heads Colliers Indiana region's multifamily housing division.
"New construction for apartments there is appealing because of its proximity to all of that retail," he said. "But if you keep adding units to that market, the rents might have to drop."
Strong ties to area

Phil Larman
PK Partners' history at Keystone at the Crossing runs deep. Leonard Larman, the late father of PK President Phil Larman, started developing the area in the 1970s. He oversaw construction of the original mall, restaurants and an office tower. But a few years later, his partner Indiana National Bank had to divest its ownership to comply with new federal regulations.
In the shakeout, Leonard took control of the 85-acre River Crossing site but did not live to see it developed. Son Phil took over, winning zoning approval for the overall project in 1993.
PK Partners since has developed several buildings in the area, including River Crossing I, II & III, which are nearly fully occupied and now owned by Wakefield, Mass.-based Franklin Street Properties Corp.
One of the parcels on which PK Partners plans to build its latest project has attracted previous interest. The smaller tract to the west of River Crossing Boulevard is where Simon Property Group Inc. had planned to build a new headquarters before former Indianapolis Mayor Bart Peterson helped persuade the company to stay downtown.
Duke Realty Corp. owned the parcel at the time of Simon's interest and sold it and the four-story office building at 8555 N. River Road that sports an Ocean Prime restaurant to PK Partners in 2009.
Coincidentally, Podell sold that building and the 4-1/2-acre parcel to PK Partners when he handled building and land sales for Duke.
"Personally," Podell said, "it's exciting for me to able to see the development through."•
Please enable JavaScript to view this content.