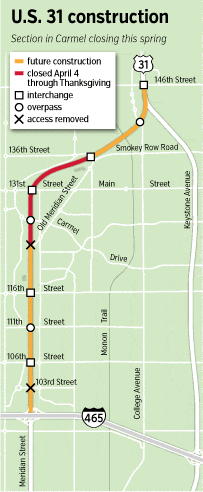 A section of U.S. 31 in Carmel will be closed as early as April 4 until Thanksgiving, instead of next year, the Indiana Department of Transportation announced Tuesday.
The closure is from 136th Street on the north end to Old Meridian Street on the south end, and will affect motorists headed to IU Health North Hospital, St. Vincent Carmel Hospital, as well as office buildings and hotels in the U.S. 31 corridor.
The official detour routes are Keystone Parkway and Interstate 465, but INDOT and Carmel officials are expecting a lot of local traffic to be diverted onto Illinois and Pennsylvania streets, which run parallel to U.S. 31.
During the closure, motorists will be able to cross over U.S. 31 at 136th and Old Meridian, which is a small street just north of the intersection at 116th Street.
The closure is part of the larger $1.2 billion upgrade to U.S. 31 that's removing traffic signals and building new overpasses and interchanges, all to shave 30 minutes off the drive time between Indianapolis and South Bend.
The $141 million contract for the Carmel section was awarded last year to a joint venture between E&B Paving Inc. and Gradex Inc.
The closed section isn't the only construction site. Prep work is under way at the I-465 interchange, which will get new flyover ramps. New interchanges with dogbone-shaped roundabouts will be built at 106th, 116th, 131st/Main and 136th streets.
Underpasses will be built at 111th and 126th Street/W. Carmel Drive, which will no longer connect to U.S. 31.
Also during the closure, INDOT will build a new roundabout on the north end of Old Meridian, where it connects to 136th and Smokey Row. Smokey Row will be closed for 60 days, starting early this summer, INDOT spokesman Nathan Riggs said.
Local motorists will be able to use 131st Street or 126th to cross over U.S. 31, but both avenues will not be open at the same time, Riggs said. INDOT plans to close 131st Street first, he said.
Moving up the highway closure doesn't mean the whole project will be finished early, Riggs said, but it will have a big impact north of 116th Street. "North of that point will be free-flowing," he said.
Eight traffic signals from Carmel to Westfield will be gone by the end of the year.
Please enable JavaScript to view this content.