For Indiana's economy to remain prosperous, the state needs an outsized performance from Ivy Tech Community College.
State leaders want twice as many Hoosiers earning post-high-school credentials by 2025 as there are today.
And the only realistic way for the state to get there is for Indianapolis-based Ivy Tech to double its enrollment and double its graduation rates.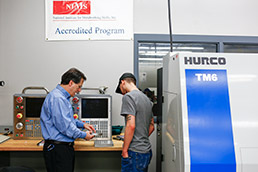 Ivy Tech instructor Daniel Flick gives pointers to student Mitchell Funk in a machine tool course. Ivy Tech wants to help far more acquire such skills in the next decade. (IBJ photo/Aaron P. Bernstein)
That means enrolling 100,000 more students a decade from now.
It also means fixing what has until now been Ivy Tech's Achilles' heel: Few of its students ever finish their programs of study. Out of every 100 students Ivy Tech enrolls, just 28 ever earn a degree or transfer to a four-year school.
Ivy Tech needs about 56 out of every 100 students to graduate or transfer, which is the current success rate of Indiana's second-tier residential campuses, such as Indiana State University or the University of Southern Indiana.
It's a success rate that would place the 72-campus Ivy Tech system as a whole in the top 10 percent of all major community college campuses nationwide, according to statistics compiled by the American Institutes of Research and Matrix Knowledge Group.
Ivy Tech leaders say they have a plan to get there; they just need state lawmakers to fund it. Ivy Tech says it needs an extra $83 million—on top of the $250 million the state already gives the college each year.
That money would go to hire additional academic counselors for students, more full-time faculty and more IT equipment.
"We think it's a good return on investment," said Ivy Tech President Tom Snyder while munching on a sandwich in his office at Ivy Tech's campus on North Meridian Street.

Snyder
But state leaders aren't convinced yet.
Sen. Luke Kenley, chairman of the Senate Appropriations Committee, said he wants to boost Ivy Tech's funding, so the amount it's getting per student matches what it used to be. Funding per full-time-equivalent student fell after Ivy Tech's enrollment surged with the 2008 recession, and at the same time, state funding for higher education was cut.
But Kenley isn't certain that means $83 million more. And he isn't certain Ivy Tech should start growing its enrollment again, before it figures out how to get more of its students to graduate.
"Ivy Tech, as they have grown, they need to show their ability to perform at this level, before we just push more kids in," said Kenley, a Republican from Noblesville.
Like Kenley, Teresa Lubbers, Indiana's commissioner for higher education, does not embrace Ivy Tech's $83 million wish list—even though she agrees that the college will need to both improve its graduation rates and boost its enrollment.
"I agree that we need more students to enroll and complete at Ivy Tech," Lubbers said. "But it can't be enrollment only. We have to move those numbers for completion."
Skills mismatch
Lubbers called two years ago for 60 percent of working-age Hoosiers to have postsecondary credentials by the year 2025. Those credentials could be bachelor's degrees that most people think of as "a college degree." But they also could be associate's degrees, as Ivy Tech awards, or even industry certifications, which Ivy Tech also awards in such fields as heating, ventilation and air-conditioning, or information technology.

Lubbers
Currently, only 34 percent of Hoosiers, age 25-64, have such credentials, which lags the national average of 39 percent, according to statistics published by the Indianapolis-based Lumina Foundation for Education. And even the U.S. average is well behind Canada and other developed nations.
Those low levels of attainment have created a mismatch between workers and jobs. In Indiana, 54 percent of all jobs today require some postsecondary credential, according to an analysis by the Georgetown Center for Education and the Workforce. That percentage will only rise over the next decade.
The biggest mismatch is in so-called middle-skill jobs, especially those in which science, technology, engineering or math play a role—health care, operators of robotic machines in factories, IT technicians, etc.
A 2012 analysis by the Indiana Chamber of Commerce found that earning a two-year degree in a STEM field leads to earnings that are 40-percent higher than the average earnings of a Hoosier with a four-year bachelor's degree. Even one-year degrees in technical fields produce earnings 20 percent higher than the average bachelor's degree.
"Our greatest deficiency, particularly given our economy, is in the one-year professional certificates and the two-year associate's degrees," said Derek Redelman, an education lobbyist for the Indiana Chamber of Commerce. "Our economy is built around those credentials."
To reach the 60-percent goal, Lubbers' staff figured that Indiana's universities need to turn out 120,000 graduates per year by 2025—twice as many as they are now.
There are many initiatives aimed at reaching that number, Lubbers said, including efforts to create clearer pathways to degrees among state-funded institutions, making transfers easier, and keeping all degrees to no more than 120 credit hours.
A minority of the growth can come from young people. The biggest chunk must come from adults who return to school to learn new skills or obtain formal credentials. That's why both Indiana University and Purdue University plan to grow enrollment at their chains of regional campuses, which serve many adult learners.
Targeting adults
Ivy Tech's leaders figure that, because their institution has the broadest network of campuses and is already set up to serve adult learners, it has to contribute about 75 percent of those additional degrees and credentials.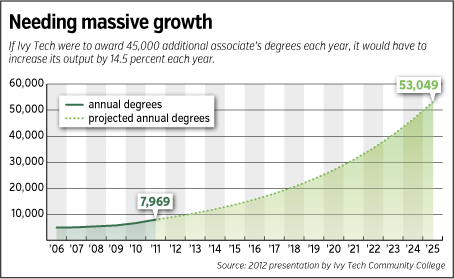 That means Ivy Tech would produce 45,000 more graduates in 2025 than it does today, or 60,000 every year.
That's four times as many as Ivy Tech is producing now.
"If we can get that funding and get it now, then we can reach those numbers," said Jeff Terp, Ivy Tech's chief operating officer.
To achieve its goals, Ivy Tech plans to scale up several successful experimental programs it has had under way in recent years.
For example, it has achieved more than 70-percent graduation rates in two recently launched programs, one called ASAP and the other called Ivy Institute of Technology.
In the ASAP program, recent high school graduates earn a two-year degree in just one year by attending school seven hours a day, all with the same group of teachers and even in the same hallway of Ivy Tech's buildings.
Among its traditional students, Ivy Tech has mixed introductory classes with remediation work, so students who enter college behind can catch up while still earning credit toward a degree. Ivy Tech also altered math requirements to no longer require algebra of all students—a policy it instituted in the 1990s as a way to win recognition of its degrees from IU, Purdue and other state universities.
Now, students take math that's more tailored to the needs of their degrees. Only students in engineering, computer science or other math-heavy fields are required to take college algebra.
Ivy Tech also has reorganized itself into four major units. Students now pick one of these schools to enter. Inside each unit, most courses count toward a range of degrees, so fewer students will rack up extraneous credits.
The increased hand-holding for students gives them fewer of the freedoms people associate with college life, but Ivy Tech hopes it also leads to fewer failures.
"It's like a repeat of senior year," said Erin Russell, 19, a student in Ivy Tech's ASAP program. "But just more work."•
Please enable JavaScript to view this content.